Commentary by Dr. Patrick Slattery — Granted, the "top White House aide" referred to in the article below is Presidential Personnel Office head Johnny DeStefano and not Kushner, the article below reveals that Kushner was one a small number of people at the meeting where the blow-up took place, and he attacked Tillerson as being "unprofessional." What would Kushner, whose business experience amounts to overseeing his corrupt Jewish gangster dad's operations while he was in prison, now about professionalism. Tillerson, on the other hand, worked his way up from being a janitor at the engineering department of Oklahoma State University to being an engineer with Exxon to being the CEO of America's biggest company.
The important point is that Tillerson is one of the few grown-ups in an administration largely dominated by Goldman Sachs Jews, kool-aid drinking generals, and Shabbat goy whores. A public feud between him and Kushner is exactly what we need at this point.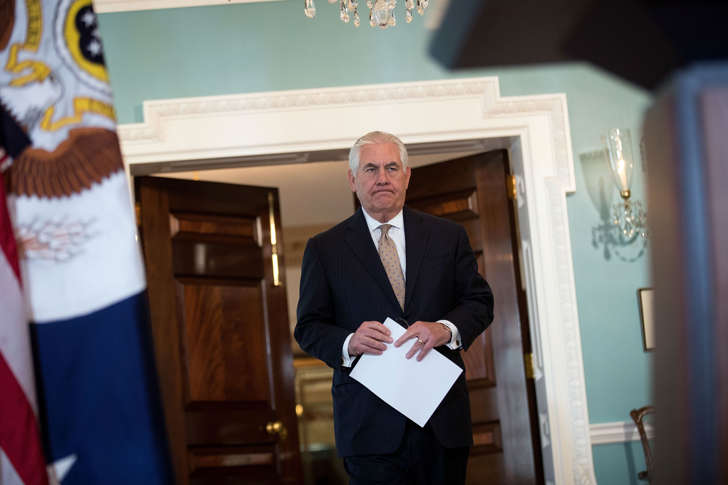 © Drew Angerer/Getty Images U.S. Secretary of State Rex Tillerson arrives to deliver a statement regarding Qatar at the State Department, June 9, 2017 in Washington, DC. Secretary of State Rex Tillerson reportedly took out his frustrations on a White House official Friday after facing negative news reports and delays in getting appointments approved.
Tillerson went after the head of presidential personnel office, Johnny DeStefano, for dismissing his appointments to senior State Department positions and questioning his judgment, Politico reported Wednesday.
Tillerson complained that President Trump promised him room to make the decisions and hires that he deems best, a senior White House aide familiar with the conversation told Politico.
He, however, has faced delays and blocks to his proposed hires, saying that DeStefano's office should not "have any role in staffing," a person familiar with the meeting said.
The secretary also expressed frustration that people within the Trump administration are leaking negative reports about him to the press, the source said.
The episode reportedly occurred in White House chief of staff Reince Priebus' office, leaving the officials who were present stunned.
Trump's son-in-law and special counselor Jared Kushner and Tillerson's chief of staff Margaret Peterlin were also in the room, Politico reported.
Kushner reportedly told Peterlin that Tillerson's outburst was unprofessional and that they needed to arrive at a solution, two of the people familiar with the exchange told the news outlet.
"Colleagues are capable of frank exchanges," State Department spokesman R.C. Hammond said in response to the disagreement. "Evaluating nominees did get off to a slow start, but it is now moving along at a pretty good clip."
Tillerson has also clashed in ongoing discussions with the administration about who should be nominated to ambassadorships, several people familiar with the conversations told Politico.