My Friend, I wish you a very beautiful and meaningful Christmas for you and your loved ones. You can click on the picture below and see my special video Christmas Card. And below there is the powerful video on the Jewish War on Christmas!
Below is the earthshaking video: The Jewish War on Christmas!
In a special Duke Report I expose how that the very same Supreme Court decision that banned any Christian Christmas decorations on public ground — made the erection of Giant Jewish Menorahs perfectly legal. Make no mistake about it, there is a 
the Jewish elite is a war raging against us.
In
Berlin
an invader "refugee" killed 12 innocents at a Christmas market, including children, he maimed 48. In
Arizona, 
a terrorist was apprehended before he a new horrific meaning to "mass murder" at a Christian midnight mass.
So, while we celebrate the beauty of Christmas this year it is truly a time for our re-dedication to saving of Christmas itself, our beautiful Western culture, our freedoms and even our very people's existence.

Every Christmas we do our annual fundraising appeal. Last year was an incredible achievement for us, and next year can be even greater. I hope you take the time to make one of the most important Christmas gifts you can give — a gift for the vital work I am doing, and the saving not only of Christmas but everything we love and cherish! As a thank you, I will send a special full-color Duke Report on the Jewish War on Christmas to anyone who makes a contribution between now and January 1st.
Thank You So Much for Your Generous Support! And Merry Christmas!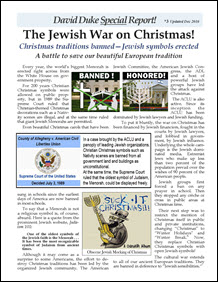 Dr. David Duke
PS I will send you a copy of the full-color Jewish War on Christmas as a token of my appreciation thank you.Just click on the image of George Washington and you can give a gift to this important work
An important note to all supporters: Thanks for your thoughts, suggestions, information and your support. Please remember that my work totally depends on your gifts and tangible support. Without the support of people like yourself, my work cannot grow and succeed. You can make a personal gift which is completely private, and if you so desire you can leave a wonderful legacy in your insurance plans and your will that can mean so much in the fight for the liberation and survival of our people. My address is Box 188 Mandeville, LA 70471. Thanks for your backing up your love for our people with your generous support of my work  — Thank You, so very much!
Yours Truly,  Dr. David Duke.