In yet another striking example of Jewish Supremacist double standards, the leader of America's oldest Zionist Youth Movement has penned an article in a leading Jewish newspaper providing advice on how to prevent young Jews from marrying non-Jews.
This advice is, of course, in direct contradiction to the advice that the Jewish Supremacist Hollywood and media controllers dish out constantly to everyone else, telling them all to intermarry as much as possible.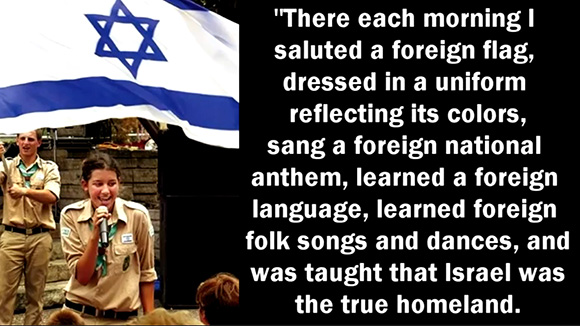 Simon Klarfeld, executive director for "Young Judaea," wrote in The Times of Israel that "Intermarriage Happens Because Jews Are Stuck On 'How' And Not 'Why.'"
Although the basis upon which the article was formulated—a recent Pew Center "survey" which claimed that 71 percent of non-orthodox Jews were marrying out—has already been proven to be factually flawed, nonetheless it is serving its intended purpose of panicking Jews into becoming more ethnocentric.
Quoting the Pew "survey" (supposedly conducted among just over 3000 Jews by telephone!)  Klarfeld first claims that one of the reasons why intermarriage is allegedly increasing is because of the social and economic "advantages" which Jews have—although he doesn't say it is because of active discrimination against everyone else.
"Having a Jewish spouse has becoming an increasingly attractive option because Jews make for good catches. They're more educated, more successful and statistically-speaking, they're more likely to win a Nobel Prize," Klarfeld says—unwittingly revealing the full extent of Jewish discrimination against Gentiles of all races, as shown in previous studies on Jewish entry into schools and universities.
He then goes on to explain to his fellow Jews on how to stop intermarriage—by education camps for Jews only where they can learn to be Jewish.
"So our challenge then is to explore ways to turn Judaism and being Jewish back into being meaningful and relevant. We need to find ways to empower Jewish youth to own their Judaism by making it their own.
"Peer learning communities – such as youth movements, summer camps and Israel experiences – have enjoyed great successes in this arena . . . This is the reason that Jewish youth involved in great informal education are more likely to marry within the faith.
"In fact, a study conducted on Young Judaea alumni in the late 1990s reveals that a staggering 95% of them marry other Jews. That's because experiences like Young Judaea teaches children that they can have a hand in designing their Judaism to be relevant to them."
* An example of what happens on these "Jewish camps" was provided by Stephen Steinlight, a Jewish Supremacist who served for five years as the Director of National Affairs for the largest and most powerful Jewish organization in the United States, the American Jewish Committee.
Steinlight made the following remarks in an article on immigration in a national Jewish magazine in
October of 2001:
"I'll confess it, at least, like thousands of other typical Jewish kids of my generation, I was reared as a Jewish nationalist, even a quasiseparatist.
Every summer for two months for 10 formative years during my childhood and adolescence I attended Jewish summer camp. There, each morning, I saluted a foreign flag, dressed in a uniform reflecting its colors, sang a foreign national anthem, learned a foreign language, learned foreign folk songs and dances, and was taught that Israel was the true homeland. Emigration to Israel was considered the highest virtue, and, like many other Jewish teens of my generation, I spent two summers working in Israel on a collective farm while I contemplated that possibility.
More tacitly and subconsciously, I was taught the superiority of my people to the gentiles who had oppressed us.
We were taught to view non-Jews as untrustworthy outsiders, people from whom sudden gusts of hatred might be anticipated, people less sensitive, intelligent, and moral than ourselves." (Steinlight, S, The Jewish Stake in America's Changing Demography: Reconsidering a Misguided Immigration Policy, Center for Immigration Studies, October 2001).