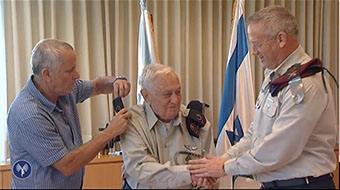 The Jewish Supremacist state of Israel has once again shown its utter disregard for international opinion and human rights by honoring with a new promotion to "Major-General" of a 100-year-old Zionist terrorist veteran who only recently boasted of "razing Arab villages."
According to a report on the official news channel Israel National News, it was a "moving ceremony" help this week when "Brigadier-General (res.) Yitzchak Pundak was raised to the rank of Major-General, sixty years after he was promised a promotion."
It was only a few weeks ago that Pundak was featured in another article in the same news source as boasting about destroying Arab villages to make way for Israel in 1948.
In an article in the Israel National News Arutz Sheva titled "We Razed Arab Villages, So What?" Brig. Gen. Pundak said that "If we hadn't done it, there would be a million more Arabs and there would be no Israel."
Pundak was the commander of the 53rd Battalion of the Givati Brigade in the 1948 war and went on to supervise the establishment of the Armored Corps.
According to the Israeli news service, Pundak confirmed that forces under his command razed Arab villages in 1948.
"My conscience is at ease with that, because if we hadn't done so, then there would be no state by now. There would be a million more Arabs," he said.
Asked if he feels proud of his country, he said that his pride runs "as high as the rooftop."
A later personal falling out with Israeli Defence Force (IDF) chief of staff Moshe Dayan resulted in Pundak's promised promotion to Major-General never taking place—until now.
The Israel National News report revealed that the promotion—made to "right a historic wrong" against the Zionist terrorist, was made at a ceremony attended by Israeli Defense Minister Moshe Yaalon and IDF Chief of Staff Benny Gantz.
According to the report, Gantz told Pundak during the ceremony that "Yitzchak, your tremendous contribution has been with us over the years. I feel that this is a unique, unprecedented event, and an expression of thanks to you and your work. I'm glad that it was in my hands to do the right thing and give you the rank of Major-General."
Yaalon was quoted as saying that "You, Major-General Yitzchak Pundak, deserve this rank, and I am happy that the Chief of Staff and I had the opportunity to do this historic justice."
As if this was not enough, Pundak went on to give another interview to the Israel National News in which he said that the "only way" to bring the Arabs under control was to "kill them."
Pundak was quoted as saying: "We are not dealing with the Gaza Strip in the right way. In the 1970s – '71, '72 – I was governor of the Gaza Strip. In these two years the Strip calmed down completely.
"What should be done? For every missile they fire, we reply with 20 artillery shells. If we kill 500, they'll calm down immediately. And believe me, I have a lot of experience with this. I dealt with the Arabs for five years."
Once again, the Zionist Supremacists have revealed their racist hypocrisy for all to see. They are quite happy to honor and promote one of their own who has openly admitted to committing outrageous human rights abuses, but are the first to scream "racism" should anyone object to or simply point out their supremacist policies.