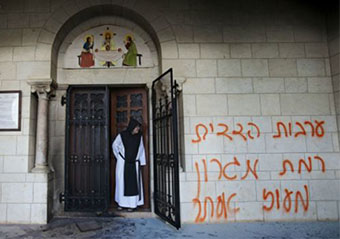 The latest example of vicious anti-Gentile hatred in Israel—the firebombing of a monastery and the scrawling of the slogan "Gentiles Must Perish" on its walls—has served as yet another example of how the Jewish Supremacist controlled mass media censors all news transmitted to Western nations.
Although some news outlets (such as the Sacramento Bee) carried small articles about the latest attack, all of them suppressed the actual details of the attack. Only a newspaper in Lebanon, the Daily Star, actually carried the facts.
According to the Daily Star report, "unknown assailants" threw a Molotov cocktail at the Roman Catholic Beit Jamal monastery near Beit Shemesh in central Israel a Roman Catholic monastery in Israel and scrawled graffiti on its walls.
According to the Sacramento Bee article, there was only "minor damage" to the "exterior of the Beit Gemal Monastery, where the phrase 'price tag' was scrawled onto a wall."
This "description" of the attack is the standard version given out to western audiences.
Compare it to the version provided in the Beirut, Lebanon, newspaper, the Daily Star:
"Hebrew graffiti was also scrawled on the monastery walls, reading 'Gentiles perish' and 'revenge."
"In past years, Christian sites in Israel have been targets of hate crimes by suspected Jewish extremists. These incidents come in addition to attacks against mosques, which have been linked to the 'price tag' campaign of Israeli extremists opposed to state moves to dismantle unauthorised settler outposts.
"Initially carried out against Palestinians in retaliation for state moves to dismantle unauthorised settler outposts in the occupied territories, 'price tag' attacks became a much broader phenomenon with racist and xenophobic traits.
The censored version transmitted to western audiences has had the violent and murderous Jewish hatred stripped out—by the hand of the hidden Jewish Supremacist censors who always try to avoid letting the truth about their real feelings towards Gentiles become public knowledge.
One can only imagine what the same Jewish Supremacist-controlled media would be saying if anyone, anywhere, firebombed a synagogue and wrote "Jews must Perish" on its walls. The uproar would be immense, and every single detail would be splashed all over the newspapers and TV stations repeatedly.
Yet because in this case, it is Jews who are responsible, the same media have suppressed and censored the details of this latest "price tag" attack….