In yet another indication of the world's increasing awareness of the true nature of Zionist supremacist hypocrisy and lies, the head of the Organization for the Prohibition of Chemical Weapons (OPCW) has finally named Israel as one of the world's major offenders with regard to chemical weapons.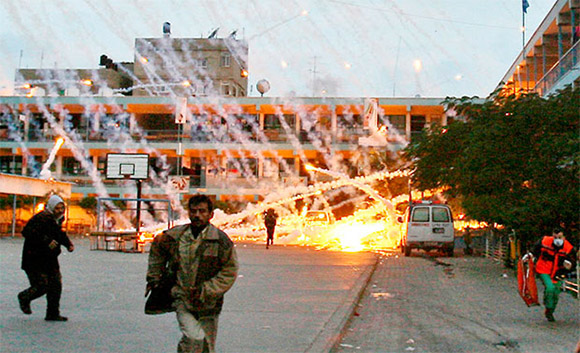 Even though the Zionist Supremacists and their co-religionists—who  control the West's mass media—always try to focus attention on often-mythical "weapons of mass destruction" held by its Middle Eastern opponents, they never tell the public that Israel is in fact that region's biggest stockholder of all manner of chemical, biological and nuclear weapons.
Now, the head of the OPCW, Ahmet Uzumcu, who has just been awarded the 2013 Nobel Prize on behalf of his organization, announced in his first public statement after his new-found higher media profile, that "Israel should join the Chemical Weapons Convention, just like Syria did."
Uzumcu said that Angola, Myanmar and South Sudan were preparing to join the pact. "Now since Syria has become a member country, I think (Israel) can reconsider," he told Reuters.
"I don't see any excuse for not joining the convention," Uzumcu said. "Three (nations) are very close to membership and I hope the others will reconsider their positions."
Israel signed the convention in 1993 but has never ratified it.
Iran has directed international attention towards Israel and slammed the Jewish state for not having signed up for the Chemical Weapons Convention.
"It is concerning that the Zionist regime [of Israel] … is not a member of any treaty on the prohibition of weapons of mass destruction including the Chemical Weapons Convention," said a spokeswoman for Iran's Foreign Ministry was quoted as saying.
Just as Iran did with Israel's alleged chemical weapons, Arab nations have consistently tried to single out Israel for criticism over its assumed nuclear arsenal.
The Arab League has unsuccessfully tried to convince the U.S. and European nations—all under Jewish Supremacist occupation—to join a campaign to end Israel's policy of "nuclear ambiguity."
It has, however, seen some support at the United Nations. A UN resolution passed in 2010 called for a nuclear-free Middle East and singled out Israel for criticism.
See here for details on Israel's chemical weapons stockpile.