By Dr. Patrick Slattery — Well, fam, the euphoria lasted about five seconds. I had long wanted McMaster out. I always envisioned him as having blown up GI Joes with fire crackers when he was a kid. But to replace him with John Bolton, who, sources tell me, has a pile of freshly charred GI Joes in his back yard?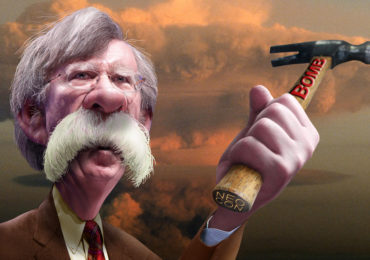 I had been somewhat encouraged over the past couple of weeks, starting with the announcement that Trump will meet Best Korean Glorious Leader Kim Jong-un, and more recently his congratulatory phone call to Fearless Leader of the White Race Vladimir Putin and his speculation that he and Putin would meet soon.
Even the replacement of Tillerson, whom I once had high hopes for, with the loathsome Mike Pompeo did not black pill me. I don't know much about Pompeo, but he is a politician and Trump has no heir apparent, so the idea of a politically ambitious Pompeo remolding himself to Trump's priorities would not be too far fetched.
But John Bolton is pure ideologue. At only 1/8th Jewish, I wouldn't call him a Jew, but he is as dedicated a Zionist as you are ever going to find. I though his chances of becoming National Security Adviser were dashed last week when Tucker Carlson made him look like a fool on national television. But apparently Trump and Bolton have a long relationship.
I want to think that, somehow, this won't derail the glimmers of hope that I still have for Trump's foreign policy. But it's not easy. Still, I will give it the old college try.
Crazy Jewish neocons and their pet goys like Lindsey Gayham and John McCrazy love Bolton, although inexplicably left-wing Zionists like Chucky Schumer aren't pleased. It has always been my contention that Trump is in an alliance of convenience with the pro-Israel fanatics and Wall Street Jews while he wages war on the Zio media and takes on the Jewish immigration lobby. Two can play at divide and conquer. The slavishly pro-Israel Bolton's appointment would help keep the Israel lobby Jews from uniting with the immigration lobby Jews against Trump while he prioritizes immigration policy.
Remember, as dangerous as Bolton is, the National Security Adviser does not command much power independent from the president, in contrast to the head of the CIA, for instance. Remember, the National Security Adviser has nothing to do with the National Security Agency, which is under the Pentagon. So Trump could ignore Bolton's advise, just as he ignored his other advisers when calling Putin or agreeing to meet Kim.
It was interesting that Trump used South Korean diplomats as intermediaries with Kim Jong-un. There is no reason that his hands need to be tied by neocons in Washington when he can use foreign diplomats to help him carry out his foreign policy. That would be nothing new, other than the foreigners wouldn't be Israeli.
Do I believe that this is the case? Well, hope springs eternal. That's not really saying much. By the way, one thing I must add is that Trump has turned to neocons because they embraced him after having failed to prevent his election. Trump is isolated, and needs people to run the government who know their way around and have what the Washington cesspool considers "credentials." Once upon a time the Democratic Party had a peace wing that could have been a source of such personnel, at least for foreign policy. But the entire Democratic Party has followed a strategy of maximum resistance to everything that Trump does, and this is largely responsible for driving him to the neocons. We will just have to see how this plays out.
The change marks the end of a contentious relationship with President Donald Trump, and brings aboard a hawkish seasoned bureaucrat.
President Donald Trump announced on Thursday that he was replacing national security adviser H.R. McMaster with John Bolton, a former U.S. ambassador to the United Nations, marking the latest high-level shake up in a White House that has seen unprecedented levels of turnover in Trump's first 14 months in office.
"I am pleased to announce that, effective 4/9/18, @AmbJohnBolton will be my new National Security Advisor," the president tweeted on Thursday evening. "I am very thankful for the service of General H.R. McMaster who has done an outstanding job & will always remain my friend. There will be an official contact handover on 4/9."
In a subsequent statement issued by the White House, the president paid fuller tribute.
"H.R. McMaster has served his country with distinction for more than 30 years," Trump said in the statement. "He has won many battles and his bravery and toughness are legendary. General McMaster's leadership of the National Security Council staff has helped my administration accomplish great things to bolster America's national security. He helped develop our America First National Security Strategy, revitalize our alliances in the Middle East, smash ISIS, bring North Korea to the table, and strengthen our nation's prosperity.
"This work and those achievements will ensure that America builds on its economic and military advantages. I thank General McMaster and his family for their service and wish them the very best."
Also in a statement from the White House, McMaster, a three-star Army general, announced that he would retire from the military in the coming months.
"After thirty-four years of service to our nation, I am requesting retirement from the U.S. Army effective this summer after which I will leave public service," he said. "Throughout my career it has been my greatest privilege to serve alongside extraordinary servicemembers and dedicated civilians.
"I am thankful to President Donald J. Trump for the opportunity to serve him and our nation as national security advisor. I am grateful for the friendship and support of the members of the National Security Council who worked together to provide the President with the best options to protect and advance our national interests."
Bolton said in an interview on Fox News shortly after the news broke: "I didn't really expect that announcement this afternoon. But it's obviously a great honor and always an honor to serve our country."
McMaster's exit brings an end to his uneven tenure as leader of the NSC, marked by internal clashes with the president and other top administration officials and months of swirling speculation about his looming departure.
He never quite meshed with the president, aides say, and at times skirmished with him on foreign policy matters.
"Everyone knew he'd be out eventually," one senior administration official said, adding that the process was smoother than Secretary of State Rex Tillerson's impromptu ouster last week, and that McMaster was afforded a higher level of courtesy than Tillerson, who found out about his own firing when Trump tweeted about it.
Trump made the decision to replace McMaster earlier this month, and accelerated the process in the wake of news reports about his impending departure, another administration official said. The reports were making it difficult for McMaster to continue to lead the National Security Council on a daily basis, the official said, although the White House has in the past kept aides in place for months after rumors of their impending exits began circulating.
Trump offered Bolton the join during an Oval Office meeting in Thursday and Bolton accepted, the official said. Trump then called McMaster to inform him of the decision.
Though most of their disagreements took place in private, McMaster was the subject of a public rebuke from Trump in February when he stated during a conference in Munich that evidence of Russian meddling in the 2016 elections was "incontrovertible."
"General McMaster forgot to say that the results of the 2016 election were not impacted or changed by the Russians and that the only Collusion was between Russia and Crooked H, the DNC and the Dems," Trump tweeted in response. "Remember the Dirty Dossier, Uranium, Speeches, Emails and the Podesta Company!"
The jab was the first time Trump's criticisms of McMaster spilled into public view, despite the president's having seriously contemplated his ouster as early as November. Still, McMaster remained outspoken in his views, and as recently as last week said that the administration should be tougher on Russia over its actions in Syria.
Bolton is a controversial figure on the international stage. He cheered on the 2003 invasion of Iraq, has called for bombing Iran to stop its nuclear program, dismissed the idea of a two-state solution in the Middle East and derided the United Nations, where he once served as U.S. ambassador in the George W. Bush administration. Like Trump, he has an intense wariness of international organizations, and has also questioned the intelligence community's conclusion that Russia interfered in the 2016 U.S. presidential election.
Bolton is viewed with mixed feelings within the White House, and has been better known in recent years as a Fox News pundit than as a foreign policy professional. But he is also seen as a skilled bureaucrat who has told associates that Trump needs an adviser who can operate in that environment.
That message seemed to be underscored this week when the White House was embarrassed by leaked details about Trump's phone call with President Vladimir Putin of Russia, in which he congratulated Putin on his re-election against the advice of aides.
In the Fox News interview on Thursday, Bolton said he was "outraged" by the leak and called it "unacceptable."
"This is really a terrible reflection on the individual or individuals that did this," he said. "They should be ashamed of themselves. I think whether you're a Republican or a Democrat, a liberal or conservative, there ought to be unity that leaking of that sort is simply unacceptable."
Most staffers on the National Security Council will view Bolton as a professional, a serious person who knows the issues and "isn't a doofus," one former transition official said.
"If someone is saying there will be a mass exodus because of the switch, I would not buy that," the official said. "I would not expect a wholesale change immediately in the staff. But what will be interesting to see is the people Bolton brings in with him from the national security world."
No one was surprised by the change, the official added, since the idea of McMaster's leaving has been out there for so long. "I don't know anyone who thought McMaster would be around beyond this summer," the official said.
The move was met with applause from some Republicans.
"Selecting John Bolton as national security adviser is good news for America's allies and bad news for America's enemies," Sen. Lindsey Graham (R-S.C.) said in a statement. "I have known John Bolton for well over a decade and believe he will do an outstanding job as President Trump's new national security adviser. He has a firm understanding of the threats we face from North Korea, Iran and radical Islam. As our U.N. ambassador under President Bush, John Bolton is a well-known figure throughout the world."
Rep. Lee Zeldin (R-N.Y.) said: "Ambassador John Bolton is ridiculously knowledgeable and will be a great national security adviser. The leaks coming out of the National Security Council will end, Obama administration holdovers will be gone, and the team, chemistry and work product will all be improved."
Democrats were swift to criticize the pick.
"Mr. Bolton's tendency to try to solve every geopolitical problem with the American military first is a troubling one," Sen. Chuck Schumer (D-N.Y., the minority leader, said in a statement. "I hope he will temper his instinct to commit the men and women of our armed forces to conflicts around the globe, when we need to be focused on building the middle class here at home."
Rep. Adam Schiff (D-Calif.), the top Democrat on the House Intelligence Committee, wrote on Twitter: "It's hard to escape the disquieting conclusion that the mass exodus of the 'adults' from this Administration is putting our nation's security at risk. Ambassador Bolton's hawkish and conspiratorial thinking will only make matters dangerously worse."
Still, Democrats are powerless to stop the move, since the position does not require Senate confirmation.
News of McMaster's departure comes amid concerns over a larger West Wing shake-up, with several top administration officials reportedly under consideration for dismissal by Trump.
The speculation prompted chief of staff John Kelly to address White House staffers last week and offer reassurance that more upheaval was not on the way for officials, White House press secretary Sarah Huckabee Sanders told reporters last Friday.
"The chief of staff actually spoke to a number of staff this morning, reassuring them that there were personnel changes — no immediate personnel changes at this time — and that people shouldn't be concerned," Sanders said at that day's press briefing.
According to Sanders, Trump and McMaster were in meetings together last Friday, but the pair were "not focused on the news stories" regarding the national security adviser's status with the president.
After The Washington Post reported last week that Trump had already made up his mind about parting ways with his national security adviser — and was mulling timing of the announcement — Sanders directly addressed McMaster's status in a late-night note.
"Just spoke to @POTUS and Gen. H.R. McMaster — contrary to reports they have a good working relationship and there are no changes at the NSC," Sanders tweeted.
McMaster stepped into the role of national security adviser in February 2017, replacing retired Lt. Gen. Michael Flynn, who resigned after it was reported that he lied about contacts with Russian officials during the 20 6 presidential campaign. Flynn has since pleaded guilty to lying to the FBI.
Trump's presidency has been marked by numerous prominent staffing changes. Trump abruptly announced in a tweet last week that Tillerson would be replaced by CIA Director Mike Pompeo as secretary of state.
Earlier this month, Trump's top economic adviser, Gary Cohn, resigned amid a dispute with the president over his approach to trade tariffs. Late last month, White House communications director Hope Hicks, one of Trump's longest-serving aides, announced she would step down from her role.
The president has already cycled through a chief of staff, press secretary, multiple communications directors, chief strategist and deputy chief of staff.