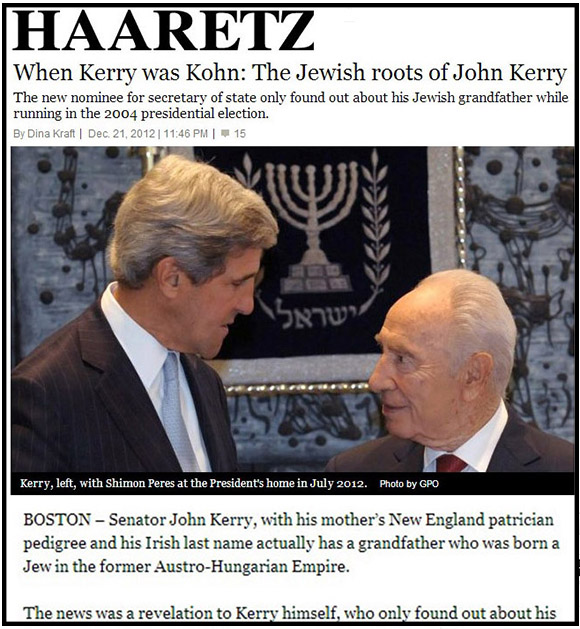 The entire world has been subjected to a barrage of war-mongering propaganda against Syria by US Secretary of State John Kerry—but little known is the fact that Kerry's family name is Kohn and that he is, by Jewish definition and Israel's own immigration laws, a Jew.
This fact puts the war-mongering by Kerry/Kohn into perspective, and also reveals just how deeply the Israeli/Zionist Supremacist tentacles run in the American government.
According to the Israeli Haaretz newspaper, John Kerry's family are actually Jews whose surname was Kohn.
His paternal grandfather Frederick A. Kerry, was born Fritz Kohn in a town in what today is the Czech Republic before changing his name ahead of his immigration to the United States a century ago.
In 1868, after the death of his first wife, he moved to Bennisch (today called Horni Benesov) and married Mathilde Frankel Kohn. Benedikt and Mathilde Kohn were two of the only 27 Jews living in Bennisch, which is listed as having a total population of 4,200, in 1880.
Soon after Benedikt died in 1876, Mathilde moved to Vienna with her children Ida (7), Friedrich "Fritz" (3) and Otto (newborn).
Fritz and Otto excelled in their studies in Vienna. Both Kohn brothers abandoned their Jewish heritage and converted to Roman Catholicism.
In addition, in 1897, Otto decided to shed the Jewish-sounding name of Kohn. He chose a new name by dropping a pencil on a map. The pencil landed on Ireland's County Kerry. In 1901, Fritz followed his brother's example and officially changed his name to Frederick Kerry.
Fred, who worked as an accountant at his uncle's shoe factory, married Ida Loewe, a Jewish musician from Budapest. Ida was a descendant of Sinai Loew, a brother of Rabbi Judah Loew, the famous Kabbalist, philosopher and Talmudist known as the "Maharal of Prague" who some say invented the character of the Golem.
In 1905, the young family immigrated to America. After entering through Ellis Island, the family first lived in Chicago and then settled in Boston. Fred and Ida had two more children in America, Mildred (1910) and Richard (1915).
Fred and Ida and their three children lived in Brookline, where Fred became a prominent man in the shoe business.
In 1921, Fred Kerry, at age 48, entered a Boston hotel and shot himself in the head. Richard was six years old when his father committed suicide. He attended Phillips Academy, Yale University and Harvard Law School. After serving in the U.S. Army Air Corps, Kerry worked in the U.S. Department of State and later the Foreign Service.
He married Rosemary Forbes, the beneficiary of the Forbes family trusts. The Forbes family amassed a huge fortune in China trade.
Richard and Rosemary had four children: Margery (1941), John (1943), Diana (1947) and Cameron (1950). John, a Massachusetts Senator, is the 2004 Democratic Nominee for President. Cameron, who married a Jewish woman and converted to Judaism in 1983, is a prominent Boston lawyer.
* Kerry is not be the first U.S. Secretary of State to have a Jewish family past later in life. In 1997 it was revealed that Secretary of State Madeleine Albright, who was born in Prague,  was actually Jewish—as if people seeing her visage could not tell that.
Albright is more famous for telling the world during a television interview that the deaths of over half a million Iraqi children, caused by a US boycott of medical supplies, was "worth it."