In one of the most public confirmations yet of the "single loyalty" towards Israel (which Jewish Supremacists always deny), Israel's Jerusalem and Diaspora Affairs Minister Naftali Bennett has said that Jews outside Israel "should have some sort of say" in the Israeli government's affairs, and is busy piloting a scheme to give "semi-citizenship to Diaspora Jews."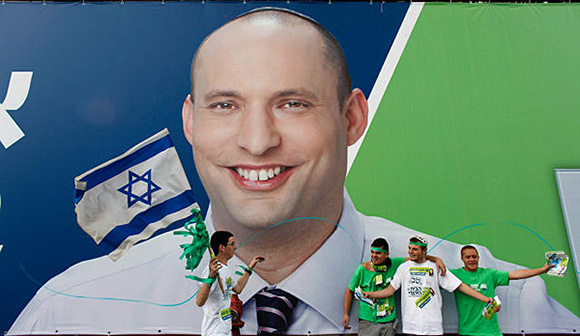 According to an article originally published by the Jewish Telegraphic Agency, the scheme has been dubbed the "Government of Israel and World Jewry Joint Initiative" and is an attempt "to strengthen Jewish identity and connections between Israel and Jews around the world."
According to the JTA, Israel's government will be pouring $1.4 billion into the initiative — which is cosponsored by the Jewish Agency for Israel.
Currently, American taxpayers hand over $8 million per day, every day, seven days a week, in "aid" to the state of Israel.
Traditionally, Jewish Supremacists have always denied the claim that they have "dual loyalty"—to Israel and to the nation in which they reside—but the new initiative once again makes a mockery of this allegation. In reality, there is only one single loyalty—a fact emphasized by the JTA report which even reveals that the new project was launched just before the largest meeting of Jewish extremist organizations in America:
"The project's goal is to develop a wide-ranging plan of action on Jewish identity and Israel-Diaspora connections, and it kicked off in November with a meeting of Jewish leaders right before the Jewish Federations of North America General Assembly," the JTA report said.
"This week, Jews around the world were invited online to discuss working papers on the initiative's seven main areas of focus, most of which focused on engaging Jews through formal and informal education, as well as immersive experiences in Israel.
"For Bennett, the larger idea is a paradigm shift in how Israel and the Diaspora view each other. Instead of American Jews funding Israel's existence as an embattled home for refugees, he says the Jewish state's main mission should be ensuring Jewish continuity."
According to the Israeli government minister, "What worked in terms of Israel-Jewish Diaspora relations doesn't work anymore. Instead of viewing the Diaspora as a wallet, the new objective is keeping Jews Jewish and connected to Israel even if they don't make Aliya." (the Hebrew for Jewish immigration to Israel).
The JTA report quoted Bennett as saying that "Israel can no longer expect masses of Jews to make aliyah, as they had from the Soviet Union, Ethiopia and the Middle East in previous decades. We still have an objective of aliya, but it's definitely a watershed point in the sense that we understand that a big proportion of Jews is hoping to stay in the Diaspora.
"We recognize that now we have to shift the objective to keep them Jewish. It's a big change. Israel has never stepped up to that."
Bennett, whose parents moved to Israel from America, is  chairman of the modern Orthodox Jewish Home party, part of the ruling coalition in the Israeli government. That party opposes proposals for the Israeli government to recognize non-Orthodox marriages and conversions. Bennett also serves as Israel's religious affairs minister.