By Dr. Patrick Slattery — One of Israel's most popular politicians declared the entire Palestinian people the enemy on her Facebook page the day before six Israeli teens allegedly tortured a Palestinian youth to death by burning him alive.
What's more, the post immediately received thousands of likes from like-minded Jewish extremists all over the world.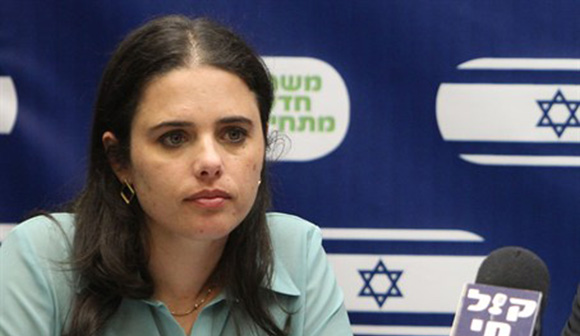 Knesset (parliament) member Ayelet Shaked was recently declared woman of the year by B'shava for her actions to advance Zionism, and was also selected as an outstanding parliament member last year in a survey held by the Knesset channel.
Shaked is a senior figure in the Habeyit Hayehudi (Jewish Home) party that is part of Israel's ruling coalition. As such, she is famous for calling for the release of the treacherous Jewish American spy Jonathan Pollard and the deportation of all African refugees from Israel.
Her post's genocidal nature was revealed by its declaration that "the entire Palestinian people is the enemy" and its call for the destruction, "including its elderly and its women, its cities and its villages, its property and its infrastructure." She refers to Palestinian women as mothers who give birth to "little snakes."
Here is the content of  Shaked's post, translated into English: (It references a leader of the settle movement named Uri Elitzur, who was a Netanyahu advisor and speechwriter).
This is an article by the late Uri Elitzur, which was written 12 years ago, but remained unpublished. It is as relevant today as it was at the time.
The Palestinian people has declared war on us, and we must respond with war. Not an operation, not a slow-moving one, not low-intensity, not controlled escalation, no destruction of terror infrastructure, no targeted killings.
It is not a war against terror, and not a war against extremists, and not even a war against the Palestinian Authority…This is a war between two people. Who is the enemy? The Palestinian people.
What's so horrifying about understanding that the entire Palestinian people is the enemy?
…[T]the morality of war (yes, there is such a thing) is founded on the assumption that there are wars in this world, and that war is not the normal state of things, and that in wars the enemy is usually an entire people, including its elderly and its women, its cities and its villages, its property and its infrastructure.
And the morality of war knows that it is not possible to refrain from hurting enemy civilians.
 They are all enemy combatants, and their blood shall be on all their heads. Now this also includes the mothers of the martyrs, who send them to hell with flowers and kisses. They should follow their sons, nothing would be more just. They should go, as should the physical homes in which they raised the snakes. Otherwise, more little snakes will be raised there.
Had a politician from any other country posted such genocidal sentiments, we would certainly being hearing about it day and night from a media calling for his immediate resignation.
But in this case, the politician is a member of the Israeli ruling coalition and was expressing views that are widely shared by Jewish supremacists (as evidenced by the likes and shares she received), so we are unlikely to hear a peep from our Zio-media.