In America The Council of Presidents of Major Jewish Organizations is composed of the 50 largest Jewish organizations. It includes some the American Jewish Committee (AJC), the ADL and many more with global reach.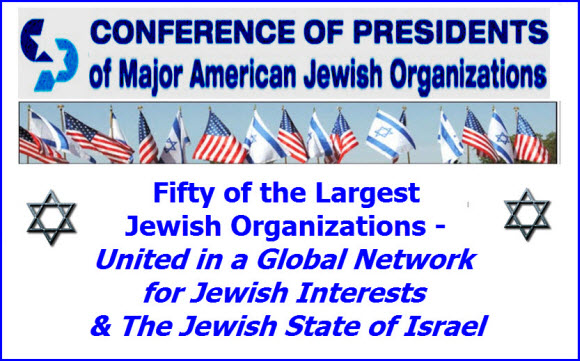 With over a billion dollars of wealth they are dedicated to Israel and Jewish interests nationally and globally. They support clear domestic policies in Western nations. They all support Israel, But the policies they support for every other nation are the very opposite of that of Israel.
1) They support Israel which bans same sex marriage in defense of the Jewish family.
BUT SUPPORT SAME SEX MARRIAGE IN EVERY OTHER NATION.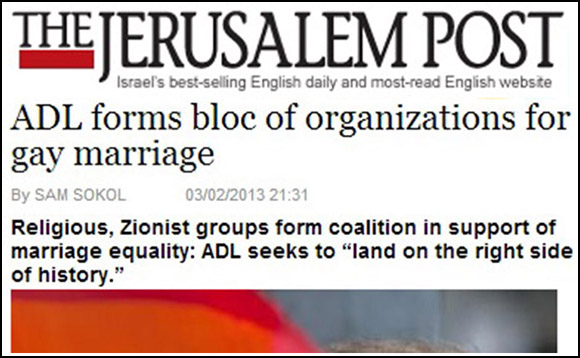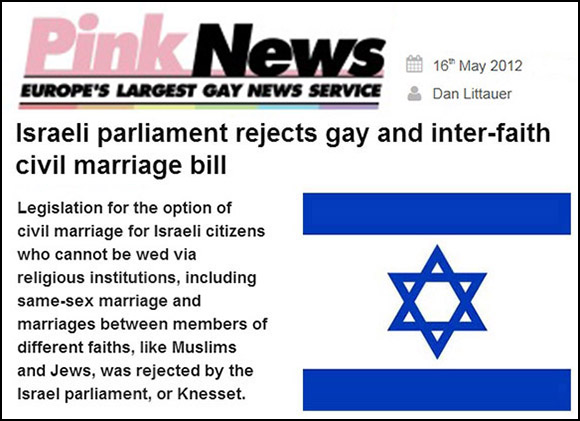 2) They support Israel where it is illegal for a Jew to marry a non-Jew. Most of the largest Jewish organizations in Western nations have programs to prevent intermarriage of Jews and non-Jews.
BUT THEY WOULD DEMONIZE AS "NAZI" ANY NATION, ORGANIZATION OR PERSON THAT WOULD CONDEMN GENTILE INTERMARRIAGE WITH JEWS.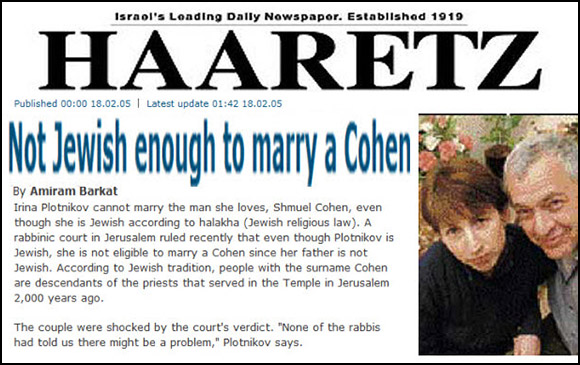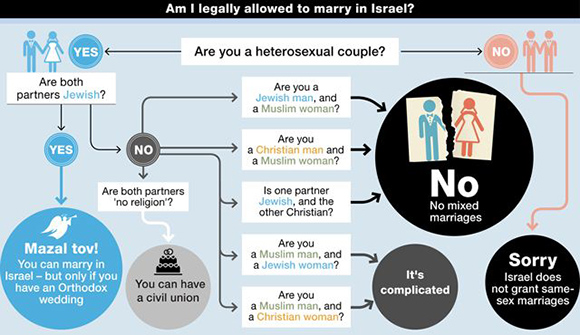 3) They support Israel which has the strictest immigration policies in the world, based on Jewish DNA and accept almost no refugees.
BUT IN EVERY NATION OTHER THAN ISRAEL THEY SUPPORT OPEN IMMIGRATION AND MASSIVE NUMBERS OF REFUGEES.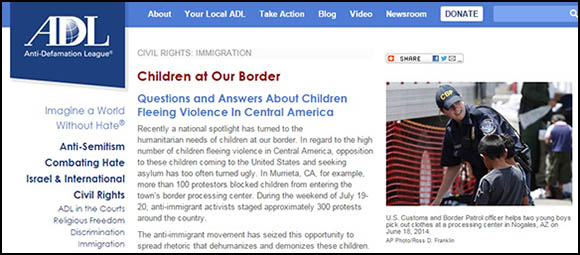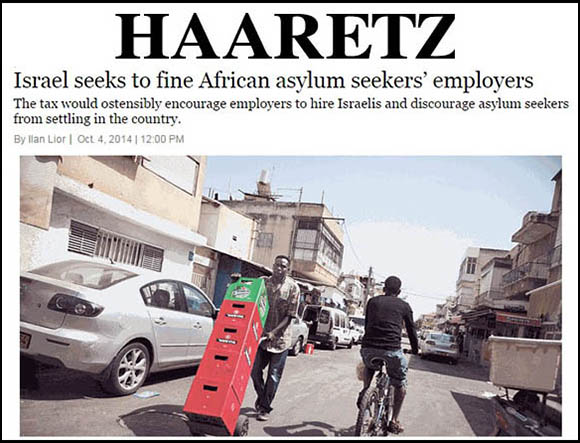 4) They support Israel which is overwhelmingly segregated in schools, apartments, neighborhoods, whole cities and towns and even in the settlements they stole from Palestinians. Israel even segregates public transport and has "Jews only" roads in the occupied territories.
BUT IN EVERY OTHER NATION THEY CONDEMN SEGREGATION.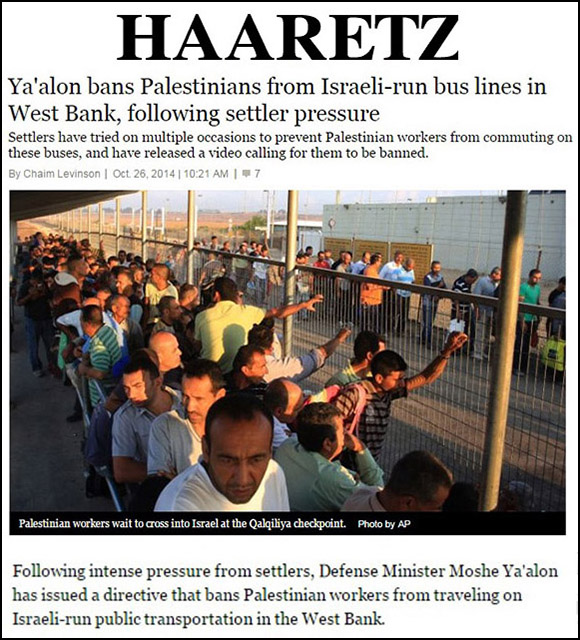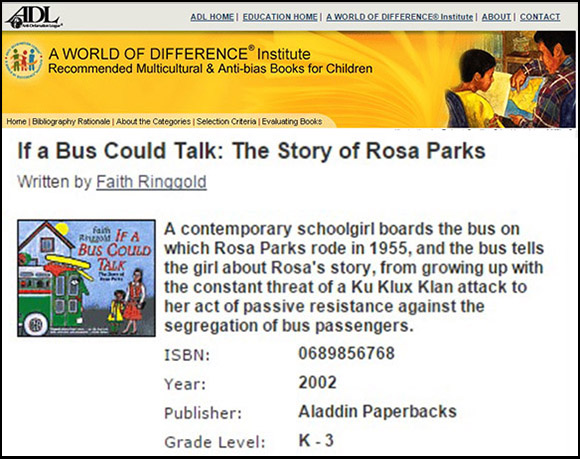 5) They support Israel where Israel citizens can publicly carry around machine guns if they wish.
BUT IN EVERY OTHER NATION SUPPORT STRICT GUN CONTROL.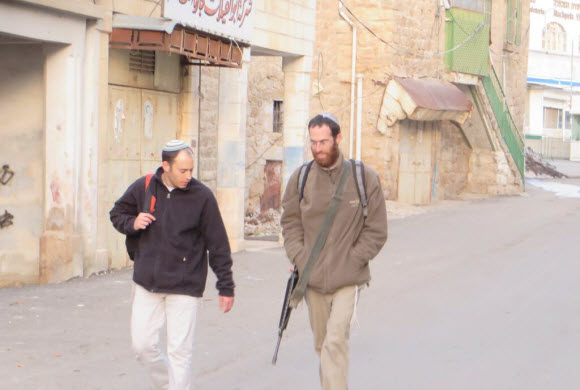 6) They Support Israel which honors Jews who spout hate and even genocide against Gentiles (such as the late Rabbi Yosef).
BUT IN EVERY OTHER NATION, THEY WOULD CONDEMN ANY PROMINENT GENTILE THAT WOULD SAY THINGS EVEN REMOTELY SIMILAR.
7) They support Israel where massive casino gambling such as in Las Vegas is not permitted.
BUT THEY SUPPORT IT IN AMERICA WHERE JEWISH SUPREMACIST, RADICAL ZIONISTS SUCH AS SHELDON ADELSON MAKE FORTUNES FROM CASINOS AND THEN USE THE MONEY FROM THE VICE TO BE AMERICA'S BIGGEST CAMPAIGN CONTRIBUTOR.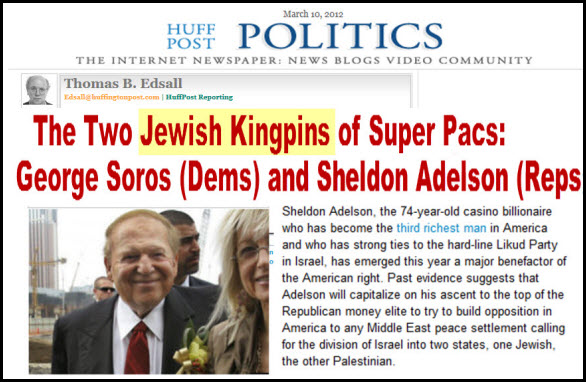 8) They support Israel which a Jewish State that celebrates and honors its Jewish religion and culture.
IN AMERICA AND ELSEWHERE, JEWISH SUPREMACIST GROUPS ARE AT THE FOREFRONT OF LEGAL ACTION TO REMOVE ALL CHRISTIAN SYMBOLS OR REFERENCES FROM PUBLIC PLACES. IN THE HEIGHT OF CHUTZPAH AT THE SAME TIME, THEY DEMAND THE RIGHT TO ERECT JEWISH SYMBOLS AT ALL PUBLIC PLACES SUCH AS IN FRONT OF THE WHITE HOUSE.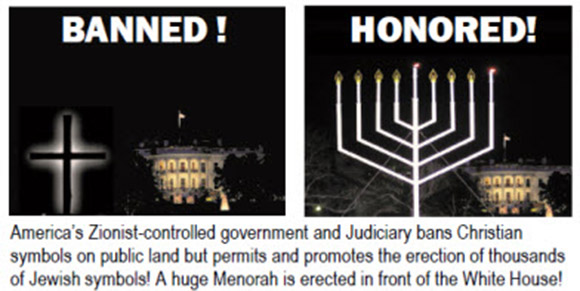 9) They support Israel which is the very opposite of "diversity." In fact they demand that Israel be a "Jewish State" openly dedicated to the Jewish People.
There are no powerful media owned by non-Jews in Israel. There are no Gentiles in control the Israeli National Banking system. Jewish organizations around the world support Israel where its 20 percent Palestinian population is only 11 percent of University students.
BUT IN AMERICA AND EUROPE EVERY JEWISH ORGANIZATION SUPPORTS THE COMPLETE LACK OF DIVERSITY IN ISRAEL AND AT THE SAME TIME A PHONY "DIVERSITY" IN AMERICA AND EUROPE IN WHICH JEWS, 2 PERCENT OF THE POPULATION CONTROL MEDIA, FINANCE AND GOVERNMENT.
Jews, who are only 2 percent of the population comprise 25 percent of the top universities, while European Americans, who are 70 percent of the population are only 20 percent.
This domination at Harvard and the Ivy League is not because 2 percent of the Students comprise 25 percent of the best students. In fact, Jews are 14 times (1,400 percent) over represented than they should be by qualification and merit).
They totally control the major Hollywood movie and TV studios and most of the world's media conglomerates due to Jewish tribalist racism.
They also dominate International banking such as the world's leading predator criminal bank Goldman Sachs as well as the Federal Reserve Bank, the World Bank and the IMF.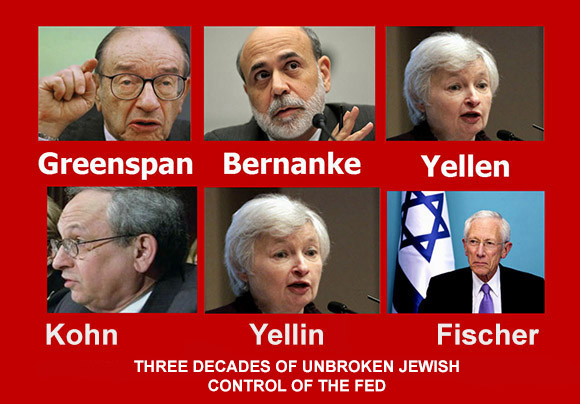 They don't dominate Hollywood because the 98 percent of the non-Jewish population is not capable. They dominate for one overwhelming reason, because of their racist tribalism. The real privilege in America is Jewish privilege. The real most powerful and virulent racism in America is Jewish racism.
Why is Jewish racism the only racism you can't criticize?
Answer: because Jewish racists control the means by which criticism is heard: the media. With their media, financial and political control, they tyrannically prevent any discussion of the truth about racist Israel and the most powerful tribal racism on Earth; Jewish Supremacism.