The confession by Hollywood Jewish Supremacist mogul Arnon Milchan that he worked for the Israeli secret service while living in America has underlined the fact that Jewish Supremacy is not about "dual loyalty," but rather single loyalty—to their tribe against everyone else.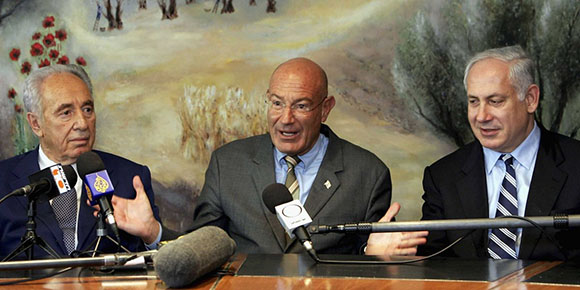 In an interview with  Israel's Channel 2 TV's flagship investigative program "Uvda," Milchan detailed a series of clandestine affairs in which he was involved and particularly how he helped purchase technologies Israel allegedly needed to operate nuclear bombs.
The Hollywood producer, best known for movies such as "Pretty Woman," "Fight Club" and "L.A. Confidential" said he worked for the secret Israeli service which ran the Jonathon Pollard spy ring—the single most damaging anti-American espionage case in recent history.
Milchan, who ran a fertilizer company in Israel before making it big in Hollywood, said he continued with his clandestine work in America "while maintaining close ties with Israel's leadership."
An Associated Press article said that Milchan worked for Israel's now-defunct Bureau of Scientific Relations, known as Lekem, which worked to obtain information for secret defense programs. The bureau was disbanded in 1987 after it was implicated in the spying affair for which Jonathan Pollard, another Jewish Supremacist who infiltrated the U.S. Navy's intelligence section to spy for Israel.
Pollard was discovered and sentenced to life in prison for his treason, and is now an Israeli citizen—and is the subject of continual demands for his release by the Israeli government.
Milchan also claimed that "other big Hollywood names were connected to his covert affairs.
This is not surprising, given the now undisputed—and freely admitted—fact that Hollywood is totally dominated by Jewish Supremacists.
 "If people knew how many times I risked my life, back and forth, again and again, for my country," he said on the programme.
Milchan – who is said to have a net worth of more than $4bn (£2.5bn) – confirmed that Shimon Peres, now Israel's President, recruited him in the 1960s.
Peres, the creator of Israel's nuclear weapons programme in the 1960s, admitted recruiting Milchan.
"Arnon is a special man. It was I who recruited him. When I was at the ministry of defence, Arnon was involved in numerous defence-related procurement activities and intelligence operations.
"His strength is in making connections at the highest levels. His activities gave us a huge advantage, strategically, diplomatically and technologically," he said
Israeli spy officials used bank accounts set up by Milchan to make weapons-related purchases around the world, including helicopters and missiles, the report said.
When the FBI discovered one of his companies was used to ship nuclear triggers to Israel without proper licenses, it resulted in the 1985 indictment of an executive who was involved. Charges against Milchan were dropped by the Reagan administration.
The "special needs" serviced by Mr. Milchan, who is now 66 years old, included buying components to build and maintain Israel's nuclear arsenal. According to an article in the New York Times, this included both big-ticket conventional weapons and krytrons, devices that can trigger nuclear bombs.
Israeli spy officials used bank accounts set up by Milchan to make weapons-related purchases around the world, including helicopters and missiles, the report said.
Milchan's chameleon-like behavior is just one example of the hidden-to-gentiles iner world of Jewish Supremacys—where one thing, and one thing only, matters—Israel's interests above anyone else's.
Dual loyalty? Forget it. It is single loyalty.
* Watch Dr. David Duke's discussion of the openly admitted Jewish Supremacist control of Hollywood below.