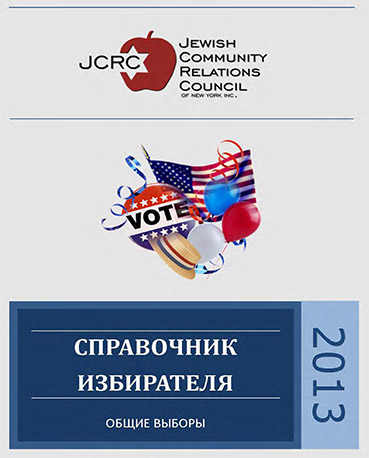 In addition to the massive increase in the number of orthodox Jews in New York City, America's largest city now has so many recent Russian Jewish émigrés that they have now acquired their own Russian-language voters' guide.
The 2013 Russian Language Voters' Guide has been issued by the Jewish Community Relations Council of New York in response to "a lack of voter information in Russian" according to the New York Jewish Week.
The guide contains statements submitted by candidates for City Council in 10 districts, borough president of Brooklyn, Queens and Staten Island and the citywide races.
It also features information on finding polling places and how to operate the computerized balloting system that will be used in the Nov. 5th election
"Over the years JCRC-NY encouraged émigrés from the FSU [Russia] to become citizens and helped to inform and encourage them to become active participants and voters," said executive vice president Michael Miller.
"We welcome the fact that in 2013, more Russian-speakers are candidates than ever before and that political experts pay increased attention to the Russian vote."
The "Russian vote" is actually the Russian-speaking Jewish vote, and according to the New York Jewish Week, is estimated that there are at least 30,000 Russian-speakers concentrated in south Brooklyn's Brighton Beach, Manhattan Beach and Sheepshead Bay.
"Russian-speaking" candidates for City Council include Republican David Storobin, Alexander Litovsky of the Forward Brooklyn Party and Igor Oberman of the Working Families Party in Brooklyn. Alex Blishteyn is running as a Republican in Queens.
Gregory Davidzon, the politically powerful "Russian-language" radio host, recently announced an independent campaign for the Brooklyn City Council seat being vacated by Michael Nelson.
* The Jewish population of New York is widely estimated to be at least 1.1 million—and most likely more. Some 40 percent of Jews in the city identify themselves as Orthodox, an increase from 33 percent in 2002; and 74 percent of all Jewish children in the city are Orthodox.
* Local Jewish Supremacist organizations have snapped up the majority of taxpayer-funded FEMA Security financing in New York City, the Jewish Week newspaper boasted earlier this year.