The recently concluded local elections in Israel have once again demonstrated the naked Jewish Supremacist racism which lies at the heart of the Zionist state.
There is, of course, no mention of any of this in any major mass media outlet in the West–because those news sources are all controlled by Jewish Supremacists who hypocritically always suppress any news of Jewish racism while simultaneously giving extensive coverage to the slightest suggestion by any other group, European or otherwise, that they should preserve their identity.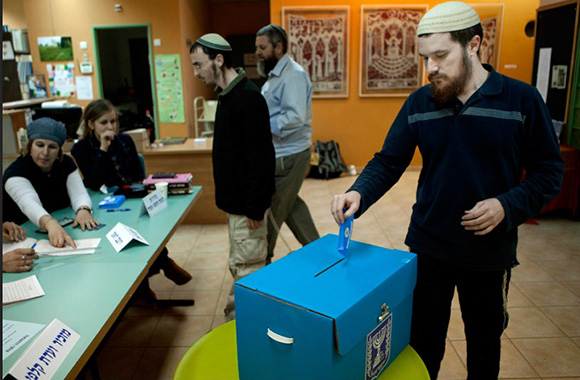 However, by reading news media meant for Jews only,  it is clear that openly anti-Arab parties and organizations promoting "Jewish identity" scored well across the board. This is exemplified by a headline in the Jerusalem Post titled "Jewish separatism proves a vote-winner in Karmiel."
That city, whose population is a mixture of Jews and Arabs, saw a large turnout for a new list which advocated "the preservation of the city's Jewish character," the Jerusalem Post said.
The independent list entitled Habayit Sheli (It's My House) used slogans during the municipal election campaign such as 'My house is not for sale' – a reference to the minority Arab-Israeli population in the country.
"The residents of Karmiel are very intelligent and understand that we need to give a chance to a new generation, to the young people, to work toward preserving the Jewish, Zionist nature [of the city] and to bring young couples to the city to make it vibrant," said Oren Milstein, a founder of the list.
Rina Greenberg, who was reelected to the council on the independent list Karmiel is Our Home, had similar ideas about keeping Karmiel a Jewish city.
"Nearly 45 years ago," she was quoted as saying, "there was a decision to create a Jewish city in the Galilee, and it was a decision of the state of Israel. There are lots of Druse villages and Muslim villages and Christian villages. We are a small community, and we want to preserve our traditions. We want our boys to marry our girls."
It is not only the new lists which have run campaigns like this, according to independent award-winning British journalist Jonathan Cook, who is based in Nazareth.
Koren Neuman, head of Karmiel's Likud electoral list, was quoted by Cook in another article which appeared in the non-Jewish controlled Al-Jazeera news outlet, saying that  "Our message is that we want to keep our city Jewish-Zionist. That, after all, is the mission of the state of Israel. But Karmiel is supposed to be a Jewish city and we must not allow its character to be changed."
Cook continued: "The local elections were not a ballot on how well their municipality is run but on how to stop 'Arabs' moving in next door, how to prevent mosques being built in their community, or how to 'save' Jewish women from the clutches of Arab men."
According to Cook, the local elections "have brought a tide of ugly racism to the fore, especially in a handful of communities known as 'mixed cities', where Jewish and Palestinian citizens live in close proximity.
"Jewish parties, including local branches of the ruling Likud party, have adopted openly racist language and fear-mongering suggesting an imminent Muslim takeover of Jewish communities in a bid to win votes.
"Notably, Netanyahu and his ministers have refused to condemn or distance themselves from the campaigns run by their local branches.
"In Jaffa, the commercial capital of Palestine before Israel's creation in 1948 and now a mixed suburb of Tel Aviv, Likud ran ads against local Muslims. A third of Jaffa's population are Palestinian, but they face increasing pressure to leave under a program of "gentrifying" neighborhoods.
"One ad – using the slogan "Silence the muezzin in Jaffa? Only Likud can" – echoed threats Netanyahu made in late 2011 to ban mosques from using loudspeakers to call Muslims to prayer.
"Another poster, implying that Palestinian citizens are not loyal to Israel and that Likud would intensify moves to remove them from the city, said the party would 'Return Jaffa to Israel'.
Recent surveys show a strong aversion from many in the Jewish public to living in shared communities. According to the annual Israel Democracy Index, published this month, 48 percent of Jews would not want an Arab neighbor, while 44 percent favored policies to encourage Palestinian citizens to emigrate from Israel.
Such sentiments have received official backing from municipal rabbis. More than 40 signed a decree in 2010 that Jews must not sell homes to non-Jews.
At that time, Karmiel's deputy mayor, Oren Milstein, set up an email "hotline" on which residents could inform on Jewish residents who were intending to sell to Palestinian families. Milstein claimed he had managed to stop 30 such sales.