By Dr. Patrick Slattery — In a bizarre new twist to recent events, a number of obscure news sites are stating that Dr. Duke's recent well-publicized criticism of Nikki Minaj are not due to the obscenity of her work, but rather — get this — a response to her speaking out on the Eric Garner decision! (I guess these journalists weren't listening when we voiced our sympathy for Eric Garner.)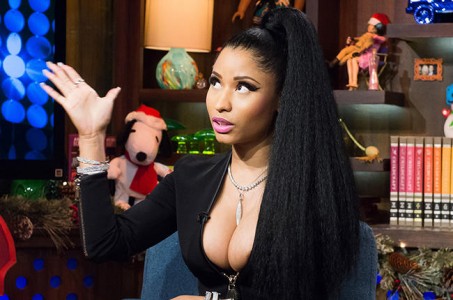 (Nikki Minaj appearing on the Andy Cohen show on December 14 and talking about her "wardrobe malfunctions")
It unclear who started this obvious lie. Six days ago Billboard Magazine's website posted a link to the archive of the December 30 David Duke show on which Dr. Duke make his critique, and Time Magazine's site included a lengthy transcript of the comments. Since then news organizations around the world have carried these comments. I have reported twice in the past few days on the very positive comments that the audience of HiphopDX made in response to Dr. Duke's commentary. (Here and here.)
However, in the past 24 hours articles like the following have sprung up like mushrooms at various "progressive" websites:
Ex-KKK Leader David Duke Lashes Out At 'Degenerate' Nicki Minaj
By Caitlin MacNeal, Talking Points Memo
Ms. MacNeal, formerly an intern at Slate.com, announced that "Former Ku Klux Klan leader David Duke last week lashed out at hip-hop artist Nicki Minaj over her comments on the Eric Garner decision."
Here is another:
David Duke attacks Nicki Minaj, claims Jews are behind hip hop's popularity
by Blue Telusma, The Grio
"The one term Republican legislator has now attacked rapper Nicki Minaj on his online radio show after she spoke out about police brutality."
And another:
David Duke Calls Rapper Nicki Minaj a 'Degenerate' for Speaking Out Against Police Violence
by Josh Kilburn, Americans Against the Tea Party
"While talking to Rolling Stones, Minaj noted that Kanye West, "the unofficial spokesman for hip-hop," was "torn apart" for speaking out against the government's response to Hurricane Katrina. She noted that she's become more cautious as a result when speaking publicly about race: "[H]ow many times can you be made to feel horrible for caring about your people before you say, 'F*ck it, it's not worth it, let me live my life because I'm rich, and why should I give a f*ck?'""
Wow, what a social conscience! Maybe we have been to hard on her.
Here is another:
David Duke attacks 'degenerate' Nicki Minaj after she speaks out against police violence
by Travis Gettys, Raw Story
The odd thing is that none of the stories actually quotes Dr. Duke as even talking about any comments made by Minaj about the police or anything else. Instead, they all refer to this portion of the transcript posted by Time Magazine:
"Why do people blame blacks like Minaj?" he asked, according to Time. "Because Minaj wouldn't be a pimple on somebody's rear end except for the fact that she is promoted by the Jewish record producers and the media, the mass media, the powerful media, that promotes absolute degenerates like her."
It is possible that the origin of this lie comes from the following non-sensical article:
Ku Klux Klan Attacks Nicki Minaj: KKK Claims Black People Didn't Invent Hip Hop
Writer unnamed, Inquisitr
Obviously Blacks invented Hiphop, but the problem is that the Zio-record industry has chosen to promote a very perverted version of it. The Inquisitr article discusses both Dr. Duke's December 30 radio show and comments made by Minaj in a Rolling Stone article that were also posted on December 30. Now, neither Dr. Duke nor myself had any knowledge of the Rolling Stone interview when we when on the air that morning (and the Rolling Stone piece may well have posted AFTER our show aired), and the Inquisitr article never claims that Dr. Duke's comments were in response to the Rolling Stone interview. But this article was posted on Sunday, and the other articles mentioned above are all from Monday, so it may be that the various writers above just incestuously copied each other's mistaken and shoddy journalism, and voila!
Please indulge me as I present yet one more of these articles. This may not be the first, but it is the worst.
Former KKK Leader and Senator Freaks Out After Nicki Minaj Speaks Out Against Police Brutality
by Jackson Marciana, Counter Current News
"Infamous former Ku Klux Klan leader and Republican legislator David Duke recently went on a tirade against rapper Nicki Minaj. While most of the nation had assumed Duke had long since died he proved that he could still make waves on his online radio show.

What did Minaj do to incur the former Klan leader's wrath? The white supremacist lost his proverbial sh*t after the pop star spoke out against police brutality.

Minaj said that black entertainers need to speak out against police abuse, even if many are reluctant to do so because they would be "torn apart" for taking such a stand.

"How many times can you be made to feel horrible for caring about your people before you say, 'F*ck it, it's not worth it — let me live my life because I'm rich, and why should I give a f*ck?'" Minaj said.

But David Duke, who has once again found mainstream relevance after it came out that Louisiana Republican, and House majority whip Steve Scalise, spoke before a Neo-Nazi group founded by the former Klan leader.

Duke decided he would seize the moment by defending the boys in blue…"
The articles rambles on with a few more short excerpts from the December 30 radio show transcript, and then concludes with this gem: "Duke seemed to get lost in his racist vitriol, never really getting to any point that would legitimize the police brutality which he was so enraged at Minaj for speaking against." Of course he didn't make points to justify police brutality, because he was not enraged at her for speaking against it.
One of the story's numerous inaccuracies, however, was not slanderous, but quite the opposite. While it has become a Zio-media tradition to refer to Dr. Duke as "former KKK leader David Duke" and ignore his more recent and more relevant titles, Mr. Marciana to his credit referred to Dr. Duke as "Senator." Dr. Duke actually was a member of the House of Representatives in Louisiana. I am sure the Pulitzer Prize committee will be willing to overlook these minor inaccuarcies. After all, this is a website know for hard-hitting investigative features like "Jewish Peace Group Call For Chanukah '8 Nights, 8 Actions' Against Police Brutality."
(By the way, they have a disclaimer page that states that "neither the owners, management, editorial team or any writers or any COUNTER CURRENT NEWS employees are responsible for errors or any untoward consequences arising from use of the information provided on this Web site." However, it does invite people to contact them if they find anything factually inaccurate in an article. So, if anyone would like to do so, please send a POLITELY worded email to [email protected] with the suggested correction.)
Finally, it deserves mention that black websites have been much more honest and objective in their presentation of this story. In addition to the HiphopDX website, a story by D.L. Chandler of HipHopWired.com was basically factual, with the only real bias in the story being the decision to ignore Dr. Duke's more recent and relevant titles in favor of the worn out "KKK" moniker.