All major Jewish Supremacist leaders in Israel have united in mourning and praise for former Chief Sephardic Rabbi Ovadia Yosef—most infamous for calling Gentiles "donkeys who work for the Jews"—who has died at the age of 93.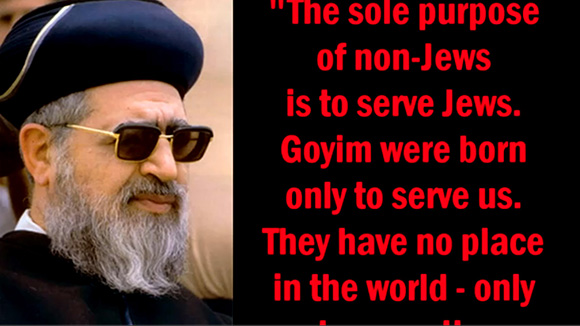 Yosef is on record in the Jewish Telegraphic Agency as saying that "Goyim were born only to serve us. Without that, they have no place in the world; only to serve the People of Israel," he said during a public discussion of what kind of work non-Jews are allowed to perform on Shabbat.
"Why are gentiles needed? They will work, they will plow, they will reap. We will sit like an effendi and eat," he said to some laughter.
Yosef, the spiritual leader of the Shas Party and the former chief Sephardi rabbi of Israel, also said that the lives of non-Jews are protected as Jews should do so for a donkey,  in order to prevent financial loss to Jews.
"With gentiles, it will be like any person: They need to die, but God will give them longevity. Why? Imagine that one's donkey would die, they'd lose their money. This is his servant. That's why he gets a long life, to work well for this Jew."
On Palestinians, Yosef had the following to say:
"May the Holy Name visit retribution on the Arab heads, and cause their seed to be lost, and annihilate them. It is forbidden to have pity on them. We must give them missiles with relish, annihilate them. Evil ones, damnable ones." [2001 Passover sermon. Cf. Haaretz,April 12, 2001].
Despite this vicious hatred—or more likely because of it—Yosef is now being praised as great Jewish hero in Israel.
According to an article in the Times of Israel, "figures from across the political and religious spectrums expressed condolences over the death of Rabbi Monday, playing down his sometimes polarizing statements and praising his encyclopedic knowledge of Jewish law."
Israeli Prime Minister Benjamin Netanyahu released a statement calling Yosef "one of the most important Jewish legal authorities of our generation."
Rabbi Ovadia was a Torah and halacha giant, and a guide to tens of thousands," Netanyahu said. "He worked tirelessly to glorify the Israeli heritage, and his decrees took into consideration the changes in time and the renewing situation in Israel."
President Shimon Peres, who met with Yosef many times, including a visit in the hours before the rabbi's death, was to eulogize Yosef at his funeral later Monday.
Chief Rabbi David Lau joined in expressing condolences to the family, saying that "we knew the goodness of his heart and his love of Torah and of others. He was a caring father to the people of Israel. We have suffered a huge loss."
Knesset Speaker Yuli Edelstein also spoke highly of the late rabbi, saying "Rabbi Ovadia Yosef was a great leader, singular in his generation and admired by tens of thousands of the people of Israel. He always stood by the weak and the downtrodden, and his decrees lit up the way for a whole generation and raised the beam of Sepharadi Judaism."
Finance Minister Yair Lapid, a frequent critic of ultra-Orthodox politicians, sent Yesh Atid's condolences to the rabbi's family.
"Yosef was one of molders of the Israeli Chief Rabbinate and one of the greatest arbiters of halacha," he said, adding that "his passing away leaves a gaping hole in the world of Torah."
Education Minister Shai Piron, himself a rabbi, also expressed his grief at the news of Yosef's death, saying, "The rabbi was one of a kind in his genius, his decrees and his leading of the public. The rabbi left an indelible mark on the history of the people of Israel. His halachic heritage will continue to accompany the people of Israel for many more years to come."
Gilad Kariv, who heads the Reform movement in Israel, wrote on Facebook that the movement was grieving over Yosef's death despite "bitter disagreements."
"These are exactly the moments when we remember that the disagreements — bitter and piercing as they may be — are disagreements within the Israeli and Jewish family," he wrote. "In the halachic understanding and political-communal leadership of Rabbi Yosef, there were no doubtalso important periods of moderation and social sensitivity."
Interior Minister Gideon Sa'ar said that "the people of Israel have lost a great leader today, one of his kind and a powerful leader who influenced Israeli society for many years."
Former Sephardi chief rabbi Shlomo Amar, who had a falling out with Yosef in the run-up to elections for his successor, said the Jewish people "have lost what's dear to us most," and asked people to join the funeral Monday evening in Jerusalem.