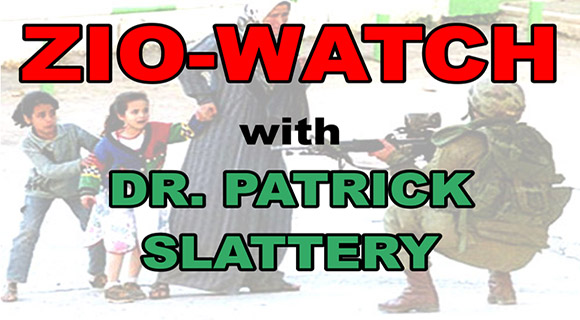 ---
From the Jewish Telegraphic Agency
ADL to Trump: Come up with something other than 'America First'
WASHINGTON (JTA) — The Anti-Defamation League called on Donald Trump to abjure the term "America First," noting its unsavory World War II-era association with anti-Semitism.
"The undercurrents of anti-Semitism and bigotry that characterized the America First movement – including the assumption that Jews who opposed the movement had their own agenda and were not acting in America's best interest – is fortunately not a major concern today," the ADL said in an April 28 statement.
Trump, the real estate magnate and leading contender for the Republican presidential nomination, unveiled his foreign policy in a speech April 27 in Washington and said "America First will be the major and overriding theme of my administration."
Click here for the full story
---
---
From PressTV
Israel 'ethnically cleansing' occupied West Bank: Israeli lawmaker
An Israeli lawmaker has accused Tel Aviv of committing "ethnic cleansing" against Palestinians in the occupied West Bank amid a rise in the demolition of Palestinian houses and buildings in the area.
Dov Khenin told Sky News on Sunday that Israel's demolition of Arab structures in the so-called Area C of the West Bank is an attempt to clear the area and prepare it for Israelis to settle there in the future.
Area C, which is under full Israeli control, covers 360,000 hectares (890,000 acres) of land, equal to 60 percent of the West Bank's area.
The 1993 Oslo Accords between Israel and the Palestinians divides the West Bank into Area A under full Palestinian control, Area B under shared Israeli-Palestinian control and Area C.
Israel is committing an "ethnic cleansing in a very sophisticated way" in the occupied West Bank, Khenin said.
Israeli authorities rejected Khenin's remarks and claimed that the demolitions are taking place because the structures being destroyed do not have building permits.
UN fieldworker Matthew Ryder has said, though, that getting approvals for buildings is "virtually impossible" for the Palestinians.
"Israel's own figures show that, between 2010 and 2014, Palestinians in the area that Israel controls only managed to obtain 33 permits for building on their land — that's something like 1.5% of the permits that are actually granted," Ryder said.
Recent figures released by the United Nations show the Israeli military has more than tripled the pace of the demolitions of Palestinian structures in the occupied West Bank over the past three months.
The world body said the average demolitions have risen to 165 on the monthly basis since January.
Click here for the full story
---
---
From Russia Today
FSA rejects local ceasefires, supports halt in Syria peace talks
Published time: 2 May, 2016 04:38
© Khalil Ashawi / Reuters
The Free Syrian Army has refused to recognize partial ceasefires or local lulls in violence, claiming that if the UN-backed truce is not implemented in full, the group reserves its right to withdraw from the Geneva talks and respond to any attacks. TrendsIslamic State, Syria unrest
The loose coalition of armed opposition groups, united under the US-backed umbrella organization dubbed the Free Syrian Army, issued an official statement on Sunday, in which it claimed that any attack on their individual units will be treated as one on the whole bloc after its formation.
"We – the armed groups from across Syria will form a single bloc, any offensive that takes place in an area where our units are present, will be regarded as an attack against all the units throughout the Syrian territory, and we reserve the right to respond to it," FSA said in a statement endorsed by 37 military units.
The FSA also rejected the US and Russia-brokered "regime of silence" currently in place in parts of Damascus and Latakia provinces, with negotiations currently underway to extend it to Aleppo as well. The organization slammed the idea of a partial ceasefire in selected areas, saying that they will only accept a full-scale truce that concerns all regions.
Click here for the full story
---
---
From Russia Today
'Not part of Germany': German right-wing AfD party adopts anti-Islamic manifesto
Published time: 1 May, 2016 19:17
Frauke Petry (L), chairwoman of the anti-immigration party Alternative for Germany (AfD) votes during the second day of the AfD congress in Stuttgart, Germany, May 1, 2016. © Wolfgang Rattay / Reuters
Delegates from the anti-immigration Alternative for Germany (AfD) party have backed an election manifesto which slams Islam as incompatible with the country's constitution and calls for a ban on Islamic symbols.
"Islam is foreign to Germany, it cannot invoke the principle of religious freedom to the same degree as Christianity," Hans-Thomas Tillschneider, an AfD lawmaker from the state of Saxony-Anhalt, said to loud applause on the second day of the party congress in the southern German city of Stuttgart on Sunday.
The manifesto which the party is now putting forward has a section dubbed 'Islam is not part of Germany,' twisting a phrase often used by Chancellor Merkel, who said on many occasions that Islam belongs to Germany and that freedom of religion for all is guaranteed by the country's constitution.
"An orthodox form of Islam that does not respect our laws or even resists them, and makes a claim to be the only valid religion does not correspond to our legal system and culture," the AfD manifest reads.
Click here for the full story
---
---
From Russia Today
NATO to send 4,000 troops to border with Russia – report
Published time: 30 Apr, 2016 12:50
© Michael Dalder / Reuters
NATO is deploying an additional four battalions of 4,000 troops in Poland and the three Baltic States, according to a report citing US Deputy Secretary of Defense Robert Work.
Work confirmed the number of troops to be sent to the border with Russia, The Wall Street Journal reports. He said the reason for the deployment is Russia's multiple snap military exercises near the Baltics States.
"The Russians have been doing a lot of snap exercises right up against the borders, with a lot of troops," Work said as cited by the Wall Street Journal. "From our perspective, we could argue this is extraordinarily provocative behavior."
Although there have already been talks about German troops to be deployed to Lithuania, Berlin is still mulling its participation.
"We are currently reviewing how we can continue or strengthen our engagement on the alliance's eastern periphery," Chancellor Angela Merkel said on Friday, in light of a recent poll from the Bertelsmann Foundation that found only 31 percent of Germans would welcome the idea of German troops defending Poland and the Baltic States.
Click here for the full story
---
---
From The Independent
Students in the US are demanding slavery reparations from their universities. But how much can modern institutions give?
The protests at Georgetown, Princeton and Harvard raise two questions: Where does this re-examination of US history end, and what should be done to make amends?
Georgetown University owned plantations in neighbouring state Maryland
---
---
From Ynet News
German official denies report on foreign policy shift on Israel
'The guidelines of German Middle East policy have not changed,' says German gov't official in the wake of report Berlin was mulling to end its 'unconditional support' for Israel.
BERLIN – A German government official denied on Sunday a magazine report which said Berlin might end its unconditional support for Israel due to Chancellor Angela Merkel's increasing frustration with Prime Minister Benjamin Netanyahu's policies.
Germany has for decades felt duty bound to support Israel because of the murder of six million Jews by the Nazis in the Holocaust.
Click here for the full story
---
---
From Ynet News
IDF officer says attacked by Jewish settlers at outpost
Settler youth at Khavat Gal push a Civil Administration officer, calling him a 'gentile' and a 'dog'; Nahala Movement: 'Civil Administration is initiating provocations targeting us. The officers came in plain clothing and refused to identify.'
An IDF officer filed a complaint with the police on Sunday, claiming he was attacked by Jewish settler youth when he arrived at the outpost of Khavat Gal near Hebron with his team to survey illegally-built structures.
The officer, who serves as the Israeli Civil Administration's infrastructure officer, said the attackers pushed him and called him a "gentile" and a "dog." He was unharmed in the incident. A police patrol car arrived at the scene, and the Judea and Samaria District Police opened an investigation into the incident. No suspects have been arrested at this time.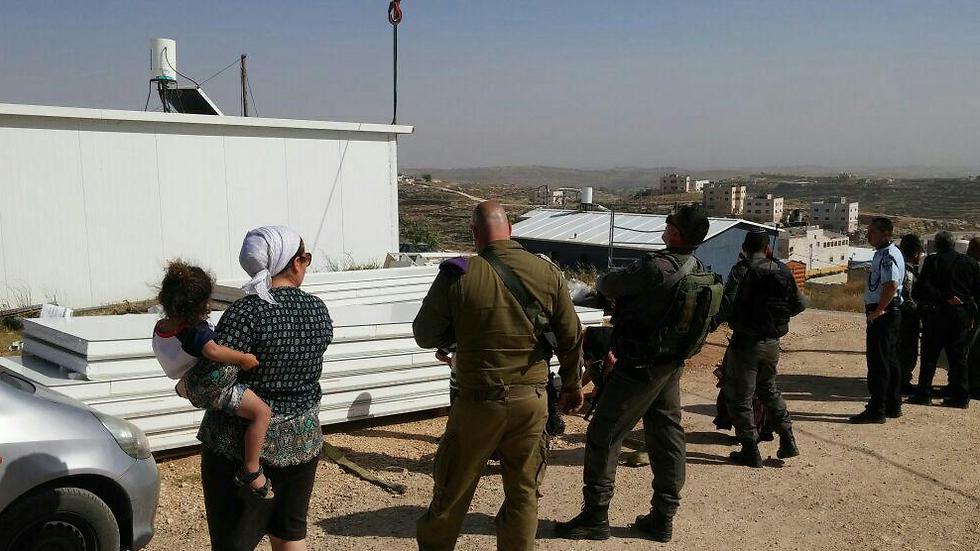 IDF troops at Khavat Gal (Photo: TPS)
---
---
From the Jewish Telegraphic Agency
Israeli officials deny increased tensions with Germany following news report
BERLIN (JTA) — Israeli government officials have denied Spiegel Online magazine's recent report of increased tensions with Germany.
Ties between German Chancellor Angela Merkel of the Christian Democratic Union Party and Israeli Prime Minister Benjamin Netanyahu are strong, according to Israel Hayom. A source suggested the negative reports were due to attempts by some German politicians to undermine those ties.
In their news analysis for Spiegel Online – titled "Foreign policy shift: Skepticism of German-Israeli friendship growing in Berlin" – published April 29, Ralf Neukirch and Christoph Schult said prominent politicians in Germany's mainstream parties believe Netanyahu's settlement policies are blocking the road to a two-state solution with the Palestinians.
Click here for the full story
---
---
From the Jewish Telegraphic Agency
University of Chile Law Faculty Student Union approves academic boycott of Israel
(JTA) — The University of Chile's Law Faculty Student Union voted to approve a boycott, divestment and sanctions resolution against Israel.
The resolution approved a week ago prohibits any academic interaction with the State of Israel or its citizens.
The Simon Wiesenthal Center on Friday urged the University's rector, Ennio Vivaldi Vejar, to nullify the resolution called "closer to the Inquisition than an institution that claims to oppose discrimination and encourage international dialogue."
"A boycott falsely accusing the State of Israel of Apartheid, in fact, is practicing Apartheid against Israel and its Jewish and non-Jewish supporters," said Dr. Ariel Gelblung, the Center's Latin American representative. "Maintaining this resolution would presage a multiplier closing university ties at the whim of individual or group prejudices based upon nationality, race, religion or gender – an unthinkable fate for any campus, but especially for a law faculty."
Click here for the full story
---
---
From the Jewish Telegraphic Agency
Montreal police seize 8,000 bottles of illegally imported kosher wine
MONTREAL (JTA)—Police seized some 8,000 bottles of kosher wine in what appeared to be a Passover-related bootlegging bust at a Montreal synagogue.
Two men were arrested at the Young Israel of Montreal synagogue on April 26, where police found 650 cases of kosher wine – from Israel, Australia, and the U.S. – in its basement.
Quebec prohibits the private sale of alcohol except through mandated provincial agency stores, although some wines and beers sold at grocery stores are exempt.
Also allowed is some private importing of alcohol as long as special taxes are paid to the agency, known as a Crown corporation.
Click here for the full story
---
---
From the Jewish Telegraphic Agency
Lech Walesa says on Facebook he regrets he is not Jewish
WARSAW, Poland (JTA) — Former Polish President Lech Walesa wrote on his Facebook page that he regrets he is not Jewish and that there are no Jewish members of his family.
He noted in the April 26th Facebook post that if he were younger he would "fix this mistake."
Lech Walesa in Poland is known for his activity on the Internet, where he has a blog and where he publishes his own content on his social media accounts, something for which he has been criticized after oversharing vacation photos and other personal posts.  A few months ago, he started a Facebook page.
Last week, one of the page's followers asked Walesa whether he is Jewish, explaining that he understood that Walesa's real name is Lejb Kohne.
Click here for the full story
---
counter error