From the Jewish Telegraphic Agency
Ex-mayor of London suspended from Labour for saying Hitler was Zionist
(JTA) — Britain's Labour Party suspended former London Mayor Ken Livingstone on Thursday for saying Adolf Hitler was a Zionist.
A Labour spokesperson told The Guardian that the action was "for bringing the party into disrepute." British anti-racism activists and Labour Party politicians are demanding Livingstone's expulsion.
In a radio interview with the BBC on Thursday, Livingstone said, "Let's remember when Hitler won his election in 1932 his policy then was that Jews should be moved to Israel. He was supporting Zionism."
Click here for the full story
---
---
From PressTV
Russia won't pressure Syria to halt Aleppo strikes: Official
Moscow will not seek a halt to Syrian airstrikes on militant-held areas of Aleppo as the move could embolden terrorists who control those neighborhoods, Russia's deputy foreign minister said Saturday.
"No, we are not going to put pressure on (Damascus) because one must understand that the situation in Aleppo is part of this fight against the terrorist threat," Gennady Gatilov said, adding that Syria's campaign against the militant-held areas of Aleppo is helping to combat terrorist groups.
The remarks came in response to a demand by Syria's High Negotiations Committee, a major foreign-backed opposition group which has militants on the ground in Syria. The group, which is backed by Saudi Arabia, has warned that if Damascus does not stop fighting in Aleppo, an initiative by the United Nations for reaching a peace deal on the situation in Syria would totally collapse.
The HNC left Syria's peace talks last week in the Swiss city of Geneva after it accused the government of violating a truce deal.
Gatilov said, however, that Syria's offensive in Aleppo is based on a UN Security Council resolution which accepts Syria's right to fighting terrorists.
Click here for the full story
---
---
From Russia Today
US legislators propose bill to tie Russian sanctions to Crimea
Published time: 30 Apr, 2016 23:03
The southern coast of Crimea in the vicinity of the Big Yalta. © Sergey Malgavko / Sputnik
Members of the US Congress introduced a bill "to contain, reverse and deter Russian aggression" and "assist Ukraine's democratic transition," proposing that sanctions against Russia be lifted if and when Crimea "is returned" to Ukraine.
Democrat Eliot Engel and Republican Adam Kinzinger, the authors of the bill posted on the website of the Committee on Foreign Affairs on Friday, suggest that Russia could be freed from sanctions if and when the US President "submits to the appropriate congressional committees a certification that Ukraine's sovereignty over Crimea has been restored" and "the status of Crimea has been resolved, through an internationally-supervised process, to the satisfaction of the democratically-elected government of Ukraine."
Click here for the full story
---
---
From Russia Today
NATO to send 4,000 troops to border with Russia – report
Published time: 30 Apr, 2016 12:50
© Michael Dalder / Reuters
NATO is deploying an additional four battalions of 4,000 troops in Poland and the three Baltic States, according to a report citing US Deputy Secretary of Defense Robert Work.
Work confirmed the number of troops to be sent to the border with Russia, The Wall Street Journal reports. He said the reason for the deployment is Russia's multiple snap military exercises near the Baltics States.
"The Russians have been doing a lot of snap exercises right up against the borders, with a lot of troops," Work said as cited by the Wall Street Journal. "From our perspective, we could argue this is extraordinarily provocative behavior."
Although there have already been talks about German troops to be deployed to Lithuania, Berlin is still mulling its participation.
"We are currently reviewing how we can continue or strengthen our engagement on the alliance's eastern periphery," Chancellor Angela Merkel said on Friday, in light of a recent poll from the Bertelsmann Foundation that found only 31 percent of Germans would welcome the idea of German troops defending Poland and the Baltic States.
Click here for the full story
---
---
From Ynet News
Israelis celebrate the Mimouna: 'A holiday that unites all'
The Moroccan tradition for the day after Passover has become popular among all ethnic groups in Israeli society; the Jews of Northern Africa open their doors to all, serving sweet pastries.
As Passover comes to an end, hundreds of thousands of Israelis held the traditional Moroccan end-of-Passover Mimouna celebrations on Saturday night.
"We've had a peaceful and joyful holiday, thanks to the IDF soldiers and the Shin Bet who kept us safe, and thanks to the government led by the Likud party," Prime Minister Benjamin Netanyahu said at a Mimouna celebration at the Dahan family home in Yavne. "After Passover, it's time to enjoy the wonders of the mufleta (a Moroccan pastry – ed.)."
Click here for the full story
---
---
From Ynet News
Israelis leave behind 1,000 tons of litter at end of Passover holiday
Hundreds of thousands of Israelis take advantage of the warm weather to go out into nature on the last day of Passover holiday, filling up the Kinneret's beaches as well as parks and forests throughout the country. Hundreds of thousands of Israelis took advantage of the warm spring weather on Saturday to go out into nature on the last day of the Passover holiday.
Some 1.2 million people visited KKL's nature reserves and national parks throughout the Passover holiday, a 10 percent increase to last year.They left behind some 500 tons of litter in forests and nature reserves across the country, though KKL foresters noted an improvement in "leave nothing but footprints," with many families cleaning up after themselves.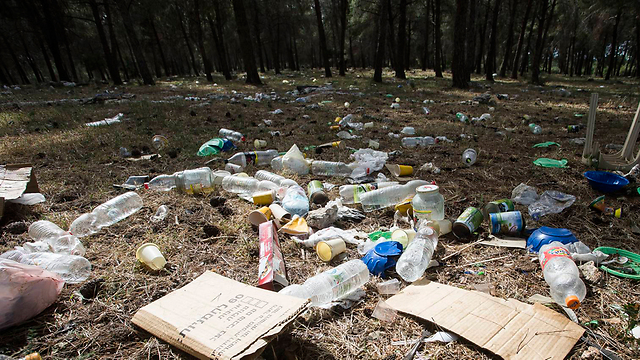 Trash left by visitors in Kiryat Ata (Photo: Gil Nechushtan)
A total of some 700,000 people visited the Kinneret's (Sea of Galilee) shores throughout the Passover holiday. On Saturday alone, there were some 70,000 people on the beaches, with the lake reaching its full capacity. Some of the visitors are expected to remain on the Kinneret's beaches to celebrate the traditional Moroccan end-of-Passover Mimuna celebration.
Click here for the full story
---
---
From Ynet News
Eurovision bans Palestinian flag
The venue of the 2016 song contest released a document listing banned flags and banners, which includes disputed territories' flags and any non-UN member flag.
Globe Arena, the venue where the annual Eurovision Song Contest is to be held in Stockholm in less than a fortnight, released a document in which it listed flags that may not be waved by the public, including the Palestinian flag.
---
---
From the Jewish Telegraphic Agency
Brazilian 'Fiddler' director: Spitting on enemies is Orthodox Jewish practice
RIO DE JANEIRO (JTA) – An acclaimed Brazilian theater director who recently put on a successful production of "Fiddler on the Roof" compared a lawmaker who spit on a colleague to  Orthodox Jews, whom he said routinely spit on Christians.
Claudio Botelho made the remarks last week on Facebook, according to Alef News, a Brazilian Jewish news portal.
While some condemned the post as an anti-Semitic slur, such behavior is not unknown among some Orthodox Jews. The fringe practice, however, is rare in the Diaspora.
Click here for the full story
---
---
From the Jewish Telegraphic Agency
Iowa Senate passes anti-BDS bill
(JTA) — The Iowa state Senate voted to approve a bill aimed at countering the Boycott, Divestment and Sanctions, or BDS, movement against Israel.
The bill approved Wednesday by a vote of 38-9 prevents state funds from being invested in companies that boycott Israel.
The bill was passed in February year by the Iowa state House. The bill applies to funds invested by the state treasurer, Iowa Board of Regents, Iowa Public Employees' Retirement System and some other state pension funds, and does not allow a public entity from entering a contract of more than $1,000 with a company that boycotts Israel, according to the Des Moines Register.
Click here for the full story
---
---
From PressTV
Iraqi PM: Situation in Green Zone under control
Iraqi Prime Minister Haider al-Abadi says the situation in the Green Zone is under control after demonstrators broke into the heavily-fortified government complex in Baghdad.
"The situation in Baghdad is under the control of the security forces," said a statement released by Abadi on Saturday.
He also urged the protesters to carry on peacefully with their demonstrations, without damaging the "property of state institutions."
A statement was also released on Iraqi President Fuad Masum's website, urging the demonstrators to remain calm and "abide by the law, not to attack any lawmaker, government employees, public or private properties and to evacuate the building."
The president also called for "the cabinet, lawmakers, and head of the political blocs to implement the desired ministerial amendment, execute the political and administrative reforms, and fight corruption. We believe that burying partisan and factional quota system is a task that can no longer be postponed."
Earlier, protesters moved into the Green Zone, a restricted area which houses the country's key government institutions, and attempted to ransack the parliament, where fierce debates have been going on over a cabinet reshuffle proposed by al-Abadi.
Abadi was scheduled to seek approval for the remaining candidates of his new cabinet in parliament on Saturday. MPs failed to reach a quorum and the session was rescheduled for next week. The postponement triggered the protests and forced Masum to call for an emergency session of political leaders on Sunday.
The demonstrators, reportedly supporters of the prominent cleric Muqtada al-Sadr, rampaged through several parts of the parliament building. Others chanted, "peacefully, peacefully" and tried to prevent the destruction.
Click here for the full story
---
---
From Russia Today
'Stay away from Russian borders or keep transponders on': Russian MoD on US spy planes in Baltics
Published time: 30 Apr, 2016 18:50
© / Wikipedia
Russian Defense Ministry suggests US surveillance planes should either keep their distance from Russian borders while performing flights over the Baltic Sea, or at least keep aerial transponders switched on for identification.
"There are two solutions for the US Air Force [operating in the Baltic Sea]: either do not fly near our borders, or turn on transponders for automatic identification by our radars," Defense Ministry spokesman Major-General Igor Konashenkov said in an official statement on Saturday.
Click here for the full story
---
---
From Russia Today
Finland's NATO membership could put relations with Russia at risk – govt report
Published time: 29 Apr, 2016 21:41
© Nigel Marple / Reuters
The prospect of Finland joining NATO would lead to a crisis in relations with neighboring Russia, government report states. With Sweden being a non-NATO member, Finland would be "isolated and exposed" if it joins the military bloc, it adds.
"Political and economic reactions may be strong, even harsh, notably during the transition phase. Even while stopping short of the use of force, specific counter-measures would be difficult to predict," a report prepared for Finnish Prime Minister Juha Sipila's government states.
It also predicts that the country's membership in the military alliance which repeatedly called Russia an 'aggressor' and severed political ties with it following Crimea's accession would severely affect trade between the two countries.
Click here for the full story
---
---
From Ynet News
Bennett responds publicly to PM's threat of dismissal
A week after Netanyahu threatened to fire the education minister during a cabinet meeting, Bennett addressed the incident defiantly on social media.
A week after the unprecedented confrontation between Prime Minister Benjamin Netanyahu and Bayit Yehudi Chairman and Education Minister Naftali Bennett during a Security Cabinet meeting and first revealed on Ynet, Bennett addressed the clash on Thursday in a Facebook post in which he clarified that he had no intention of backing down from his position.
---
---
From Ynet News
Jeremy Corbyn connected with terrorist organization
UK Labour leader connected with Interpal, which supported a children's play on Hamas TV that has 8 year olds playing stabbers and snipers.
A girl armed with a knife tries to stab an IDF soldier; a boy dressed as a sniper shoots him as revenge: these images are only some of those broadcast on Hamas's television channel, taken from a children's play that was performed as part of the Palestinian Festival for Childhood and Education in Khan Yunis.
This event of incitement, as reported in the Daily Mail,
Click here for the full story
---
---
From the Jewish Telegraphic Agency
Sheldon Adelson-owned newspaper costs Israel in freedom-of-the-press ranking
(JTA) — A freedom-of-the-press watchdog cited the Sheldon Adelson-owned Israel Hayom daily in downgrading Israel's status from "free" to "partly free."
"Israel declined due to the growing impact of Yisrael Hayom, whose owner-subsidized business model endangered the stability of other media outlets, and the unchecked expansion of paid content — some of it government funded — whose nature was not clearly identified to the public" in major media outlets, including the popular Ynet news site, said the report published Wednesday by Freedom House.
The 2016 report on 195 countries gave Israel a score of 32 in terms of press freedom, directly behind Italy, which was also termed "partly free," as are all other countries with a score lower than 30. The United States was ranked "free" with a score of 21.
Click here for the full story
---
---
From the Jewish Telegraphic Agency
11 Jewish Harvard Law students defend peer who called Livni 'smelly'
(JTA) — Eleven Jewish students and recent alumni of the Harvard Law School have signed a letter defending the law student who asked former Israeli Foreign Minister Tzipi Livni why she is "so smelly."
In a letter to the Harvard Law Record, the students defend "our friend and peer" Husam El-Qoulaq, whose comment at an April 14 panel event on the Israel-Palestinian conflict was condemned by Harvard Law dean Martha Minow, the Jewish Law Students Association and others, with many saying it evoked an anti-Semitic stereotype.
Qoulaq, whose identity was not made public until this week, published an apology in the Record last week saying he had not intended to be anti-Semitic and was "entirely unaware" of any stereotypes about Jews being smelly. The apology did not explain what he had intended to convey, however, nor did it acknowledge that whether anti-Semitic or not, calling a panelist "smelly" is generally considered impolite.
Click here for the full story
---
---
From the Jewish Telegraphic Agency
Rock legend Phil Lesh gathers musician friends for a Grateful Dead Passover
SAN RAFAEL, Calif. (JTA) – "Why can't we eat veggie burritos tonight? Will I be miracled? Will they play 'The Wheel?' Will Phil sing?"
These four additional questions were asked at a Passover seder this week that's quickly becoming a new Bay Area tradition.
Fans of the legendary psychedelic band the Grateful Dead celebrated Passover for the third year in a row Wednesday night at Terrapin Crossroads, the Marin County club owned by the band's bassist, Phil Lesh.
This was the first year that seders were held on consecutive nights, Tuesday and Wednesday. Tickets for both sold out within minutes; 150 guests attended each night.
Click here for the full story
---
---
From Russia Today
'Inconsistency & cowardice': German activists decry Merkel's collaboration with 'despot Erdogan'
Published time: 30 Apr, 2016 03:12
© Ruptly
Dozens of pro-Kurdish activists alongside members of Germany's Pirate Party have held a rally outside the Chancellery in Berlin rejecting Angela Merkel's cooperation with the Turkish President, which they claim made her an accomplice in human rights violations. TrendsEU refugee & migrant influx, Turkey crackdown on Kurds
Gathered outside the seat of the Chancellor, demonstrators wielding Kurdish flags and banners were addressed by Bruno Kramm, the head of the Berlin branch of Germany's Pirate Party.
"Human rights, Mrs Merkel, are not up for negotiation. We are angry because you appoint a dictator as an accomplice due to your own lack of ideas, inconsistency and cowardice," Kramm said referencing Erdogan, who has signed a migration deal with the EU in exchange for cash last month.
"We are angry. We are angry because you [Angela Merkel] reached out to a despot to withdraw from your responsibility for refugees," Kramm added accusing the Chancellor of taking a cozy route, instead of dealing with the migrant crisis head on.
Click here for the full story
---
---
From Russia Today
Palmyra restoration in 'full swing' as intl experts evaluate tremendous harm caused by ISIS (VIDEO)
Published time: 30 Apr, 2016 02:55
A historic site in the Syrian city of Palmyra destroyed in the military operations. © Mikhail Voskresenskiy / Sputnik
Numerous experts flocked to Palmyra to assess the damage caused by jihadists and revive the city from which all mines were removed just last week by Russian and Syrian engineers. An RT Arabic crew reports that the restoration work is already in full swing.
Most of Palmyra's colonnades, temples, grave sites have now been left in shambles after almost a year under savages' control. Although the damage done to the city is unimaginable, restoration experts are doing whatever they can to return the city to its original splendor.
"Various delegations and representatives of international organizations have arrived to the city to record and assess the damage," RT's Sheren Ali reports.
International experts are diligently working on ancient ornaments and are taking every effort to preserve what has been left and "rebuild" what has been destroyed during a 10-month-long capture of the city by Islamic State (IS, formerly ISISL/ISIS) terrorists.
"Before the arrival of ISIS about 70-80 percent of the most important archaeological fragments were removed from the Museum of Palmyra. Only the large statues that we could not remove were left. Therefore, the ISIS militants mutilated the faces of the statues, and smashed their heads. Experts from research laboratories are now engaged in collecting these fragments, as well as in their cleansing and identification," Yasir Usef, director of the science laboratories of the Syrian Directorate-General of Antiquities & Museums told RT.
Click here for the full story