Dr. Patrick Slattery's News Roundup
A service of DavidDuke.com
---
From the Jewish Telegraphic Agency
Democratic debate: Where candidates stand on Israel, Iran – and Ben Carson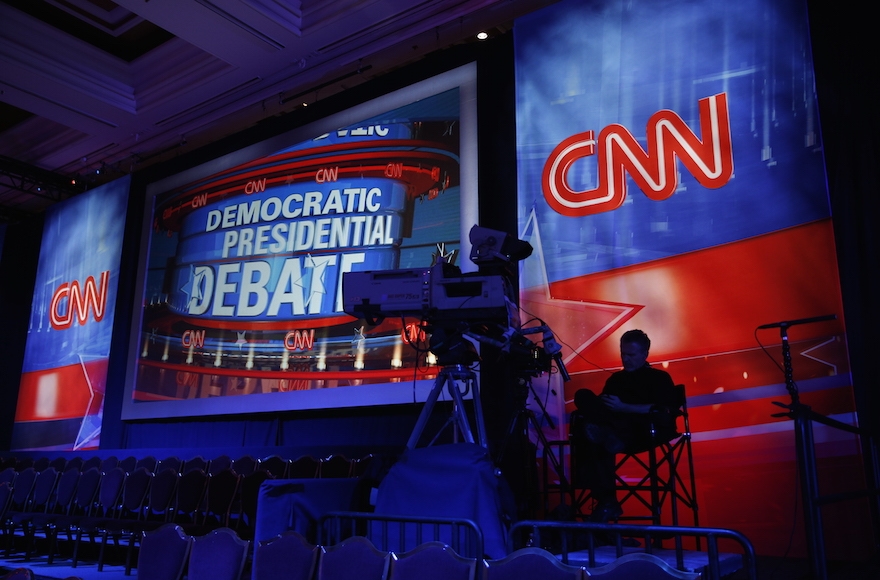 Let's be honest: It's not going to be as fun as the Republican debates. No kiddie table, no crowd shots — no Donald Trump.
But there may well be sparks, even Jewish sparks, at the Democratic presidential debate on Tuesday night in Las Vegas.
With talk of a third intifada, the Israeli-Palestinian conflict is in the news. The Obama administration has issued statements calling on all sides to refrain from violence, while Hillary Rodham Clinton has squarely blamed the Palestinians. She can be expected to continue her "no daylight" policy in the debate.
What will the other candidates say if asked?
Click here for the full story
---
---
From Russia Today
Show me your ID: Russian Sukhoi Su-30 gets near US jet over Syria for identification
Russia's Defense Ministry says a Sukhoi Su-30 fighter jet providing air escort for assault groups in Syria had to approach a US plane to establish visual contact with it. The incident on October 10 was not aimed at scaring off the US aircraft.Moscow sees no reason why the US Air Force should express serious concern over the incident, the ministry spokesman Major General Igor Konashenkov said on Wednesday.
He said Russian warplanes have all legal grounds to operate in Syrian airspace, since there was an official request by the Syrian government and all Russian Air Force flights over the country are coordinated with the authorities.
The general said that on October 10 a Su-30SM fighter jet securing airspace in the zone of operations against Islamic State (IS, formerly ISIS) in Aleppo province detected radiation emitted from an unidentified aircraft and approached it to identify the bogie.
A Russian pilot estimated the distance between the aircraft as 2-3km.
Click here for the full story
---
---
From Russia Today
BUK manufacturer says Russian-made air defenses 'absolutely' not involved in MH17 crash
The damage caused by shrapnel to the aircraft involved in flight MH17 could not have been caused by a modern Russian BUK missile, the manufacturers of the weapon Almaz-Antey have stated.
---
---
From Russia Today
US refuses to receive PM Medvedev's delegation to coordinate anti-terrorist actions in Syria
Washington has refused to receive a Russian military delegation, headed by Prime Minister Dmitry Medvedev, to discuss coordinated action on the fight against terrorism in Syria, Foreign Minister Sergey Lavrov has said."We have proposed to Americans what President Vladimir Putin informed the public about yesterday, namely, to send a delegation of military experts to Moscow to agree on a whole number of joint steps, afterwards we would be ready to send a high delegation led by Prime Minister Medvedev to Washington," Lavrov told the Russian Parliament on Thursday.
"Today we were told that they will not be able to send a delegation to Moscow. At the same time, they are unable to receive our delegation in Washington," he added.
The top Russian diplomat also said that when Moscow invited partners to join Baghdad-based anti-terrorism center it got unconstructive response.
"We invited our other partners to take part in activities of the information center so that everyone could see the full picture, so that everyone is on the same page to avoid any misunderstanding. The response was unconstructive. They said why in Iraq? It is not safe there. We explained that according to our estimates, this center can operate in quite favorable conditions. But if there is a wish to coordinate actions in some other place, we are ready for this," Lavrov said.
"The agreement on the military-technical measures to prevent incidents in the air, which has been practically achieved, will start working from day to day, I hope. Today the finishing touches will be given to coordinate all of its points," Lavrov told the State Duma.
"And then we are ready to sit down and discuss things, with all the cards in our hands: where THEY think terrorists are, where WE think they could be… I'm sure that if we work honestly, those evaluations will coincide."
"We should all start with showing our cards, both in direct and indirect sense," the minister stressed. Then our actions would speak louder than words, calling on the fight against terrorism. I don't see any reason why we shouldn't sit down and discuss [these] things.
"Perhaps, the West thinks that Islamic State [IS, formerly ISIS] and Assad should just deplete each other," he said. But I wouldn't like to think that our Western colleagues are being guided by such 'simplified' logic."
Click here for the full story
---
---
From Russia Today
Lavrov: Unclear what exactly US is doing in Syria & why results so insignificant
The Russian Foreign Ministry has questioned the effectiveness of the US-led year-long air campaign in Syria, saying it's unclear "why the results of so many combat sorties are so insignificant." Failing to curb ISIS, the US has now "adjusted" its program.
"We have very few specifics which could explain what the US is exactly doing in Syria and why the results of so many combat sorties are so insignificant," Russian Foreign Minister Sergey Lavrov told Russian channel NTV. "With, as far as I know, 25,000 sorties they [US-led air campaign] could have smashed the entire [country of] Syria into smithereens," the minister noted.
Lavrov questioned the Western coalition's objectives in their air campaign, stressing that Washington must decide whether its aim is to eliminate the jihadists or to use extremist forces to pursue its own political agenda.
Click here for the full story
---
---
From The Times of Israel
Adelson said warming to presidential hopeful Rubio
Billionaire Jewish megadonor speaks regularly with the Republican senator about his campaign — and Israel
By Times of Israel staff October 14, 2015, 9:15 am
The billionaire American Jewish casino magnate Sheldon Adelson is said to be leaning toward supporting Senator Marco Rubio as the Republican nominee for president.
The two met last week at Adelson's Venetian Las Vegas casino, where Adelson, "seated at the head of his conference table, heaped praise on Rubio's performance while he discussed the dynamics of the 2016 race," the Washington political magazine Politico reported.
Rubio's campaign manager Terry Sullivan and two top advisers to Adelson, Rob Goldstein and Patrick Dumont, were said to have been present at the meeting.
"Those briefed on the meeting described it as short but said it had an air of importance," the magazine related.
Adelson famously spent some $100 million on the 2012 Republican primary and presidential campaigns, under US campaign finance rules that allow unlimited funding of groups that endorse candidates but do not coordinate with their campaigns.
Click here for the full story
---
---
From the Jewish Telegraphic Agency
Kerry blames Palestinian violence on settlements, says he'll visit region soon
(JTA) — U.S. Secretary of State John Kerry linked the recent surge in Palestinian violence on Israelis to the "increase in settlements."
Speaking Tuesday night at Harvard University, Kerry said he will visit the Middle East soon to move Palestinians and Israelis from violence to peace.
"I will go there soon, at some point appropriately, and try to work to reengage and see if we can't move that away from this precipice," Kerry said at the Kennedy School's Belfer Center for Science and International Affairs. "We're working on trying to calm things down."
Seven Israelis have been killed and many more injured in attacks throughout Israel and the West Bank since Oct. 1, when a young Israeli couple was killed in front of their four children. At least 27 Palestinians, including nine alleged assailants, have been killed.
Click here for the full story
---
---
From the Jewish Telegraphic Agency
With Jewish fans, Bernie Sanders wins Democratic debate on social media