(From PressTV)
In a recent broadcast, MSNBC's Chris Hayes denounced the sordid attempts of 16 leading Democratic lawmakers who, under the influence of the Israeli lobby, are pushing to impose new economic sanctions on Iran, which is designed to sabotage Obama's rapprochement with the Islamic Republic.
Although this condemnation of the Zionist lobby's implacable warmongering is admirable, in the strictly confined discourse we see on the mainstream media presenters of this caliber refuse to state the obvious, which is that the United States has no right whatsoever to tell any country what to do on any matter, either foreign or domestic. Economic sanctions are an act of war, yet the US has imposed crippling economic sanctions on dozens of countries around the world, strangling the life out of them like a deadly python suffocating its victims.
The US has utilized sanctions to neuter nations that are not compliant with Washington's hegemonic agenda. In turn, Washington is driven by Israel's imperial desire to subjugate its foes, keeping them weak and divided. Using America as its proxy, Israel aims to fragment and destabilize the Arab/Muslim world.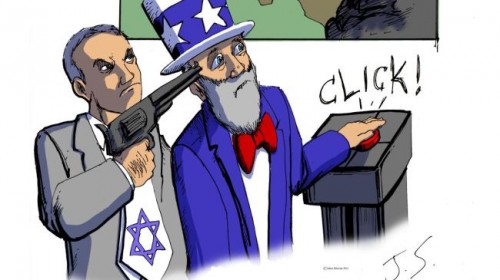 In 1980 the US backed Saddam Hussein's invasion of Iran. They provided him with material and diplomatic support. They gave him weapons and intelligence assistance. When it became apparent that Iran was going to win that war, the US dispatched a war ship off the coast of Iran called the USS Vincennes. On July 3, 1988, the Vincennes deliberately shot down an Iranian civilian airplane, killing all 290 passengers, including 66 children. This act of state-sponsored terrorism was a "message" from Washington designed to intimidate the Iranians into entering peace talks with a nearly defeated Saddam, instead of seeing the war out to the bitter end. The US has never apologized for this act of barbarism.
The Iran-Iraq war was part and parcel of the US-Israeli divide and conquer strategy in the Middle East. In 1982 an Israeli geo-political thinker named Oded Yinon penned a report entitled "A Strategy for Israel in the Nineteen Eighties."  In the document Yinon outlined a diabolical scheme whereby Israel would neutralize its adversaries by instigating internal ethnic and religious conflicts in the Arab/Muslim world. Yinon called for the dissolution of the Arab states surrounding Israel. He envisioned the break up of countries like Iran, Iraq, Syria, Lebanon and Jordan into smaller, weaker statelets, thereby undermining their ability to resist Israeli domination.