Dr. Patrick Slattery's News Roundup
A service of DavidDuke.com
---
From the Jewish Telegraphic Agency
U.S. defense chief: Military option in play despite Iran nuclear deal
WASHINGTON (JTA) — The Obama administration is maintaining and improving the option of a military strike as a means of preventing an Iranian nuclear weapon even as a nuclear deal goes ahead, U.S. Defense Secretary Ashton Carter said.
"One of the reasons why this deal is a good one is that it does nothing to prevent the military option — the U.S. military option, which I'm responsible for, President Obama charges us with doing, and which we are preserving and continually improving," Carter said Sunday in a meeting with reporters aboard the plane heading to Israel for an official visit.
Carter began meeting on Monday with Israeli officials, including Defense Minister Moshe Yaalon and Prime Minister Benjamin Netanyahu. He also toured Israel's border with Lebanon.
Israel adamantly opposes the nuclear deal reached last week by the major powers and Iran, saying it leaves Iran a nuclear weapons threshold state, and Netanyahu has said he reserves "all options" to keep Iran from going nuclear.
Click here for the full story
---
---
From Ynet News
US defense secretary: We will help Israel defend itself
LIVE: Ash Carter meets with Defense Minister Ya'alon upon arrival in Israel, says visit meant to emphasize US has no limits on ability to increase Israel's security. US Defense Secretary Ash Carter was warmly welcomed by his Israeli counterpart Monday on the first Cabinet-level US visit to the Jewish state since the Iran nuclear deal was announced.
The Pentagon chief met at Israel's defense headquarters with Defense Minister Moshe Ya'alon and on Tuesday is to meet with Prime Minister Benjamin Netanyahu, who has strongly criticized the Iran deal.
Click here for the full story
---
---
From Ynet News
---
---
From the Jewish Telegraphic Agency
U.N. Security Council, EU approve Iran nuclear deal
(JTA) — The United Nations Security Council and the European Union both approved the Iran nuclear deal.
The 15 members of the Security Council in New York unanimously adopted a resolution on Monday to approve the agreement reached in Vienna last week between Iran and the world powers.
Under the resolution, the United Nations will lift its sanctions against Iran after a report is submitted by its nuclear watchdog, the International Atomic Energy Agency, verifying Iranian steps curbing its nuclear program as agreed to in the Austrian capital.
Click here for the full story
---
---
From the Jewish Telegraphic Agency
Samsung merger that sparked anti-Semitic expressions approved
(JTA) — Shareholders approved a merger of two Samsung affiliates in South Korea that sparked anti-Semitic expression in the local media.
The merger of the construction company Samsung C&T and Cheil Industries was approved Friday at a meeting of general shareholders. The New York-based hedge fund Elliott Associates, which is owned and managed by Paul Singer, who is Jewish, had fought the merger. Elliott Associates was C&T's second largest shareholder.
The companies are both part of the Samsung Group, the country's largest family-controlled conglomerate.
In reporting on the proposed merger, at least two South Korean media outlets blamed Jews for attempting to block the deal. One publication wrote that Jewish power on Wall Street "has long been known to be ruthless and merciless." A columnist wrote that "Jews are known to wield enormous power on Wall Street and in global financial circles" and "It is a well-known fact that the U.S. government is swayed by Jewish capital."
Click here for the full story
---
---
From the Jewish Telegraphic Agency
Video shows Queen Elizabeth, at 7, offering Hitler salute
(JTA) — A British tabloid published on its website a 20-second home video showing Queen Elizabeth II as a 7-year-old girl giving a Nazi salute.
The Sun newspaper  on the front page of its Saturday edition also displayed a photo lifted from the video, along with eight pages of articles that its managing editor, Stig Abell, told Sky News puts it into "context."
"It is disappointing that film, shot eight decades ago and apparently from Her Majesty's personal family archive, has been obtained and exploited in this manner," the palace said in a statement published by The Associated Press.
Buckingham Palace reportedly has ordered an investigation into the publication of the images, including how the tabloid obtained the footage.
Click here for the full story
---
---
From the Jewish Telegraphic Agency
Herzog quashes rumors he will join gov't in wake of Iran deal
JERUSALEM (JTA) — Israeli opposition leader Isaac Herzog quashed rumors that he would join the government in the wake of the Iran nuclear deal.
"Benjamin Netanyahu must be replaced. He needs to be sent home. I'm saying no to crawling into Netanyahu's extremist right government," Herzog said Sunday at a Labor Party meeting.
Herzog is head of the Zionist Union, made up of his Labor Party and Tzipi Livni's Hatnuah.
"We must not give [the government] a lifeline. We must replace it, today, tomorrow, as soon as possible," he said.
Click here for the full story
---
---
From the Jewish Telegraphic Agency
U.S. Defense Secretary Ashton Carter visiting Israel
(JTA) — U.S. Secretary of Defense Ashton Carter is in Israel on the first leg of a trip to three Middle Eastern nations.
Carter arrived in Israel on Sunday, where he "will work with Israel to further explore ongoing efforts to identify solutions to some of their most critical security challenges — countering Iran's destabilizing activities and preventing terror attacks," according to a statement issued Saturday by the U.S. Department of Defense.
He reportedly will meet on Monday with Israeli Defense Minister Moshe Yaalon and the following day with Prime Minister Benjamin Netanyahu. It is Carter's first working visit to Israel since he assumed office in February.
Carter also is scheduled to travel to Saudi Arabia and Jordan.
Click here for the full story
---
---
From PressTV
Israel forces make abusive arrest of Palestinian kids, Human Rights Watch says
Human Rights Watch (HRW) has slammed the Tel Aviv regime over "abusive arrests" of Palestinian children by Israeli forces.
In a report released on Monday, the New York-based rights group said Palestinian children as young as 11 years of age had been detained by Israeli forces in East al-Quds (Jerusalem) and the occupied West Bank during the final few weeks of 2014.
"Israeli security forces have used unnecessary force to arrest or detain Palestinian children," the HRW said.
The report added that Israeli authorities had also failed to notify the children's parents of their arrests or whereabouts.
"Forces have choked children, thrown stun grenades at them, beaten them in custody, threatened and interrogated them without the presence of parents or lawyers, and failed to let their parents know their whereabouts."
Click here for the full story
---
---
From Ynet News
Court allows indefinite detention without trial of asylum seekers
Be'er Sheva District Court rejects a petition to freeze the controversial policy; Human Rights groups appealed against the new policy but to no avail; there are about 47,000 asylum seekers in Israel, mostly Sudanese and Eritrean nationals
The Be'er Sheva District Court rejected Sunday a petition for an interim order to freeze the Administration of Population and Immigration 's new policy, which allows the indefinite detention without trial of asylum seekers who refuse to leave Israel via the procedure known as "voluntary departure".
The decision means that from now on, the Administration of Population and Immigration can carry out its policy that was frozen after the court stopped it with a temporarily order. Another hearing on the petition filed by human rights organizations on behalf of two asylum seekers against the new policy was scheduled for September.
According to the policy, announced by former interior minister Gilad Erdan last April, asylum seekers who have not applied for asylum or whose application was rejected and who have refused to leave Israel within 30 days as part of the procedure, will be detained at Saharonim Prison after a hearing, but without a trial, for an unlimited period and this is as per Israel's Entry Law.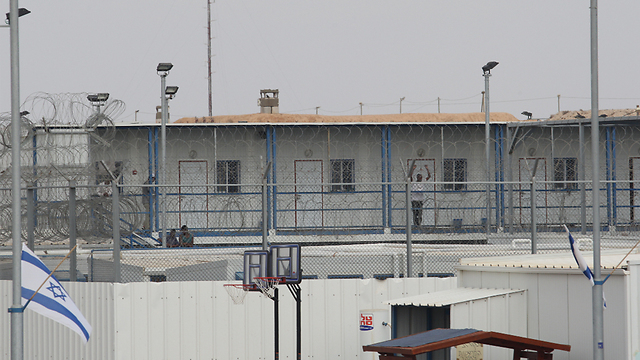 Saharonim Prison for infiltrators (Photo: Amit Magal)
Human rights groups, including the Refugee Rights Program at the University of Tel Aviv's law department and the Center for Refugees and Migrants appealed earlier this month once again against the new policy after an earlier petition was rejected by the same court. In the earlier decision, the Court accepted the state's argument that the petition was premature, as the decision as to whom among the petitioners would be transferred to detention had yet to be decided.
Click here for the full story
---
---
From The Times of Israel
UK's Cameron: Jewish-centric conspiracy theories must be challenged
British PM to announce 5-year plan to combat home-grown Islamic extremism and radicalization in face of growing popularity of IS
July 20, 2015, 2:55 am
Conspiracy theories of a powerful Jewish cabal or a Western plan to destroy Islam must be challenged in efforts to counter radicalization, British Prime Minister David Cameron will say on Monday.
In a speech in the central English city of Birmingham, Cameron is to announce a five-year plan to tackle home-grown Islamic extremism and help communities integrate in Britain.
"You don't have to support violence to subscribe to certain intolerant ideas which create a climate in which extremists can flourish," Cameron is to say, according to released remarks.
"Ideas also based on conspiracy that Jews exercise malevolent power or that Western powers, in concert with Israel, are deliberately humiliating Muslims, because they aim to destroy Islam."
He is also to attack views that hold poverty and Western foreign policy responsible for terrorism.
Click here for the full story
---
---
From the Jewish Telegraphic Agency
WATCH: Jewish pundit threatened for saying Caitlyn Jenner is 'mainstreaming delusion'
Journalist Zoey Tur, a transgender woman, has threatened Ben Shapiro, a right-wing political commentator who is an Orthodox Jew, with violence for publicly opposing social acceptance of transgender people.
In a heated panel discussion Thursday on the HLN television show "Dr. Drew On Call," Shapiro said, "Why are we mainstreaming delusion?" And later: "The entire discussion is whether we are embracing mental illness and delusion as a society."
Shapiro insisted on referring to the Olympic athlete and reality TV star Caitlyn Jenner, who recently came out as transgender, by male pronouns. He did the same with Zoey Tur, a transgender journalist on the panel with Shapiro. Tur warned Shapiro to stop or "go home in an ambulance."
The Internet has since been abuzz with commentary, much of it angrily critical of Shapiro. On Friday, Tur agreed with a Twitter user who said he would pay to see her "curb stomp" Shapiro. The tweets have since been deleted.
---
---
From the Jewish Telegraphic Agency
New Jersey doubles state allocation for Holocaust survivors
(JTA) — New Jersey has doubled the allocation in its state budget for Holocaust survivors.
The state's Jewish Family Service agencies will receive $400,000 in the new fiscal year to serve Holocaust survivors as part of a "Grants in Aid" allocation, the New Jersey Jewish News reported.
The allocation announced earlier this month brings the three-year total to $1 million in state funding for services to New Jersey's 4,700 Holocaust survivors, according to the newspaper.
The additional funding will provide survivors with 11,000 hours of home care service, 3,000 meals, and 1,500 hours of case work and social service needs management, according to the New Jersey Jewish News.
Click here for the full story
---
---
From The Times of Israel
UK defense chief likens anti-IS campaign to fight against Nazis
Britain sends new spy plane to 'Battle of Britain' against terror group
July 20, 2015, 1:53 am
Britain will send another spy plane to fly over Iraq and Syria in what Defense Secretary Michael Fallon called a "new Battle of Britain" Thursday, as it edges towards joining US-led air strikes in Syria.
Fallon announced Britain would take delivery of a new Airseeker plane next month, which would "shortly after" be deployed to carry out reconnaissance of suspected Islamic State group targets.
"Today, with more warnings of threats to our citizens in Tunisia following the horrific events of two weeks ago, we're fighting a new Battle of Britain," he said during a speech in central London.
"Once again, against a fascist enemy, an enemy prepared to kill its enemies and civilians alike, it is the RAF spearheading our counter attack".
The Battle of Britain took place during World War II in 1940, pitching Britain's Royal Air Force (RAF) against its German counterpart, the Luftwaffe.
Click here for the full story
---
---
From The Times of Israel
Trump basks in McCain takedown, says rivals envious of rise
Billionaire insists won't quit presidential race as other Republican candidates fret over damage to party's image; Clinton slams assault on war hero
July 19, 2015, 11:27 pm
WASHINGTON (AP) — Republicans' swift condemnation of Donald Trump's disparaging comments about Sen. John McCain's military service marks a turning point in the party's cautious approach to the billionaire-turned-presidential candidate.
But Trump simply may not care; indeed he seemed to bask in his McCain takedown.
After dismissing McCain's reputation as a war hero because he was captured in Vietnam and "I like people who weren't captured," Trump declared "I will say what I want to say." He insisted he would stay in the GOP primary field, despite rivals who say he's now shown he doesn't merit the presidency.
"It's not just absurd," said Florida Sen. Marco Rubio. "It's offensive. It's ridiculous. And I do think it is a disqualifier as commander in chief."