Download

Today Dr. Duke and British author and broadcaster Andy Hitchcock discussed the totally unconstitutional impeachment trail of Real President Donald Trump being pushed by these Jews. Senate Majority Leader Chuckie Schumer (Ow Gawd!) will oversee the trial in the Senate, with Representative Jamie Raskin donning his best yarmulke to act as House manager (lead prosecutor) to make the case that Trump incited an erection that endangered our nation's podiums or whatever. This is the same Jamie Raskin who on January 6, 2017, only three days after himself being inaugurated as a member of Congress, objected to Trump's electoral votes from Florida based on a technical violation of Florida's prohibition of dual office holders. And yet he is trying to shoah The Donald for correctly pointing out that the entire election in many states was held in direct violation of state laws and the Constitution. 
Check him out in this video: Rep. Raskin Challenges Awarding of Electors – YouTube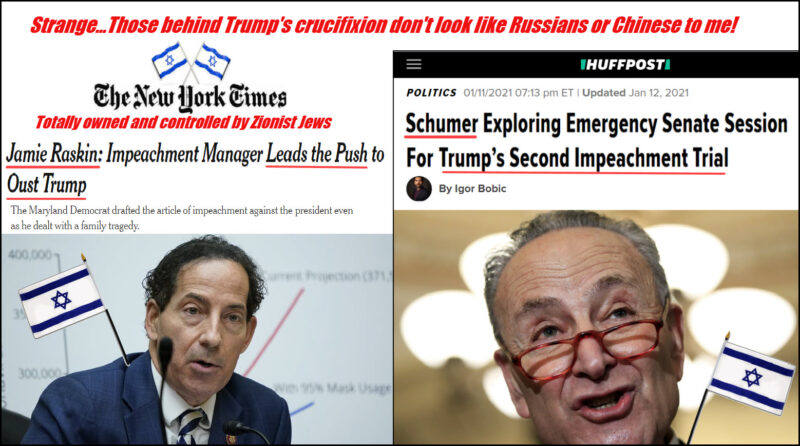 Jamie Raskin in 2019 me-tooing Heather Heyer's mom. 
Endless wars, replacement-level immigration, demonization of white men, promotion of gayness and trannyism, and presenting black men as the ideal mates for white women were inflicted on us by Jews and not Chinamen. .
Please share this show widely. And please keep us on the air and on-line. Please visit our contribution page or send your contribution to: P.O. Box 188, Mandeville, LA 70470 Thank you.
Click here and look for the show dated 1-26-2021. Our show is aired live at 11 am replayed at ET 4pm Eastern  
Check out this classic video "CNN, Goldman Sachs, and the Zio-matrix of power."