Dr Duke and Dr Slattery the disgusting Chutzpah of Calling Jewish Israel allegiance a "Canard"!
Download
Today Dr. Duke and Dr. Slattery discussed a variety of issues. They cut tot he bone of the whole business of Jewish "dual loyalty," which actually is a misnomer in the cases of most Jews for a singular loyalty to their own tribe. Even in cases where Jews are opposing the agenda advanced by their own leadership, it is often because they believe that unless the impulses of the Jewish group are countered, it will lead to their self-destruction.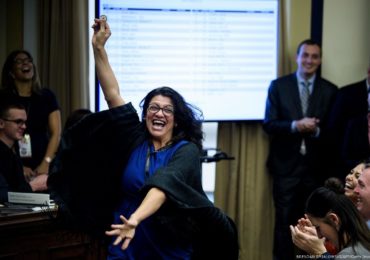 Congresswoman Rashida Tlaib performing traditional Arabic dance in her office. 
They also had the hottest and most spot-on takes on the wall and Donald Trump that you will hear anywhere.
Listen to the show for the full story.
Please share this show widely. And please keep us on the air and on-line. Please visit our contribution page or send your contribution to:
P.O. Box 188, Mandeville, LA 70470
Thank you.
Click here and look for the show dated 1-10-19.
Our show is aired live at 11 am replayed at ET 4pm Eastern
Check out this Duke video on the white genocide in South Africa:
Here is Mark Collett's recent viral video:
Be sure to check out Mark's Twitter feed. And follow him while you're at it.