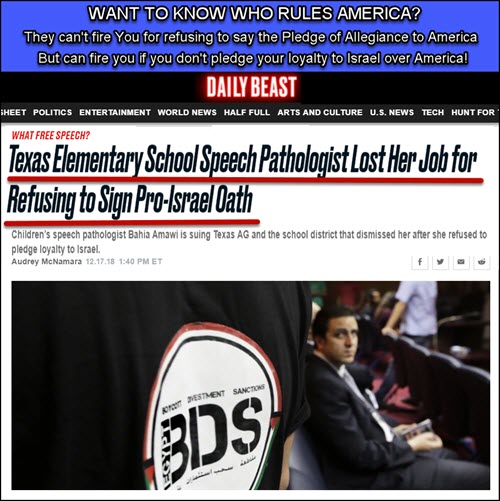 Dr. David Duke — In America you can't get fired from your job for refusing to pledge allegiance to the flag or for that matter, loyalty to America.
But, you can get fired for NOT PLEDGING YOUR LOYALTY to ISRAEL OVER AMERICA. You can get fired for simply knowing that Israel is not our nation's greatest ally, but an enemy to everything American. 
A nation that has committed naked terrorist bombings on Americans in the Lavon Affair. Viciously attacked a U.S. Navy Ship and killed 34 Americans wounding 173. Israel has directly supported the Rise of ISIS in Syria that has been the biggest terrorist threat to America and the World!
But you cannot exercise your right to be loyal to America rather than Israel that controls American political fundraising and today is the heart of the Deep State of Politics, Media and Banking in America!