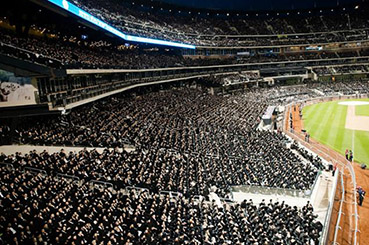 The number of ultra-orthodox Jews in New York City has now grown so large—to 40% of all Jews in the city—that the issue of bizarre rabbi-baby penis sucking circumcision rituals is now a make-or-break issue for candidates, Bloomberg News has reported.
According to an article titled "Circumcision Entering NYC Mayor Race with Jews Swing Vote," Bloomberg News has reported that "New York City's growing Orthodox Jewish population, the largest outside Israel, may play a decisive role in choosing the next mayor.
"The city's limits on metzitzah b'peh, in which the mohel who performs the procedure on an eight-day-old boy sucks blood from the cut penis to clean the wound, is an issue of intense interest to the Orthodox, a highly disciplined voting bloc with the potential to sway a tight election."
The growth in the most fanatic, most racist, and most extreme section of Judaism in New York City has meant that the Orthodox population has grown 32 percent in the past 12 years, and now composes about 40 percent of the 1.1 million Jews in the city, according to the Jewish Community Study of New York: 2011 from the United Jewish Appeal (UJA)-Federation of New York.
As a result, the bizarre topic of circumcision rituals is now an election issue for the mayor of America's largest city.
As Bloomberg news explained: "Circumcision regulation was the first question for mayoral candidates in a May forum sponsored by the Jewish Press. Jewish law requires removal of a male's foreskin. The Health Board voted in September to require parents give consent for the mohel to suck the blood after 12 babies contracted herpes since 2000, and two died. Of six candidates at the gathering, only Council Speaker Christine Quinn said she'd retain that policy."
The two leading candidate, former city Comptroller William Thompson, and city Public Advocate Bill de Blasio, have fallen over themselves to ingratiate their views with the massive orthodox voting block and have endorsed the right of the Jewish community to continue with this outlandish practice which, in any other culture, would be rejected as deviant.
There is another important, unstated, issue at stake: the growth in the ultra-orthodox segment of Jewish community—a development which is being imitated in Israel—exposes the lie which Jewish Supremacists always spread about "Jews being in demographic decline" and "facing extinction."
In reality, there are even more Jews than ever before, and their fastest growing numbers are the most weird, the most extreme and the most anti-Gentile of them all.