Dr Duke & Dr Slattery Expose the lying, vicious anti-White Zio Media Coverage of Catholic Students in DC!
Download
Today Dr. Duke and Dr. Slattery exposed the incredible anti-white bias of the media using the Convington Catholic High School kids story as an example.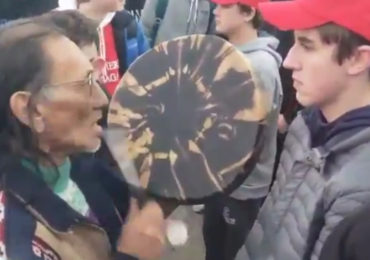 By the way, the group including the "four young blacks preaching the bible" reported by the Jewish media that started the confrontation was featured on DavidDuke.com a few years ago. There is more information on their method of preaching the bible here. And yet, how many media Jews who attacked these kids are going to come out and admit their own Jewish bias and Jewish privilege?
Listen to the show for the full story.
Please share this show widely. And please keep us on the air and on-line. Please visit our contribution page or send your contribution to:
P.O. Box 188, Mandeville, LA 70470
Thank you.
Click here and look for the show dated 1-21-19.
Our show is aired live at 11 am replayed at ET 4pm Eastern
Check out this Duke video on the white genocide in South Africa:
Here is Mark Collett's recent viral video:
Be sure to check out Mark's Twitter feed. And follow him while you're at it.