By Dr. Patrick Slattery — Following last weekend's mass rally in Paris, Israeli Prime Minister Netanyahu's behavior in the French capital as raised many Jewish eyebrows. After having been told by the French President that he was NOT invited, Netanyahu went anyway, pushed a female French cabinet minister out of the way in order to get on the VIP bus to the rally, and then elbowed his way to the front line in order to be prominent in any picture of the event.
According to Yossi Verter of Israel's Haaretz newspaper:
Just as you can sometimes identify Israeli tourists abroad by their loud voices, poor manners and gauche behavior, none of the hundreds of millions of people around the world who watched Sunday's Paris rally on television had any problem locating Israeli Prime Minister Benjamin Netanyahu: smack in the middle of world leaders at the front of the marchers.
He goes on to say:
Such behavior as cutting in line, sneaking onto the bus by pushing and shoving, using elbows to get to the front at some event is so Israeli, so us, so Likud Party Central Committee, that I want to shout: Je suis Bibi!
Verter wasn't the only Israeli to make fun of Netanyahu's behavior. Already a video game has been created by Netanyahu's rivals in the Labor Party that is based on the "Frogger" game in which the player tries to elbow "Bibi" past world leaders to the front of the march.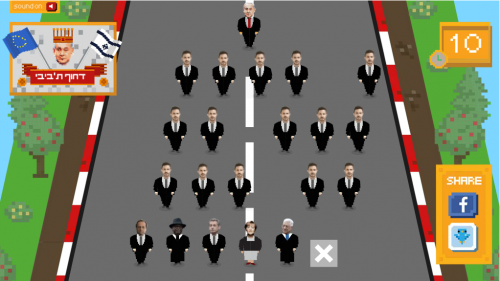 An Israeli video artist has uses the Loony Tunes theme song to accompany speeded-up footage of Bibi pushing his way to the front line, much to the obvious consternation of the Malian president, Ibrahim Boubacar Keitar.
As was the case with 9-11, Netanyahu sees the Paris attacks as a tremendous opportuny for Israel, and he obviously is not willing to let anything or any one get in his way.