Jewish Supremacists, faced with unprecedented exposure of their attempts at behind-the-scenes attempts to manipulate the goy into fighting yet another war on behalf of Israel, have launched a desperate rearguard action to try and convince observers that they are not really behind the demands for war.
The first salvo in this—also easily exposed—propaganda campaign was launched by the most widely-read English language Israeli newspaper, the Jerusalem Post, in an editorial titled "AIPAC and Syria."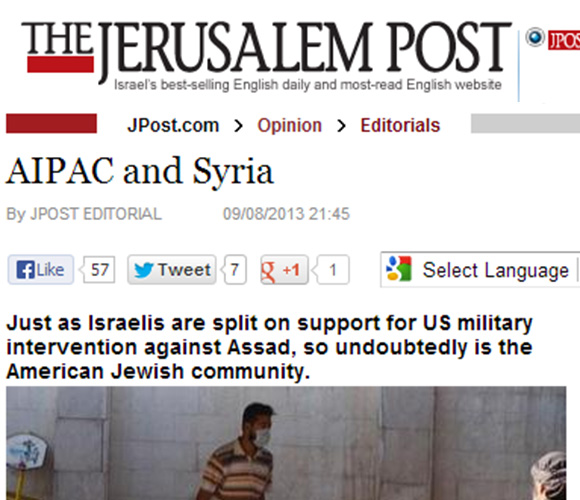 The editorial—which incidentally freely admitted that "against a predominantly Jewish group of neo-con intellectuals" were closely linked to the Iraq war—claimed that "organizations such as AIPAC, the Anti-Defamation League and the Conference of Presidents of Major American Jewish Organizations that have come out publicly in support of military intervention in Syria were careful not to make any 'Israel-centric' statements."
The editorial then goes on to make the astonishing admission that it was Obama who recruited the American Israel Political Action Committee (AIPAC) "team" to lobby Congress to vote for war:
"Only over Rosh Hashana was it disclosed that Obama had recruited AIPAC to send more than 250 activists to Congress on Monday to 'flood the zone' with support for intervention," the Jerusalem Post said.
Even that reality aside, it is now common knowledge that all the major Jewish organizations united in their support for the war party, and that Jewish public opinion is united on the topic as well.
The advent of the Internet has however undermined the Jewish Supremacist control over the flow of information, and a huge section of the public have been informed of the facts on the ground—and are adamantly opposed to intervention.
This the Jerusalem Post's claim that "It is ludicrous to claim that US Jewish organizations support an attack on Syria even though it is contrary to US interests and because it is in Israel's interest" has fallen completely flat.
For the first time, the Jewish Supremacists have been confronted with a situation where their plans have not been translated into real "public opinion"—and hence their desperate attempts at backtracking in the face of defeat.
This time, they have fooled no-one.
* An earlier editorial in the same newspaper specifically said that the war in Syria was in Israel's interests, and the longer it carried on, the better for the Jewish State.