The month of August 2013 saw a large increase in the number of "free trips" to Israel by US Congressmen courtesy of Washington's Jewish Lobby, according to a new report issued by the PoliticalMoneyLine website.
The figures show that US lawmakers flocked to Israel in August as both parties sent numerous freshmen members sponsored by the American Israel Political Action Committee (AIPAC) and its front organization, the American Israel Education Foundation (AIEF).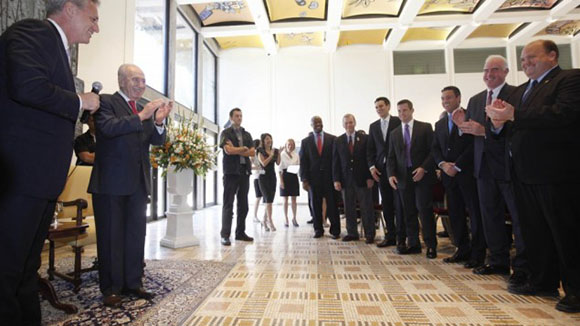 This past August, no less than 63 members of the US Congress visited Israel, compared to "only" 47 who made the pilgrimage to their political masters in the same month in 2012.
In August 2011, there were 135 "free trips" to Israel by US Congressmen. Israel remains by far the single most visited foreign country by individual members of Congress.
In August of this year, 26 Republican House members, including nearly two-thirds of the Republican freshman class, came to Israel on a trip sponsored by the AIEF.
House Democrats sent their members to Israel in August as well.
37 members of Congress made the AIEF-sponsored trip — led by U.S. Rep. Steny Hoyer of Maryland, the second-ranked Democrat in the House — including Robert Kennedy's grandson, Joseph Kennedy III of Massachusetts.
Every two years, AIEF brings House Republicans and Democrats to Israel on separate trips during the August recess. The organization spends around $10,000 per person, and pays for more congressional travel than any other organization, according to Roll Call, a Capitol Hill news outlet.
In 2011, 81 members – or about 20 percent of the House of Representatives – took a trip to Israel through AIEF during the August break.
In 2009, AIEF spent $1.2 million bringing congressmen and their families to Israel, the most visited foreign destination for legislators that year.
AIPAC gets around limits on trips offered by lobby groups by using its AIEF front—which is registered as a private charity, and therefore not subjected to the limits on official lobbies.