In a shockingly grotesque public display of Jewish Supremacist power over America, the two controlling financial backers of the Republican and Democratic parties have publicly outlined the policies of the nation's 2016 presidential election "choices": Israel first, or Israel first, according to an article in The New Observer.
Speaking before the inaugural meeting of yet another new official Jewish lobby in the US, the "Israeli-American Council" (IAC), held over the weekend from November 7 to 9, 2014 in Washington DC, the two Jewish billionaires—Haim Saban and Sheldon Adelson—were quite open about their intention to make sure that the 2016 election would be completely rigged to put Jewish tribal interests first.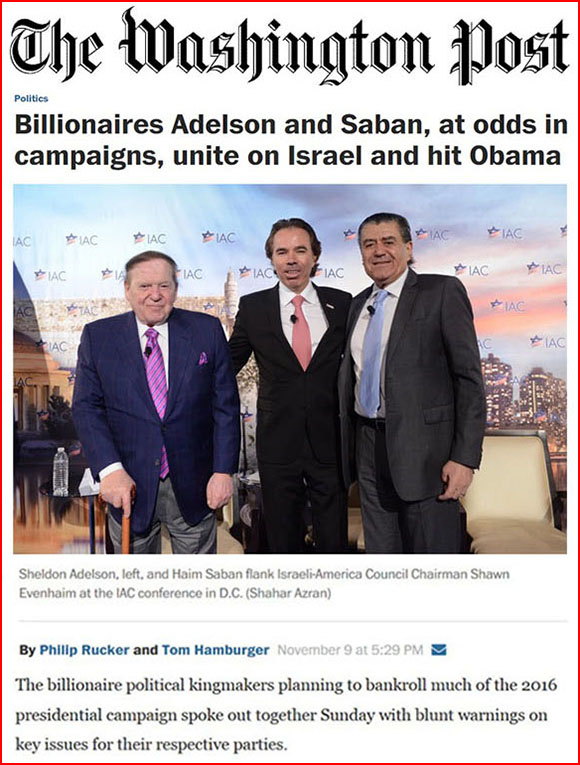 Adelson, reputably the richest man in the world from his Las Vegas casino holdings, gave more than $150 million to the Republican Party campaign against Barack Obama in 2012, supporting Newt Gingrich and Mitt Romney.
Saban was revealed in a 2007 article in the Israeli Ynet News Service as being—until then—the single largest contributor to Democratic Party campaigns, funding that organization to the tune of at least $13 million.
At the IAC conference, these two Jewish moguls, ostensibly from "opposite" political parties, appeared together in public to declare that their chosen front candidates for the 2016 contest would both be vehemently pro-Israel and "repair the damage" allegedly done by Obama to US-Israeli relations.
The Washington Post described the events as follows:
Adelson, 81, and Saban, 70, have gained enormous political power in the new era of super PACs and unlimited contributions, and both made it clear during a rare joint appearance Sunday before an audience of several hundred Israeli Americans that they intend to assert that power during the next presidential campaign and beyond with policy demands for their candidates. In particular, they vowed to press both sides for a more hawkish approach to the Middle East.
Appearing before a new group called the Israeli American Council, both men issued a call for unity when it comes to support for the Jewish state, reminding all prospective presidential candidates of the primacy of the US-Israel relationship. And they agreed that Obama and his administration have not been tough enough in protecting Israel's interests.
Saban has openly declared his support for Hilary Clinton to be the 2016 Democratic nominee. Speaking in an interview to the Washington Post, Saban said that Obama's
[R]elationship with Israeli Prime Minister Benjamin Netanyahu is "like oil and water." That has fed a perception, he said, that Obama has not been a friend to Israel, although Saban said he thinks that, in reality, "there's never been this level of cooperation with any previous president."
Still, Saban said that he thinks Clinton would repair the relationship and that he has told her he would spend "whatever it takes" to propel her into the White House. That includes giving millions of dollars to Priorities USA, a super PAC that helped Obama in 2012 and is revving up to aid Clinton in 2016.
"I have told her and everybody who's asked me, 'Whatever it takes, we're going to be there,' " Saban said. "I think she would be a fantastic president for the United States, an incredible world leader and one under whom I believe—deeply—the relationship with the US and Israel will be significantly reinforced."
Adelson declined an interview request, but, as he entered the ballroom, a Post reporter asked him about the election results. "How deep do you want to fish?" Adelson replied before appearing on stage to agree on every point with the demands made by Saban about issues such as Iran, and the need to always put Israel's interests first.
As the Washington Post put it:
In their public remarks, Saban and Adelson found common ground in their disdain for Iran, and their fear for the danger they say that regime poses for Israel. They expressed concern about US negotiations over Iran's nuclear program.
Adelson said that Iranian fundamentalists are instructed by their religion to "wipe out all infidels" and that "wiping out the Jews would be a down payment on that."
Referring to US engagement with Iran, he said: "I would not just talk. I would take action."
Saban said that fundamentalist Iranians represent a real threat. If necessary to defend Israel, and as a last resort, he added, "I would bomb the living daylights out of the sons of bitches."
Onstage, Shawn Evenhaim, the national chairman of the Israeli American Council, posed provocative questions to both billionaires. Adelson sat to Evenhaim's right, Saban to his left—although, as Saban joked, "there's no right or left when it comes to Israel."
Although Adelson did not name a candidate—unlike Saban—the leading Republican Party contenders recently held a pilgrimage to Las Vegas to beg him for campaign funding, as reported by the Las Vegas Sun:
Republican super donor Sheldon Adelson is the main attraction for a list of elected officials that includes former Florida Gov. Jeb Bush, New Jersey Gov. Chris Christie, Wisconsin Gov. Scott Walker and Ohio Gov. John Kasich. One of the world's richest men, the 80-year-old billionaire casino magnate is looking for a new favorite to help end his party's presidential losing streak.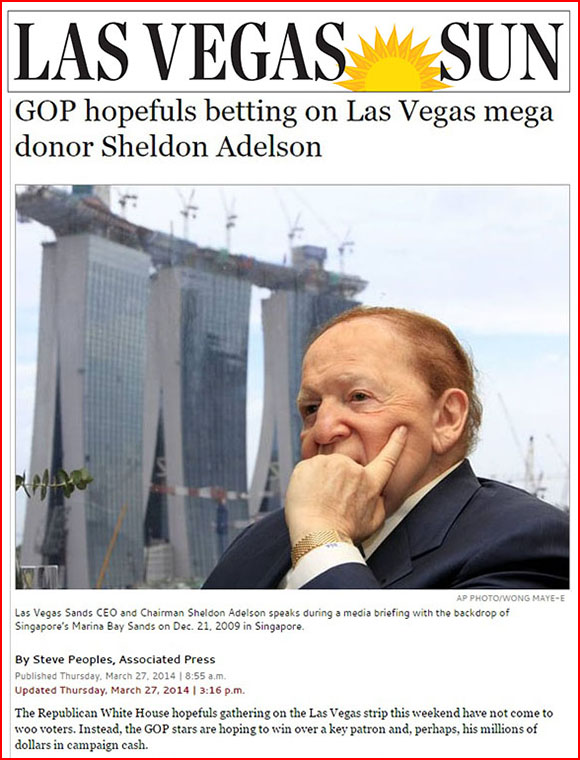 The Washington Post story concluded with this telling remark, which revealed that no matter which party's candidate wins the 2016 election, Jewish interests will have been served:
A reminder of Adelson and Saban's outsize influence came when Evenhaim wrapped up Sunday's event. "After the election in 2016," he told them, "one of you will get me a private tour of the White House."
*Any public display of Jewish Supremacist power over America is never without at least some extreme hypocrisy. This was provided at the IAC conference by Adelson in particular.
According to the Washington Post, when speaking to the conference, Adelson;
[U]pbraided many in the GOP for their opposition to legalizing millions of undocumented immigrants. Without a comprehensive overhaul, he said, the country would not be "the America that I'm proud to live in."
However, the state of Israel—which Adelson fanatically supports—has a closed borders immigration policy which even uses DNA checks to screen potential immigrants to make sure they are Jewish before allowing them in.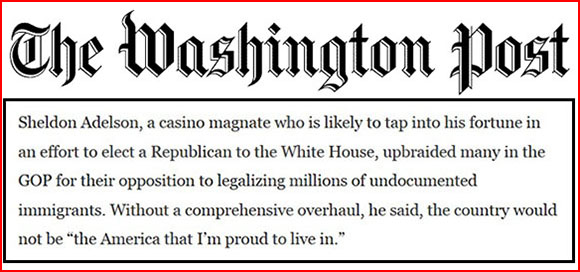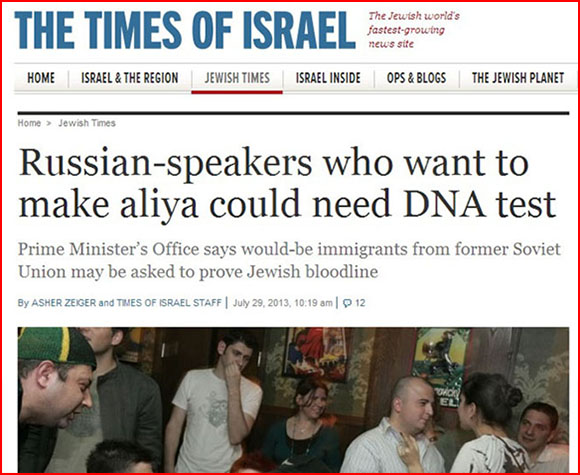 The question might well be asked: why would Adelson (and all other Jewish organizations) support a policy in Israel which they then oppose in America? If multiculturalism is good for America, why is it bad for Israel?