Dr. Patrick Slattery's News Roundup
A service of DavidDuke.com
---
From The Independent
Israeli police 'kick and beat' journalist in video
The cameraman for France 2 was attacked despite telling police in Hebrew that he was an accredited journalist
A cameraman was reportedly kicked and beaten by Israeli police despite telling them in Hebrew that he was an accredited journalist.
The Jerusalem correspondent and a cameraman for France 2 were approaching the central bus station to cover an attack on 14 October when they were warned by an Israel Defence Forces (IDF) soldier not to film events.
As the cameraman turned to leave the site, he was attacked by several Israeli border policemen, despite informing them in Hebrew that he was an accredited journalist, the Foreign Press Association (FPA) in Israel reports.
Footage of the incident shows Israeli police stamping on the man's face as he lies on the ground.
Click here for the full story
---
---
From PressTV
Israeli settlers storm Palestinian homes in West Bank, 5 injured
Illegal Israeli settlers have attacked a number of Palestinian homes in the southern part of the West Bank amid ongoing tensions in the occupied territories.
On Saturday evening, a group of Israeli settlers stormed the city of al-Khalil (Hebron), located 30 kilometers (19 miles) south of al-Quds (Jerusalem), and broke into a number of homes.
Five members of a family sustained injuries during the imbroglio. They were later rushed to a nearby hospital to receive medical treatment.
Several people were also injured after Israeli soldiers attacked a group of Palestinian protesters at the Qalandiya checkpoint.
Clashes were also reported between Israeli military forces and Palestinian protesters near the illegal Beit El settlement on the outskirts of Ramallah.
Four Palestinians were shot dead and another injured by Israeli regime forces in East al-Quds (Jerusalem) and the occupied West Bank on Saturday.
Click here for the full story
---
---
From PressTV
Israelis kill 4 more Palestinians, injure 1 in al-Quds, WB
Four Palestinians have been shot dead and another injured by Israeli regime forces in East al-Quds (Jerusalem) and the occupied West Bank amid growing concerns over a major Palestinian uprising.
The latest shooting of the Palestinian youths on Saturday came as the Israeli media cited official accounts as alleging that the victims attempted to stab the regime's soldiers and armed Jewish settlers in the occupied territories.
Since the current violence erupted on October 1, Israeli troops and armed settlers have killed 41 Palestinians while seven Israelis have also been killed in retaliatory knife attacks.
According to press reports, three of the Saturday's killings occurred in the flashpoint West Bank city of al-Khalil (Hebron), where over 500 Israeli settlers live in a heavily guarded occupied enclave in the city center surrounded by nearly 200,000 local Palestinian citizens.
The fourth victim was shot dead at a checkpoint in an Israeli settlement complex in the Israeli-annexed east al-Quds. The fifth Palestinian was also shot at another checkpoint, reports added.
According to both Palestinians and Israeli sources, all the victims shot by the Israeli on Saturday were Palestinian teenagers.
Israeli soldiers further used rubber bullets and live fire against stone-throwing protesters in several parts of al-Khalil, wounding 11 with rubber bullets and another one with a gunshot, local reports said, citing Palestinian medics.
Click here for the full story
---
---
From Ynet News
Putin 'worried' by Israeli strikes in Syria
Russian leader expresses concern over artillery strikes on Assad's forces despite security agreement reached with Netanyahu. NEW YORK – Russia "must respect Israeli interests" in Syria, but is also "worried" regarding Israeli strikes in Syrian territory, said Russian President Vladimir Putin early Tuesday morning at a press debrief.
Putin's comments came just two days after Israel fired artillery at Syrian government forces in retaliation to a rocket that landed in the Golan Heights in an apparent spillover from fighting across the border.
Click here for the full story
---
---
From the Jewish Telegraphic Agency
U.S.-Israel talks on enhancing security assistance resume
WASHINGTON (JTA) — U.S.-Israel talks on defense assistance to Israel have resumed now that the Iran nuclear deal is in place, Israel's ambassador to Washington said.
Addressing American-Israelis, Ron Dermer also took swipes at claims by U.S. officials that settlement building helped spur the recent spate of attacks on Israelis.
Talks "on hold for some time resumed this past week in Washington," Dermer said Saturday evening, addressing the annual Israeli American Council Washington conference.
Israel and the United States are due to extend and increase the $3 billion a year in defense assistance arrangement set to expire in 2018, but Israeli Prime Minister Benjamin Netanyahu suspended talks on such assistance during congressional review of the Iran nuclear deal, not wanting to appear to endorse the deal by accepting American assistance.
Click here for the full story
---
---
From Ynet News
Government approves new 'stop and frisk' authority for police
New legislation allows police to conduct physical search of person and their belongings without probable cause; rights group: Law is selectively enforced against Arabs.
The government approved a bill on Sunday allowing police to conduct searches without probable cause, as tensions continue running high throughout Israel.
The proposal was pushed forward by Public Security Minister Gilad Erdan and will allow police officers to conduct a search of any person and their belongings within the public space – even if there was no preceding suspicion that they may be armed.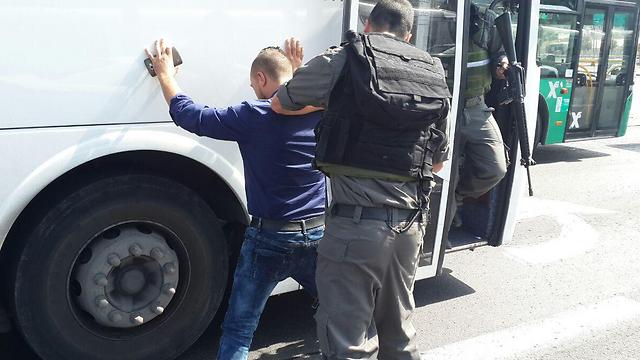 Border policeman frisks Arab man in East Jerusalem (Photo: Elior Levy)
---
---
From Ynet News
Dividing Jerusalem: Concrete walls separate Jewish, Arab neighborhoods
Police set up temporary wall in East Talpiot in effort to stop barrage of Molotov cocktails from nearby Jabel Mukaber.
Police set up a tall concrete wall at a small area of the East Talpiot (Armon HaNetziv) neighborhood in Jerusalem on Sunday in an effort to stop the constant barrage of Molotov cocktails being thrown from the nearby Jabel Mukaber.
The six concrete slabs were erected at an area known as "The balcony," where a house has been bombarded with dozens of firebombs over the past year.
Click here for the full story
---
---
From The Times of Israel
Iran to boost 'advisory' force backing Syria's Assad
Tehran denies having any fighters on ground, despite US estimate that 2,000 Iranian troops are part of Russia-backed offensive
October 18, 2015, 2:00 am
TEHRAN — Iran is to step up its military support for the Syrian regime in the form of advice on fighting terrorism, Deputy Foreign Minister Hossein Amir Abdollahian said Saturday.
Abdollahian, quoted by state television, denied that his country had fighters on the ground in the Syrian conflict.
"We have military advisers in Iraq and Syria at the request of the governments of the two countries … We are going to step up our aid to Syria in the form of advice on the fight against terrorism," he said.
On Friday, a US official said as many as 2,000 fighters from Iran and its regional allies were supporting Syrian army's offensives against rebels in coordination with Russia.
Iran is a key ally of President Bashar al-Assad and has stood by since an uprising against his regime broke out in 2011.
Click here for the full story
---
---
From The Times of Israel
Dermer: Linking settlements to terror wave 'very foolish'
Ambassador takes dig at Kerry statements but emphasizes renewed US-Israel partnership following Iran deal acrimony
October 18, 2015, 5:46 am
WASHINGTON — The current wave of violence rocking Israel has nothing to do with West Bank settlement building, Israel's Ambassador to the US Ron Dermer said Saturday night, taking a veiled jab at US Secretary of State John Kerry, who recently linked the two.
Speaking to the Israeli American Council at the organization's second annual conference, Dermer said Palestinian incitement was the root cause of the conflict, and despite his apparent pushing back at Washington, stressed that US-Israel relations were picking up where they left off before ties took a nosedive over nuclear talks with Iran.
"When it comes to the Middle East, you find very smart people believing in very foolish things," Dermer complained. "There are some people who believe that these attacks are happening because of the territories that Israel captured in the Six Day War or because of the peace process."
The comments seemed aimed toward statements made by US Secretary of State John Kerry on Tuesday, when he appeared to link growth of settlements – and a general feeling of disappointment with progress in the peace process — to the upswing of violence.
"Israel should embrace peace for its own sake because Israel doesn't want to become a binational state, but the idea that renewing the peace process or withdrawing from the territories will somehow stop terror is a fiction," Dermer said. "Terror attacks like the ones that we have seen in the past few weeks have been happening for 100 years."
Click here for the full story
---
---
From The Times of Israel
'When you are attacked, so are we,' New York mayor says in Jerusalem
On 'solidarity trip,' Bill de Blasio visits victims of terror spate in Jerusalem hospital, says stories are 'life affirming'
October 18, 2015, 2:50 am
New York City mayor Bill de Blasio visited victims of a recent terror wave in Jerusalem Saturday as part of a "solidarity visit," saying that pain felt by Jerusalem was also being felt by his city.
De Blasio and Jerusalem Mayor Nir Barkat visited three victims of stabbing attacks in Jerusalem's Hadassah Ein Kerem Medical Center, including one American citizen, telling a press conference afterward that what he saw was "life affirming."
"We feel extraordinary closeness, our people, by blood, by history," de Blasio said. "So when you are going through pain, we feel pain too. When you're under attack, we feel under attack, and I'm honored to be here in that spirit of solidarity and sense of common destiny."
"The stories I've heard, in the midst of this pain, in the midst of this challenge, can only be described as inspiring. and somehow life affirming," he added. "It's a hard thing to imagine at this difficult moment, but what's happening here reminds us what could be and will be one day."
The hospital is considered a rare model of co-existence in deeply divided Jerusalem, with a mixed Jewish-Arab medical team working together to treat the city's wounded and infirm. The medical center prides itself on checking politics at the door and treating Palestinian attackers and Jewish victims alike.
Click here for the full story
---
---
From The Times of Israel
New York mayor visits Israel on 'solidarity' mission
Bill de Blasio meeting Tel Aviv, Jerusalem counterparts and visiting Israeli terror victims; West Bank stop scuttled over security concerns
October 17, 2015, 7:54 pm
JERUSALEM (AP) — New York City Mayor Bill De Blasio kicked off a brief visit to Israel on Saturday, which he has described as a solidarity mission at a "painful moment" after weeks of violence.
De Blasio met with his Tel Aviv counterpart Ron Huldai before attending an event in the central town of Beit Shemesh sponsored by the Israeli-Arab school, Hand in Hand. The Jerusalem school, which was targeted by Jewish arsonists last year, is a rare symbol of coexistence.
Later in the day, he was to meet Jerusalem's mayor, Nir Barkat, and visit Israeli stabbing victims in a hospital.
The start of de Blasio's visit coincided Saturday with three separate stabbing attacks on Israelis in Jerusalem and the West Bank by Palestinian terrorists who were killed during the assaults.
Ahead of his trip, de Blasio said the visit has "taken on extra meaning now because of the crisis in Israel" and said it was "very important to stand in solidarity with Israel."
Click here for the full story