Commentary — The use of the Holocaust card by Jewish supremacists to get everything from immunity from legitimate criticism to advance weapons systems for Israel has been standard practice for the past seven decades, but rarely is there such a crass admission of its exploitation. The following article from the Israeli newspaper Haaretz quotes the Israeli Embassy spokesman in Berlin as telling Germany that Israel is "working to preserve the German guilt feelings."
So it's not just that the Emperor is naked and nobody is saying anything. The Emperor is calling to the world to look at his nakedness and then proceeding to molest our wives and daughters and nobody is saying anything. And the sad part is that all we need to do is speak out and then so much of their power just evaporates. We don't have to watch their media. We don't have to vote for their candidates. We don't have to volunteer to fight their wars.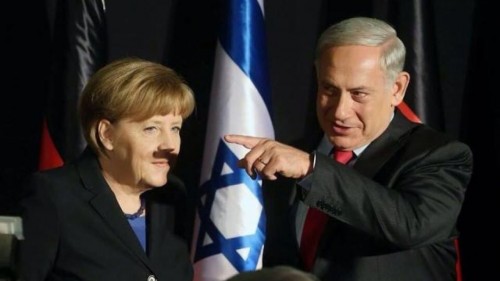 In off-the-record comment to journalists, embassy spokeswoman Adi Farjon said Israel had no interest in full normalization of relations with Germany.A spokeswoman for the Israeli embassy in Berlin recently told Israeli journalists it was in the country's interest to maintain German guilt about the Holocaust, and that it isn't seeking full normalization of relations between the governments.Embassy spokeswoman Adi Farjon made the comments in a closed briefing session with journalists at the embassy."We were all in shock," said a female journalist present at the briefing. "The spokeswoman clearly said it was an Israeli interest to maintain German guilt feelings. She even said that without them, we'd be just another country as far as they're concerned."Others present at the event confirmed the journalist's account.Some added that the Israeli ambassador himself, Yakov Hadas-Handelsman, was present for some of the briefing, as were other embassy workers who don't speak Hebrew. Another journalist commented, "It was so awkward. We couldn't believe our ears. We're sitting there eating peanuts, and behind the spokeswoman there are two German women sitting there who don't understand a word of Hebrew – and the embassy staff is telling us they're working to preserve the German guilt feelings and that Israel has no interest in normalization of relations between the two countries."The Israeli foreign ministry denied the allegations and said the diplomat were falsely accused of saying these things.This year is a special one for the German and Israeli governments, with Berlin and Jerusalem marking 50 years since the start of diplomatic relations between the two countries. German support for Israel also appears to be at an all-time high – particularly in light of Israel's ongoing battles with the European Union over labeling of products from West Bank settlements and its troubled diplomatic standing in the world.
This week, as part of the 50th-anniversary celebrations, Bundestag President Norbert Lammert visited Israel. In his speech to the Knesset on Wednesday, Lammert said that the "intensive friendship between our two countries is a historic miracle." In his speech, Knesset Speaker Yuli Edelstein praised the special and extraordinary" relations of the two countries, calling Germany "a true friend of Israel."