A Jerusalem Post article has revealed that ISIS commanders apologized to Israel after ISIS forces shelled Israeli position within the Golan region of Syria that Israel has occupied since 1967:
Former defense minister Moshe Ya'alon on Saturday said the Islamic State terrorist group in the Syrian Golan Heights "apologized" for attacking an Israeli unit.

"There was one case recently where Daesh opened fire and apologized," Ya'alon said, using the terror group's Arabic nickname.

This was an apparent reference to a clash that took place near the Syrian border last November, in which IDF troops exchanged fire with members of the Islamic State affiliate. After a brief gun battle, the Israeli military attacked the terrorist group with airstrikes and tank fire, killing four of them.
It has long been acknowledged even by Israel that it has treated ISIS fighters, and as the graphic images below reveal, former Israel Defense Minister Yaalon spoke openly about preferring ISIS over the government of Syria and its Iranian allies.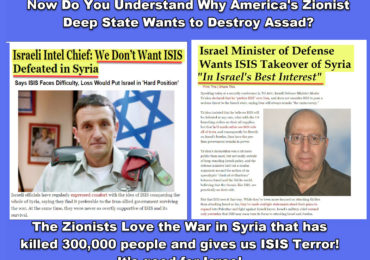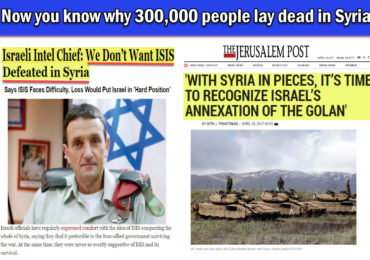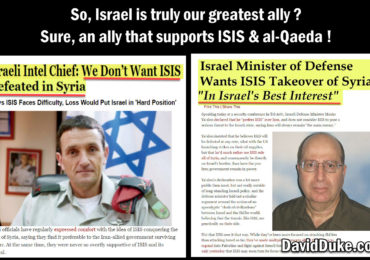 Now that ISIS and other Israeli allies have ravaged Syria for six years, the Israelis are saying that it is time the rest of the world recognize the Israeli annexation of Syria's Golan region. Wake up, America. You are fighting on the same side as ISIS and Zionist Israel AGAINST the forces of sanity led by Vladimir Putin and Bashar al Assad.