Thursday, on my radio show on RBN, I had a caller who pointed out the role of the Rockefeller Foundation in funding the study of psychiatry in major medical schools. This was in the context of a show that was discussing aspects of Jewish power in the United States. While the caller did not specifically claim that the Rockefellers were Jewish, it is a claim that one hears from time to time. I personally have never seen any convincing evidence that the Rockefellers were Jewish, but that may be besides the point.
Before getting to my real point, I also want to mention that I recently saw a debate between Mike Enoch of The Right Stuff and the YouTuber Tree of Logic. Mike Enoch was making the claim that Jews are over-represented among the ranks of wealthy people. Tree of Logic countered with the facts: of the 20 richest people in the world, only six are Jewish. Obviously the logic falls far from the tree. She went on to deny that the financial sector is dominated by Jews. To back this claim she cited the fact that Wells Fargo Bank was founded in 1852 by Henry Wells and William G. Fargo, who were not Jewish.
This leads me to the point I want to make. Institutions that are founded by non-Jews are often taken over by Jews and wind up becoming Jewish institutions. One could say that the New York Times was not founded by Jews, so therefore it is not a Jewish newspaper. But that would be a stupid point to make. The fact of the matter is that it did wind up being acquired by Jews who went on to hire other Jews as editors and reporters, making it effectively a Jewish newspaper. The same could be said for the Washington Post, and even though it was recently acquired by non-Jew Jeff Bezos, the founder of amazon.com, as there has yet to be any real change in its editorial or reporting staff, which remain disproportionately Jewish.
Getting back to the Rockefellers, from the best I can tell, Rockefeller is a German name and John D Rockefeller had no Jewish ancestry. He became perhaps the richest person on earth, and much of his wealth went into a foundation, which had the benefit of shielding it from taxation and thus better preserving it. And yet, could one make the case that that massive Fortune built up by the non-jewish oil magnate has fallen under effective Jewish control?
As of January 7, 2017, it's board was as follows: 
Richard Parsons (chair), 2007-, Chairman of the Board, Citigroup Inc. (Black American)
Helene D. Gayle, 2009-, president and CEO of CARE. (Black American)
Donald Kaberuka, 2015-, former president, African Development Bank Group, Rwanda Minister of Finance and Economic Planning between 1997 and 2005. (Black African)
Martin L. Leibowitz, 2012-, Managing Director, Morgan Stanley; formerly TIAA-CREF (1995 to 2004) and 26 years with Salomon Brothers. (Jewish)
Yifei Li, 2013-, Country Chair, Man Group China (Chinese)
Monica Lozano, 2012-, CEO, ImpreMedia, LLC (Mexican-American)
Strive Masiyiwa, 2003-, Zimbabwean businessman and cellphone pioneer, founding Econet Wireless. (Black African)
Ngozi Okonjo-Iweala, 2009-, Finance Minister of Nigeria; former Managing Director of the World Bank; former Foreign Minister of Nigeria. (Black African)
Judith Rodin, President of the foundation (2005-); ex-officio member of board (Jewish)
John Rowe M.D., 2007-, professor at the Columbia University Mailman School of Public Health; former Chairman and CEO of Aetna Inc. (White, although the fact that he was President of The Mount Sinai Hospital and the Mount Sinai School of Medicine in New York City has my Jew-dar beeping)
Rajiv Shah, 2015-, Distinguished Fellow in Residence, Georgetown University; previously administrator of the United States Agency for International Development (USAID) from 2010-2015. (Indian American)
Ravi Venkatesan, 2014-, Chairman, Bank of Baroda; previously Microsoft India (2004-2011) and Cummins India (Indian)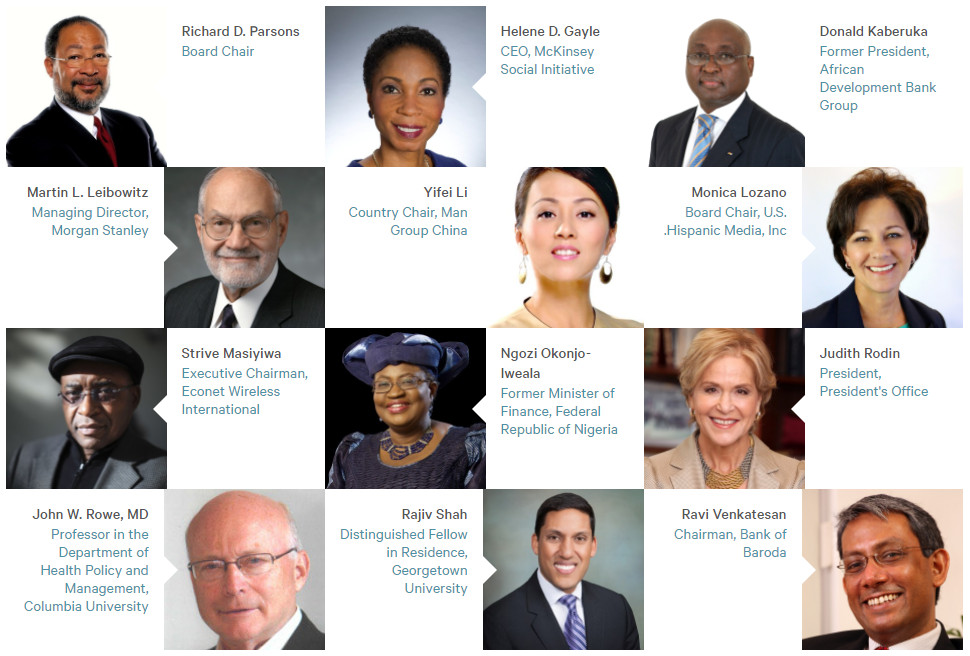 A look at the list of Rockefeller Foundation board chairman shows that for much of the past few decades there has been a Jewish chairman. The Rockefeller Foundation board as of January 2017 only has two or three Jews serving on it (depending on John Rowe's pedigree), but more remarkably has at the most one non-Jewish white on it. What is most remarkable is of the 12 members, five are black, including three from Africans. There are also 2 Asian Indians, a Hispanic, and a Chinese person. There are no Rockefellers on the board, by the way.
Only two Jews out of twelve members. Disproportionate to be sure, but not enough to pass the Tree of Logic test. It's kind of strange about all those blacks on the board, though. Let's dig just a bit deeper. For 21 of the past 30 years the Foundation has had a Jewish president:
Judith Rodin (retiring) – 2005-2017; former president of the University of Pennsylvania, and provost, chair of the Department of Psychology, Yale University.
Peter Goldmark, Jr. – 1988-1997; former executive director of the Port Authority of New York and New Jersey.
A glance at the list of past board members reveals a number of high-profile Jews:
Orvil E. Dryfoos 1960–1963 – Publisher of the New York Times, 1961-1963.
Stephen Jay Gould 1993–2002 – Author; Professor and Curator, Museum of Comparative Zoology, Harvard University.
Jessica T. Mathews, President, Carnegie Endowment for International Peace, Washington, D.C.
Julius Rosenwald 1917–1931 – Chairman of Sears Roebuck, 1932-1939.
Arthur Hays Sulzberger 1939–1957 – Publisher of the New York Times, 1935-1961.
James Wolfensohn – former President of the World Bank.
So there you have it. A massive fortune built up by a white man (whether you like it or not) that has been under the control of a Jewish president for 21 of the past 30 years operating with a board almost totally devoid of whites. This is really the template for what Jews are trying to do with our society: take the leadership role with the backing of various minorities while completely marginalizing whites.
It is not within the scope of this article to go deep into the actual workings of the Rockefeller Foundation. It has been a major contributor to Jewish power centers like the Council on Foreign Relations, the Brookings Institution, and the World Bank, along with massive grants to the Ivy League yeshivas. Of course, much of there "good work" preceded the tenures of the Jewish presidents, including the establishment of departments of psychology at major universities, which is what my caller was drawing attention to.
The take away is that Jews have been very successful at gaining control of institutions and resources built up by white gentiles and they using them for their own purposes, including marginalizing white gentiles.