Now available on the Rense Radio Network: Hear this absolutely incredible show today with Dr. David Duke who is later joined by Dr. Patrick Slattery.
Dr. Duke gives the behind the scenes story of being in the eye of the media hurricane over the last week.
He exposes the incredible lies and bias of the media and why they lie. He gives the inside story of both the media celebrities he as talked with over the past few days, and gives specific examples of censorship in the media of his real message.
He also talks about the original CNN interview was edited possibly in an attempt to suppress his truth telling about the Zionist takeover of America.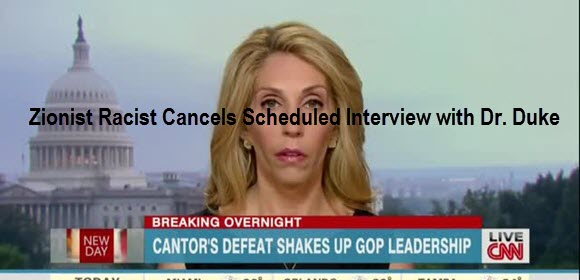 He quotes from the HipHopDX website, the most popular HipHop website in covering his recent attack upon the music company moguls who support the horrific degeneracy, violence, drug culture, sexual dissolution and thuggery in HipHop music!
Even though Dr. Duke is labeled a "White supremacist" and racist by the Zio Media (which he is not) and although there is obviously a lot of resentment among blacks against him because of this media portrayal — most the African American posters on the HipHop site wrote that Dr. Duke was 100 percent right about the damage done to black people by the HipHop Jewish producers.
It is interesting to see that not only do European Americans agree with Dr. Duke, even young black people who are fans of HipHop overwhelmingly agree with his view on this issue.
A great show and once again proof of Dr. Duke's incredible successful efforts to speak for all of us.
If you appreciate his incredible work, don't you think you should support it with generous gift because without your unselfish support he can't accomplish what he does!
Go to DavidDuke.com and give a gift for his work and share today's magnificent show with everyone you know!
Our show is aired live at 11 am replayed at ET 4pm Eastern and 4am Eastern time.
You can also hear the live stream by calling 712-432-7855 on your cell or home phone (US) or Skype (US and international).