Dr. Patrick Slattery's News Roundup
A service of DavidDuke.com
---
From Russia Today
Gorbachev calls US military might 'insurmountable obstacle to a nuclear-free world'
Former Soviet leader Mikhail Gorbachev warns that when one state has immense military might and greater defense budget that anyone else, this creates is "an insurmountable obstacle" on the road to a world without nuclear weapons.
"Can we really imagine a world without nuclear weapons if a single country amasses so many conventional weapons that its military budget nearly tops that of all other countries combined?" the former Soviet leader told to Spiegel Online in an apparent – but not explicit – reference to the US.
"This country would enjoy total military supremacy if nuclear weapons were abolished," he added.
READ MORE: Gorbachev: It's up to Europe to prevent new Cold War between US and Russia
The 84-year-old political veteran called nuclear weapons "unacceptable" and "inhumane" in our modern society as they can easily "wipe out the entirety of civilization".
"Weapons like this have never existed before in history and they cannot be allowed to exist. If we do not get rid of them, sooner or later they will be used."
READ MORE: Gorbachev: Russia, US, EU should hold summits to 'defrost' relations
Demilitarization should be put "back on the agenda of international politics," believes Gorbachev. "This includes a reduction of military budgets, a moratorium on the development of new types of weapons and a prohibition on militarizing space."
If these actions are not performed, then the talks on any nuclear demilitarization will be just "little more than empty words," he added. "The world would then become less safe, more unstable and unpredictable. Everyone will lose, including those now seeking to dominate the world."
---
---
From the Jewish Telegraphic Agency
Schumer, Engel to oppose Iran deal
NEW YORK (JTA) — Two of the most watched Jewish lawmakers in Congress announced they will vote to disapprove of the Iran deal.
Sen. Chuck Schumer, D-N.Y., and Rep. Eliot Engel, D-N.Y., both said Thursday evening they had considered the issue carefully before their decision.
"Avocates on both sides have strong cases for their point of view that cannot simply be dismissed," Schumer said in a statement obtained by the New York Times. "This has made evaluating the agreement a difficult and deliberate endeavor, and after deep study, careful thought and considerable soul-searching, I have decided I must oppose the agreement and will vote yes on a motion of disapproval."
Click here for the full story
---
---
From the Jewish Telegraphic Agency
On trip to Israel, Democratic whip hearing out Iran deal opponents
Steny Hoyer has not yet decided how to cast his Iran vote, but he's telling Israelis that whatever happens, the Israeli-American relationship will thrive.
Rep. Hoyer, D-Md., the minority whip in the U.S. House of Representatives, called JTA from Israel, where he is visiting for the 14th time.
"I have not and I don't intend to until early September," Hoyer said when asked if he has made up his mind about the nuclear deal between world powers and Iran. Rep. Nancy Pelosi, D-Calif., the minority leader, backs the deal.
Hoyer is leading a tour of 21 freshmen House members, sponsored by an affiliate of the American Israel Public Affairs Committee, the American Israel Education Foundation.
Click here for the full story
---
---
From Ynet News
Jewish supremacist: Burning churches legitimate under Jewish law
Radical right wing activist Bentzi Gophstein, who has narrowly escaped charges of incitement to violence, was recorded saying that he unquestionably supports the burning of churches and 'houses of idolatry.'
Itzhak Tessler, Kobi Nachsoni
08.06.15, 15:18
Bentzi Gophstein, head of the Lehava organization, said he supported the burning churches as a legitimate act under Jewish law during a debate on a haredi panel Wednesday. The statement, made during a summer seminar session for students at Jerusalem's Netivot Hochma (Wolfson) Yeshiva, was first exposed on the religious news site Kikar HaShabbat.
The panel, which included prominent rabbis and political figures and was led by Rabbi Abba Turetsky, featured a heated debate surrounding the status of Christian churches in Israel that were labeled "houses of idolatry." Gophstein, a radical right-wing activist, was asked, "Do you support burning churches in Israel, yes or no?" by Benny Rabinowitz, a writer for the ultra-Orhtodox daily newspaper Yated Ne'eman, who attended the event. Gophstein replied, citing a Maimonides ruling that churches should be burned. "Are you for Maimonides or against him?" he asked, rhetorically.
Gophstein's answer shocked the attendees, including Rabbi Moshe Klein, who is the Rabbi for the Hadassah Medical Center, and deputy mayor of the city of Elad, Tzuriel Krispel, who immediately and vigorously expressed opposition to his remarks. "Benzti are you for burning or not?" Rabbi Turetsky asked. "Of course I am," Bentzi can be heard saying in the recording. "It's Maimonides. Simply yes, what is there to question?"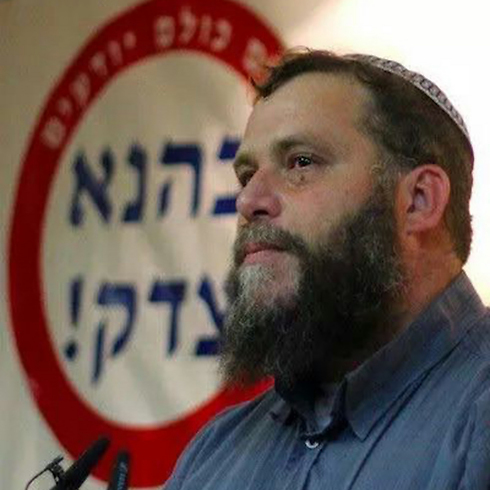 Bentzi Gophstein
Rabbi Klein told Gophstein, "You are on camera and being recorded. If this lands in the hands of the police, you will be arrested." Gophstein answered, "That's the last thing that worries me. I'm willing to sit in prison for 50 years the truth."
Click here for the full story
---
---
From Ynet News
Former Argentine president on trial for bombing cover-up
Months after the mysterious death of prosecutor Alberto Nisman, who accused the government of a cover-up, the trial that could finally deliver justice for 85 victims of 1994 terror attack on Buenos Aires Jewish community center begins; former president Carlos Menem among defendants.
Associated Press
On a day of heavy rain, several of the 13 men charged in the cover up were ushered into the court. Menem, president between 1989 and 1999, was absent. It wasn't immediately clear where the now 85-year-old was or if lawyers would represent him at this point in the trial, which is expected to last several months.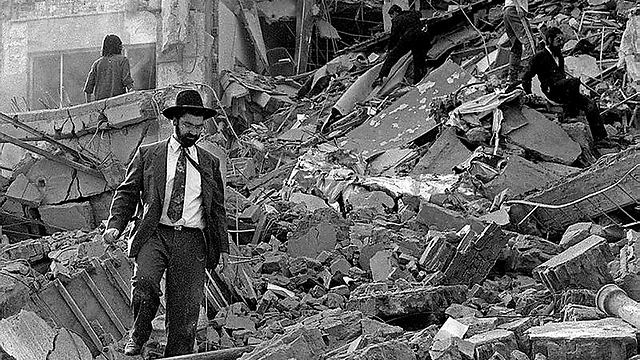 Aftermath of Argentine Israelite Mutual Association bombing (Photo: AFP)
Prosecutors have accused Iranian officials of being behind the 1994 bombing of the Argentine Israelite Mutual Association, which caused the organization's main building to collapse, killing 85 and leaving hundreds more injured amid the rubble. But no one has been convicted in the attack, which many Argentines believe has come to symbolize an inept and corrupt justice system that operates at the whims of politicians and can be bought off.
"After 21 years of no justice, deception and defrauding the families (of victims), we hope that the truth will emerge about everyone who plotted to cover up and derail the investigation," said Olga Degtiar, whose son was killed in the blast.
Click here for the full story
---
---
From The Times of Israel
Major US Jewish group to oppose Iran agreement
After weeks of deliberation, AJC concludes 'there are too many risks, concerns, and ambiguities' regarding deal
By Rebecca Shimoni Stoil August 5, 2015, 10:20 pm
WASHINGTON — After weeks of deliberation, a major US Jewish organization announced Wednesday morning that it will oppose the nuclear deal with Iran. The American Jewish Committee, which had yet to commit to a position on the deal, concluded that "there are too many risks, concerns, and ambiguities for us to lend our support" to the controversial agreement.
AJC Executive Director David Harris issued a lengthy statement, explaining why the leadership of the organization had "overwhelmingly" decided to oppose the agreement. "AJC opposes the deal and calls on Members of Congress to do the same," Harris announced.
The announcement comes in the midst of a media blitz by President Barack Obama to reach out to the US Jewish community and the American public as a whole to sell the nuclear agreement, reached last month. The administration – including the president himself, less than a day ago – has held numerous briefings for Jewish groups in an effort to reduce the pressure on Democratic legislators to oppose the deal when it comes up for a vote in Congress next month.
In his announcement, Harris noted that the AJC had, over the past three weeks, held numerous consultations, briefings and internal discussions in a process that he described as "intensive, open-minded, and thorough." The organization was briefed privately by both Secretary of State John Kerry, and the deal's chief negotiator, Undersecretary of State for Political Affairs Wendy Sherman, and representatives spoke with members of Congress from both parties, European, Israeli, and Arab diplomats, and analysts.
Click here for the full story
---
---
From the Jewish Telegraphic Agency
Israeli-Canadians raise $2,000 to get pro-Israel prime minister re-elected
TORONTO (JTA) — Canadians living in Israel have launched a crowdfunding campaign to re-elect the stridently pro-Israel Prime Minister Stephen Harper in this October's federal election in Canada.
"As Canadians, we believe Harper is good for Canada, he is good for the Jewish community, he is good for Israel and he is good for the world. We want to help him stay in office," said Dan Illouz, a strategic consultant and CEO of Di Consulting, which is leading the campaign.
"This campaign is here to say thank you to Prime Minister Harper. "
The effort aims to send 10 Israeli-Canadians to Canada to vote and whip up support for Harper in Jewish communities through rallies and town hall meetings. Money will go toward buying plane tickets and renting cars for a week before the Oct. 19 vote.
Click here for the full story
---
---
From the Jewish Telegraphic Agency
Why the Chosen People are choosing aliyah
HIGH HOLIDAYS FEATURE
(JTA) — In their central Jerusalem apartment, Natan and Avital Sharansky can hear their new upstairs neighbors chatting in French on their patio.
The young family moved into the penthouse earlier this month, shortly after immigrating to Israel with help of the Jewish Agency for Israel — the semi-official organization for Jewish immigration to Israel, or aliyah, which Natan Sharansky has headed since 2009.
The family is part of a major increase in aliyah from France, amid rising levels of anti-Semitism and economic stagnation in that country. In 2014, 6,668 French people made aliyah — a record number of newcomers in a single year from France — making that country the largest provider of Jewish immigrants to Israel for the first time in a given year.
But the Sharanskys and others don't need data to confirm the influx of French arrivals. They are in plain sight from Ashdod, where shop signs assure prospective customers that they have French-speaking staff, to Netanya, where some taxi drivers use broken, newly acquired French to communicate with tens of thousands of Francophones now living in the city.
Click here for the full story
---
---
From the Jewish Telegraphic Agency
In raucous debate, GOP candidates agree on nixing Iran deal
WASHINGTON (JTA) — Republicans in their first presidential debates said they would undo the Iran nuclear deal.
"What happened in Iran is a disgrace and it's going to lead to destruction in huge parts of the world," Donald Trump, the real estate magnate leading in the polls, said Thursday in the second of two debates broadcast by Fox from Cleveland and billed collectively as the first GOP debate in the 2016 election season.
Among the 17 candidates vowing to kill the deal were former Florida Gov. Jeb Bush, former Hewlett Packard CEO Carly Fiorina, former Arkansas Gov. Mike Huckabee, former Texas Gov. Rick Perry, Sen. Ted Cruz, R-Texas and Wisconsin Gov. Scott Walker.
If other candidates did not pledge to end the deal, it appeared only to be because they were not asked directly due to time constraints, given the large number of candidates. Most candidates managed to get in pledges of support for Israel nonetheless.
Click here for the full story
---
---
From Russia Today
ISIS abducts at least 230 after taking town in Homs province, Syria – monitor group
Islamic State fighters have reportedly captured at least 230 people including 60 Syrian Christians after taking a town in the province of Homs.The hostages were taken in the town of Al Quaryatayn, which is the biggest capture by Islamic State (IS, formerly ISIS/ISIL) in Syria since the taking of Palmyra in May.It has a mixed population of 40,000 and shelters thousands of refugees, who have fled from fighting elsewhere in Syria.
There are many children and women among the abducted Christians, according to the UK-based Syrian Observatory for Human Rights.
---
---
From The Times of Israel
Netanyahu should dial down critical tone on Iran deal — US Jewish leader
PM has right to warn US Jews on dangers of accord, says Malcolm Hoenlein, but should be careful not to pit them against their government
By Raphael Ahren August 6, 2015, 11:31 pm
NEW YORK – While Prime Minister Benjamin Netanyahu has every right to warn US Jews of the perceived dangers in the newly signed nuclear agreement with Iran, his bombastic approach to the American political process is making some of his co-religionists uncomfortable, a senior community leader said Thursday.
"I think that Israeli officials should make the case, on the content, on the substance, and we will do the good job of translating it into activity," Malcolm Hoenlein, the executive vice president of the Conference of Presidents of American Jewish Organizations, said in a briefing for members of the Israeli Diplomatic Correspondents Association.
Netanyahu can indeed address American Jews on the deal, which the prime minister perceives as existential danger to the Jewish state, said Hoenlein, one of the Jewish world's most influential leaders. But, he said, there exists some unease in the American Jewish community about the Israeli prime minister's aggressive campaign to encourage them to actively lobby Congress to reject the deal.
"I want to be clear: I think Netanyahu has the right to say to American Jews, you have to understand the seriousness of this issue," Hoenlein said. "He has the right, and by his assessment and everything we know, maybe the obligation to reach out."
US lawmakers are going to vote on a deal that be believes poses a danger to Israel, and Netanyahu must therefore address the American people, Hoenlein said.
Click here for the full story
---
---
From Ynet News
Netanyahu thwarts Shaked's plan to divide attorney general's role
Justice minister wants to split AG's authorities into roles of public prosecutor and chief legal counsel to government, but PM says such a move would harm AG's abilities to fulfill his duties. Justice Minister Ayelet Shaked's initiative to divide the duties of the attorney general to two different roles – head of the public prosecution system and chief legal counsel to the government – was thwarted by Prime Minister Benjamin Netanyahu on Thursday.
Earlier this week, Shaked informed the committee to select the next attorney general that the position could be divided and that each candidate will have to bear in mind they might have to give up a significant part of the authorities the position entails.
Click here for the full story
---
---
From The Times of Israel
Two rockets fired at Israel land in Gaza Strip
No reports of injuries or damage as projectiles fall short of the border
By Times of Israel staff August 7, 2015, 3:08 am
Two rockets were fired at Israel from the Gaza Strip on Thursday night, falling short of the border and landing in the Palestinian enclave.
There were no reports of damage or injuries, and no immediate claim of responsibility.
Sporadic rocket fire over the past several months has frequently been attributed to struggles inside Gaza between Hamas and Salafist groups that oppose Hamas rule.
The official policy of the Israel Defense Forces is to retaliate to attacks, maintaining that it holds Hamas responsible for all rocket fire from the Strip. Misfired rockets landing on the Gaza side of the fence do not generally elicit an Israeli response.
Last Saturday night, two rockets fell near the Israel-Gaza border fence. No warning sirens were heard and the military was initially unsure whether the projectiles struck the Israeli or Gazan side of the border.
Click here for the full story
---
---
From The Times of Israel
Jon Stewart's top 10 'Daily Show' moments
Ahead of his last show, after 2,600 editions and 16 years, here are some of the comedian's most memorable quips
By AP August 7, 2015, 1:08 am
When he leaves Comedy Central's "The Daily Show" on August 6 after hosting nearly 2,600 episodes, Jon Stewart will have logged too many great moments to count.
The popular Jewish comedian's last show is tonight, and in its honor, here are 10 Stewart highlights — both on and off the show — worth remembering:
Hail to the chief
(December 2000) Reporting on George W. Bush's remarks as he clinched the presidency, Stewart replayed Bush declaring, "I was not elected to serve one party," to which he retorted, "You were not ELECTED." Then back to Bush saying, "I ask for you to pray for this great nation." To which Stewart added somberly, "We're waaaaay ahead of you."
Grief-stricken
Click here for the full story
---
---
From The Times of Israel
Final Madoff defendant sentenced to 6 months in prison
Irwin Lipkin one of 15 to either plead guilty or be convicted for participating in multibillion-dollar Ponzi scheme
By JTA August 6, 2015, 5:23 am
NEW YORK (JTA) — The last defendant charged in the Bernard Madoff Ponzi scheme was sentenced to six months in prison.
Irwin Lipkin, who pleaded guilty to faking records while comptroller for Madoff's firm, was sentenced Wednesday in federal court in Manhattan, The Associated Press reported.
Lipkin, 77, cited health problems in pleading to be spared jail time, according to Bloomberg. He began working for Madoff in 1964 and was the first non-family member to be hired there.
He is one of 15 defendants to either plead guilty or be convicted at trial for participating in the multibillion-dollar scheme, whose victims included major Jewish institutions such as Yeshiva University and the Gift of Life Foundation.
Madoff has been in prison since 2009, where he is serving a 150-year sentence.
Click here for the full story
---
---
From The Times of Israel
Hitler set for German big screen comeback
Teasers released for film adaptation of book 'Look Who's Back,' due for release in the fall
By Stuart Winer August 5, 2015, 6:23 pm
What would Adolf Hitler make of modern Germany, and what would Germany make of him? These questions are explored in a soon-to-be-released film adaptation of the best-selling 2012 satirical novel "Er Ist Wieder Da" (Look Who's Back) by German author Timur Vermes.
German production company Constantin Film released teaser clips on Tuesday featuring Oliver Masucci as the Nazi leader who wakes up from a coma in the Berlin of 2011, penniless, homeless, and with no idea of what has happened since 1945.
As he sets about trying build a life for himself in a modern world that features such marvels as mobile phones and the Internet, Hitler unwittingly becomes a YouTube sensation, then a television celebrity, and finally turns his power-hungry mind to politics.
The book sold two million copies in Germany and 40 million around the world. It was originally released in hardback copy priced €19.33, a reference to the year that the real Hitler came to power in Germany.
Vermes told the BBC in 2013 that he deliberately presented Hitler as a human character, rather than a monster, to force Germans to reflect on how they feel about the infamous dictator.
Click here for the full story
---
---
From The Times of Israel
Obama: My duty is to America, with or without Israel 'friction'
US president: Iran deal permanently prohibits nukes; Iran nuclear deal 'as pro-Israel as it gets,' says John Kerry
By Times of Israel staff August 5, 2015, 2:16 pm
PM chastises ministers as cabinet budget battle rages
Facing demands from ultra-Orthodox parties, labor groups, various ministries and the army for higher budgets in the 2015-16 state budget now being negotiated in the cabinet, Prime Minister Benjamin Netanyahu on Wednesday delivers a biting speech before cabinet ministers on the importance of fiscal "responsibility" and economic growth.
"The budget we're bringing today to the government…is balanced and responsible. This is a budget intended first of all to sustain the economy's growth."
Click here for the full story