The Brussels, Belgium-based Jewish organization CEJI (A Jewish Contribution to an Inclusive Europe) has lashed out at what it calls the election of a record number of "xenophobic" candidates at the recent elections—but is a firm supporter of Israel, whose prime minister has recently warned that "African immigrants threaten the identity of [the] Jewish State," an article in The New Observer has pointed out.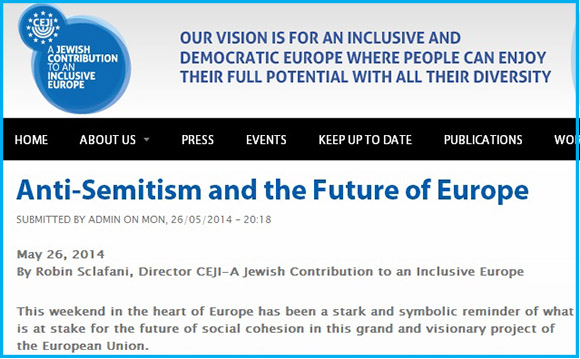 The CEJI, which describes itself as an organization dedicated to promoting a "diverse and inclusive Europe," is funded by a number of important Jewish institutions in Europe, including the Dutch Jewish Humanitarian Fund, the Edmond de Rothschild Foundation, the Levi Strauss Foundation and the Rothschild Foundation Europe (amongst many others).
It is also an official partner of the World Jewish Congress, the European Jewish Congress, the European Council of Jewish Communities, the Anti-Defamation League – United States, the B'nai B'rith Europe and the B'nai B'rith International, and every single major Jewish organization in each of the EU's member states. The CEJI therefore, can rightly claim to be representative of European Jewry.
According to the CEJI's "What We Do" information website, they specialize in "contributing innovative ideas to policy-making processes dealing with anti-discrimination and social inclusion, [and] CEJI actively advocates for policies promoting a diverse and inclusive Europe."
In a press release issued this week titled "Anti-Semitism and the Future of Europe," the CEJI condemned the recent European Parliament election results, which, it said, "saw 77 new MEPs from xenophobic parties, up 50% from five years ago.
"This does not bode well for the future of Europe. The European Union is rooted in the value of respect for diversity," the CEJI said.
It went on to urge its "European political representatives" to implement a number of measures which include "Comprehensive hate crime monitoring" and "Obligatory educational curriculum against anti-Semitism, racism and all forms of hatred which is absolutely essential to give room to the many cultures and religions in Europe."
The CEJI is, like all major Jewish organizations across the world, being blatantly hypocritical. Israel, the country to which they are all loyal, is the most extreme "xenophobic" nation on earth:
1. Anti-African racism in Israel.
On May 29th the prime minister, Binyamin Netanyahu, said he was adding African "infiltrators" to his list of threats to the Jewish homeland. He said he shared the rioters' pain and promised to solve the problem by completing a wall along the border with Egypt. He said he would also build the world's largest detention center—and deport all those within, starting with the South Sudanese.
Until 2009 the 15,000 or so asylum-seekers entering via Sinai every year were banned from coming within a radius of 30km (19 miles) of Tel Aviv. 
Israeli officials say they are loth to improve conditions in case even more are encouraged to come. The interior ministry bans the immigrants from work and refuses to process asylum applications from friendly countries such as Eritrea, though it is a dictatorship.
Source: The Economist, "Keep Out: Racial Tension Is Rising As Black Asylum-Seekers Pour In," June 2, 2012.
2. Israel's Mixed Marriages Act
Marriage between Jews and non-Jews is illegal in Israel.
In order to get married in Israel, applicants have to prove their Jewishness, and this is sometimes done with DNA testing, a leading rabbi in Israel specializing in the issue has told the Haaretz newspaper.
Rabbi Naftali Schreiber, who runs a private office for the clarification of Jewishness called "A People Alone" in Israel, revealed the extent of the "checks" undertaken by the Jewish state to make sure that no Gentiles are allowed to marry Jews in their country.
It then moves on to an interview with Rabbi Schreiber, who is specifically asked "How does one prove Jewishness?"
His answer is as follows:
We base ourselves on the documentation people provide—part of the profession is to authenticate documents.
We have criminological machinery for authenticating documents, and we also carry out a personal inquiry in which we hear their story.
We have a way to be in touch with archives abroad, or to refer the applicants themselves to the archives.
Sometimes DNA testing is needed, and people agree to that, too.
Source: Haaretz, "So you think you are Jewish enough for an Israeli wedding? Prove it," July 11, 2013.
3. Israelis attack African migrants during protest against refugees
Demonstrators have attacked African migrants in Tel Aviv in a protest against refugees and asylum-seekers that indicates an increasingly volatile mood in Israel over what it terms as "infiltrators."
Miri Regev, a member of the Israeli parliament, told the crowd, "the Sudanese are a cancer in our body." The vast majority of asylum-seekers in Israel are from Sudan and Eritrea.
Around 1,000 demonstrators took part in the demonstration on Wednesday night, waving signs saying: "Infiltrators, get out of our homes" and "Our streets are no longer safe for our children." A car containing Africans was attacked and shops serving the refugee community were looted. Seventeen people were arrested.
A reporter for the Israeli daily Maariv described it as an "unbridled rampage" and explosion of "pent-up rage."
Source: The Guardian, "Israelis Attack African Migrants During Protest Against Refugees," May 24, 2012
5. Africans "threaten identity of Jewish State," says Netanyahu
The Israeli prime minister has stoked a volatile debate about refugees and migrant workers from Africa, warning that "illegal infiltrators flooding the country" were threatening the security and identity of the Jewish state.
"If we don't stop their entry, the problem that currently stands at 60,000 could grow to 600,000, and that threatens our existence as a Jewish and democratic state," Binyamin Netanyahu said at Sunday's cabinet meeting. "This phenomenon is very grave and threatens the social fabric of society, our national security and our national identity."
Source: The Guardian, "Israel PM: Illegal African Immigrants Threaten Identity of Jewish State," May 20, 2012.