---
From the Jewish Telegraphic Agency
Jewish Home party wins major posts in Netanyahu's newly formed coalition
(JTA) — Israeli Prime Minister Benjamin Netanyahu formed a coalition government after making concessions to the right-wing Jewish Home party.
Just a few hours before Wednesday's midnight deadline, Netanyahu agreed to appoint Jewish Home leader Naftali Bennett as education minister, Ayelet Shaked as justice minister and Uri Ariel to a third ministry position, the Times of Israel reported. Shaked, 39, has been in politics for only two years.
The final 61-member coalition is the minimum of seats needed for a majority in the 120-seat Knesset. Netanyahu has a week to have the coalition sworn into the Knesset.
Click here for the full story
---
---
From PressTV
Netanyahu forms coalition shortly before deadline
Israeli Prime Minister Benjamin Netanyahu has finally managed to form his ruling coalition before a deadline for the formation of an administration.
Shortly before 11 p.m. local time on Wednesday, Bibi, the leader of Likud party, appeared before reporters at the Israeli parliament, Knesset, announcing a deal with the Jewish Home (Bayit Yehudi), a Zionist pro-settlement party.
The deal would give the Israeli premier the 61 seats necessary to form the administration.
In return for support from his eight MPs, Jewish Home chairman Naftali Bennett, the current economy minister, had demanded serving as the justice minister.
"Mr. prime minister, we are behind you for the success of the country and the government you head," said the pro-settlement party leader, an outspoken opponent of establishing a Palestinian state.
Netanyahu was able to sign similar deals with other Israeli parties, the ultra-orthodox parties United Torah Judaism (UTJ) and Shas as well as the center-right Kulanu, in an attempt to gain the seats necessary out of the parliament's 120.
Click here for the full story
---
---
From the Jewish Telegraphic Agency
Flier in Maryland Senate race alleges Jewish control of black pols
WASHINGTON (JTA) — A flier alleging Jewish control of black politicians was distributed at a budget meeting in a Maryland suburb of Washington.
The flier distributed Monday in Prince George's County uses Photoshop to depict three Maryland Democrats in the U.S. Congress — Sen. Ben Cardin and Reps. Chris Van Hollen and Steny Hoyer — standing over two dogs bearing the faces of County Executive Rushern Baker and Montgomery County Executive Ike Leggett, both African-Americans.
Leggett and Baker, the equivalent of mayors in the populous Washington suburbs, have endorsed Van Hollen, who is facing Rep. Donna Edwards in a primary fight to succeed Sen. Barbara Mikulski, also a Democrat, who is retiring.
"Van Hollen will run against Donna Edwards and other African-American candidates chosen and financed by the Israel lobby for the purpose of splitting the African-American vote in the primaries," the leaflet said. It accused Leggett and Baker of selling out Edwards "for a few doggy treats."
Click here for the full story
---
---
From the Jewish Telegraphic Agency
Palestinians leading bid to put Israel on U.N. list of child abusers
WASHINGTON (JTA) — The Palestinian Authority is spearheading an effort to have Israel added to a U.N. list of human rights violators.
Riyad Mansour, the Palestinian ambassador to the United Nations, on May 1 sent Secretary-General Ban Ki-moon a letter asking him to add Israel to the list of entities committing "grave violations against children." The secretary-general releases the list in conjunction with his annual report on children and armed conflict.
In a report Tuesday, Middle East Eye, a news site, said Ban is due to release the report in the coming weeks. A petition led by Palestinian solidarity groups is due to arrive on Ban's desk by Thursday.
Adding Israel to the list would put it in the company of the Taliban, Congolese militias that exploit child soldiers and the Islamic State jihadist group, or ISIS.
Click here for the full story
---
---
From The Times of Israel
Syria's Assad says defeats don't mean war is lost
President's comments at a Damascus school were the first since a string of regime losses in Idlib province
May 6, 2015, 4:08 pm
DAMASCUS, Syria — Syrian President Bashar Assad said Wednesday that setbacks are a normal part of any war and do not mean the conflict is lost, in his first comments after several regime defeats.
"Today we are fighting a war, not a battle. War is not one battle, but a series of many battles," he said at a rare public appearance on Syria's Martyrs Day.
"We are not talking about tens or hundreds but thousands of battles and… it is the nature of battles for there to be advances and retreats, victories and losses, ups and downs."
The comments from Assad at an appearance at a Damascus school were his first since a string of regime losses, particularly in northwestern Idlib province.
In the last few weeks, rebel forces including Al-Qaeda's Syrian affiliate Al-Nusra Front have seized Idlib's provincial capital, the strategic town of Jisr al-Shughur, and a military base in the area.
Click here for the full story
---
---
From the Jewish Telegraphic Agency
N.J. telecommunications firm to launch cybersecurity yeshiva
NEW YORK (JTA) — A New Jersey telecommunications firm will launch a cybersecurity yeshiva at its Newark headquarters to teach computer science alongside the Torah.
The IDT Corp. said it will open the yeshiva for some 40 students in September. Its founder and chairman, Howard Jonas, plans to donate $500,000 to the program as well as human resources, payroll and secretarial staff.
According to the The Wall Street Journal, the yeshiva will help train future cybersecurity professionals for an industry with an abundance of vacancies.
Jonas, who funds a variety of Orthodox causes, has estimated in the past that 25 percent to 40 percent of IDT employees are Orthodox Jews.
Click here for the full story
---
---
From the Jewish Telegraphic Agency
Ethiopian-Israelis set new protests, vow no violence
JERUSALEM (JTA) – Ethiopian-Israelis have set new protests against police brutality with the theme "No to violence, yes to dialogue."
One rally is scheduled for Thursday in the southern Israeli city of Ashkelon, Haaretz reported, and simultaneous demonstrations are planned for Saturday night throughout the country.
A demonstration by Ethiopian-Israelis and their supporters on Sunday in Tel Aviv turned violent, with dozens injured and four indicted for assaulting police officers. Rioting also broke out at a rally in Jerusalem several days earlier. The protests were spurred by the beating of an Ethiopian-Israeli soldier in uniform by Israeli police.
"We will demonstrate against police brutality and in solidarity with all the members of the community who are not treated fairly by the authorities," Gavriel Tigabo, a protest organizer, told Haaretz. "We've been silent for 30 years and now we're making our cry heard. I call on everyone to join and not to remain apathetic."
Click here for the full story
---
---
From Russia Today
Kurdistan's independence is inevitable, but only through peace – Iraqi Kurdish leader
Published time: May 06, 2015 19:51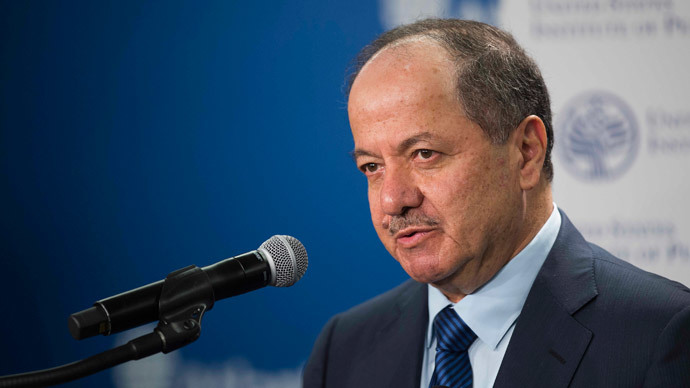 The leader of Iraq's Kurds said his people will one day be independent, but it will be achieved only through peace and after the fight with Islamic State is concluded.
Kurdistan President Masoud Barzani was speaking in Washington after talks with US President Barack Obama and Vice President Joe Biden. The fight against Islamic State [IS, formerly ISIS/ISIL] terrorists in Iraq was among matters discussed.
"Certainly the independent Kurdistan is coming," Barzani said through a translator, adding that any referendum on independence will be held only after the war against Islamic State extremists is resolved. "We want it to be not through violence, not through killing. We want it to be through peace and dialogue," Barzani said, as cited by Reuters.
The rapid advance of the Islamic State has prompted the Kurds to boost the strength of their Peshmerga militia and take the frontline in the fight against the extremists. This in turn has triggered concerns of possible ethnic and religious splits in Iraq. Talking to Barzani, the US President and VP insisted "a united, federal and democratic Iraq" is necessary to fight the Islamic State, and that is the kind of Iraq Washington supports.
Click here for the full story
---
---
From Ynet News
Are you a Jew or a feminist?
Four women, four questions and four ideas – Are we standing before a new generation that links Jewish values to feminist values, or are we still far from this bond? "If we don't ask these questions and remain within gender boundaries, the Israeli Judaism will be harmed," warns Devorah Evron.Feminism and Judaism, it seems at times these two worlds are in a course of direct collision – two objects flying towards each other, like light and darkness, with each side claiming the other side is the reflection of darkness. The combination of the two seems like a complex issue with multiple meanings, both for those who follow Halacha (Jewish law) and for the more secular Israeli public. But are the two really so contradictory?
The ideas of feminism and women's empowerment expand into public discourse, the statute book and yes, even into synagogues and Midrashim (houses of study). They too need to face the issues that arise within Judaism in Israel in recent years in regards to gender equality and its implications.
Click here for the full story