Download
Today Dr. Duke told America the truth about who he is, what he believes, and what really transpired last weekend in Charlottesville. Over the past several days, nobody besides President Trump has been as talked about in the media as David Duke. And yet, the picture they paint of the man bears no resemblance to reality. He has not been invited on to any show to provide his real views or our side of events, but rather is quoted selectively for tiny sound bites.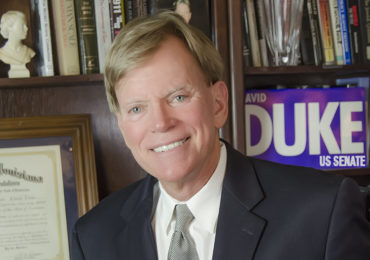 Today Dr. Duke explained that it is always the Zionist-backed leftists who are using violence to shut down events of the white advocacy groups (or even just Donald Trump supporters, for that matter), while in his 50-year career of activism he has never tried to deprive his opponents of their free speech rights. He also addressed the charge that he is a "white supremacist," invoking the dictionary definition of the word and showing how it simply does not apply to him. Moreover, if the definition is applied to the Jewish elite, it is undeniable that they are Jewish supremacists.
This is the one Dr. Duke show that everyone must hear. It is the definitive Dr. Duke, straight from the horses mouth. Please spread it widely.
This is a great show. It will wake up the goyim. Please spread it widely.
This is a meaningful show that can seriously improve levels of goyim-knowing. Please share it widely.
Please send a contribution to keep us on the air.
Click here and look for the show dated 8-16-17.
Our show is aired live at 11 am replayed at ET 4pm Eastern
YouTube: