Download
Today Dr. Duke and Eric Striker told the truth about the events in Charlottesville and the implications for the future of our civilization.They pointed to conclusive evidence that it was the Antifa, Black Lives Matter, and various communist groups, which made up a large part of the "counter protesters," who came to initiate violence. They dissected the fatal car crash, which now is clear was NOT a case of premeditated terror by a white supremacists, but rather a case of a radical mob attacking a lone young man in a car who panicked and tried to flee.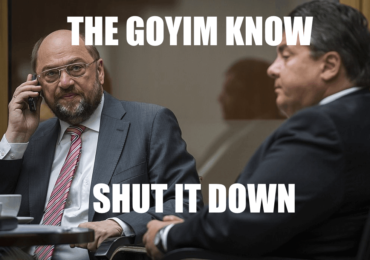 Now the (((powers that be))) are exploiting this crisis that they themselves provoked to attempt nothing less than a coup against the constitutional government of Donald Trump. They are stripping white people of their rights of free speech, lawful assembly, and freedom of association. They are trying to shut down any platform, or any voice, that would speak up for us. There is no white supremacy, only Jewish supremacy. The goyim know.
People need to hear these men's voices. Don't let them shut us down. Please donate. Please spread this show widely.
This is a great show. It will wake up the goyim. Please spread it widely.
This is a meaningful show that can seriously improve levels of goyim-knowing. Please share it widely.
Please send a contribution to keep us on the air.
Click here and look for the show dated 8-17-17.
Our show is aired live at 11 am replayed at ET 4pm Eastern
YouTube: