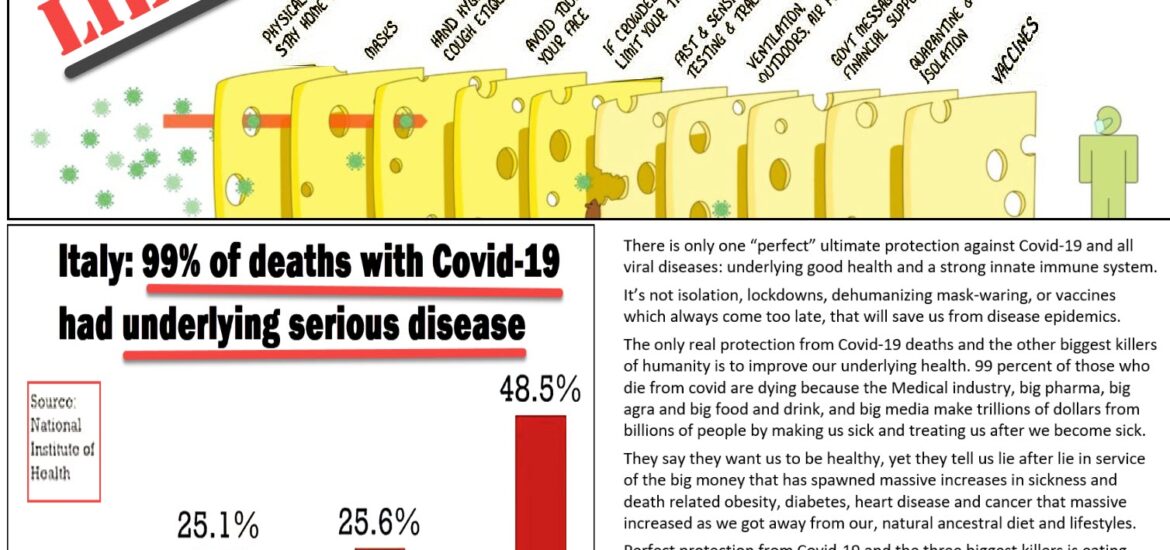 There is only one really perfect protection against Covid-19.
Yet is almost always left out by our media establishment.
The best way to protect yourself from Covid-19 is to be healthy and the really giant manmade diseases of Heart Disease, Cancers, Diabetes and all the illnesses of obesity and metabolic syndrome – is having good health. And that is the only thing that not only protect your life, but ensure you live a healthy, robust, powerful and inspiring life.
It is shown from this meme I reproduce here telling you how to protect yourself from Covid-19.
It doesn't even mention eating and lifestyle choices that protect you from Covid and everything else.
Here is the text I wrote and put in the meme above.
Enjoy!
There is only one "perfect" ultimate protection against Covid-19 and all viral diseases: underlying good health and a strong innate immune system.
It's not isolation, lockdowns, dehumanizing mask-waring, or vaccines which always come too late, that will save us from disease epidemics.
The only real protection from Covid-19 deaths and the other biggest killers of humanity is to improve our underlying health. 99 percent of those who die from covid are dying because the Medical industry, big pharma, big agra and big food and drink, and big media make trillions of dollars from billions of people by making us sick and treating us after we become sick.
They say they want us to be healthy, yet they tell us lie after lie in service of the big money that has spawned massive increases in sickness and death related obesity, diabetes, heart disease and cancer that massive increased as we got away from our, natural ancestral diet and lifestyles.
Perfect protection from Covid-19 and the three biggest killers is eating natural, healthy whole foods that humans evolved to eat. That means Less sugar and refined carbs, natural, healthy animal fats, proteins and fatty acids rather than industrial seed oils and other omega-6 foods. It means getting enough sleep, exercise and being less sedentary. It means sunshine, fresh air and social interaction that strengthens our innate immune system the same way exercise strengthens our muscles while isolation and inactivity weaken our immune system and our muscles.
The way to health is not a sick care system to treat manmade diseases after they damage us, but to foster food and lifestyles that prevents disease. Covid-19 restrictions of human socialization and interaction are inhuman repression that make us less healthy and truly less human!