Dr. Duke exploses the Zio-Social Media Shut-down of Free Speech & Tucker Carlson Comes Close to Exposing J-Question in Anti-White Racism!
Today Dr. Duke started the show by addressing the shutdown of free speech on platforms like Twitter. While the crackdown on free speech by white advocates started in the wake of Charlottesville, yesterday's Twittercaust ironically coincided with the resignation of Charlottesville's black police chief after an independent report found that he had ordered police to "let people fight" (in other words, let law-abiding white people be attacked by Black Lives Matter and Antifa). With the whole fake news narrative around Charlottesville unraveling, the Zio media has no choice by the clamp down on free speech.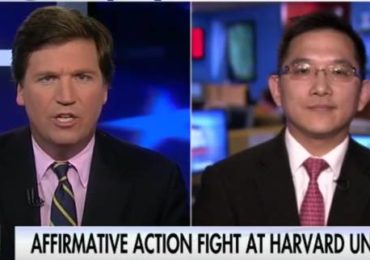 He and Dr. Slattery also discussed a post made in April by a Washington State Antifa group in which they bragged about dumping cement on train tracks in order to sabotage the train system due to its reliance by the fracking industry. Of course, these same "largely peaceful" Antifa "counter-protesters" had smashed James Fields car with baseball bats, leading directly to his car accident. Yet the media loves Antifa and largely created them, going in some case as far as calling for President Trump's impeachment when he noted that some of them were bad people.
Also, Tucker Carlson made the case that white Protestants were being discriminated against at Harvard! We live in interesting times. This show was another powerful show filled with information. Please share this show widely. And the David Duke show has done more to make it possible for us to even say "Merry Christmas" than any other show. So please keep us on the air and on-line. Please visit our contribution page or send your contribution to:
P.O. Box 188, Mandeville, LA 70470
Thank you.
Click here and look for the show dated 12-19-17.
Our show is aired live at 11 am replayed at ET 4pm Eastern
Below is a Duke Video that exposes the impact of Jews such as Weinstein on the mores and values of the West.
Here is Mark Collett's latest video (Currently banned for violating YouTube rules on frankly discussing obvious events going on before our very eyes):
Or find the alternative location from Mark's Twitter feed. And follow him while you're at it.
Watch the video YouTube BANNED – Christmas Adverts: Multicultural Propaganda. A full expose of the globalist companies & the insidious anti-white agenda that they push.https://t.co/AdqNKrKHBq

— Mark Collett (@MarkACollett) November 16, 2017