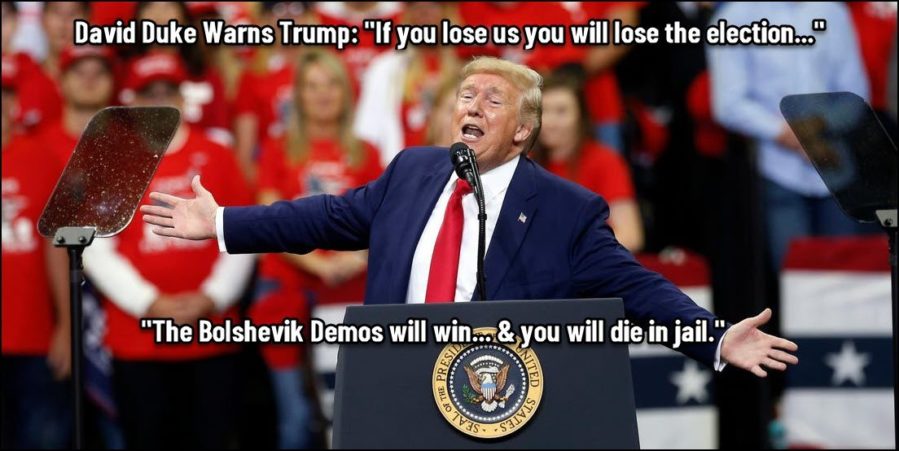 David Duke Warns President Trump on Twitter that he must Protect Andrew Jackson Statue
Last night I publicly warned President Trump that if he doesn't use rule of law to protect the statues of President Jackson and other American heroes, that he will lose his most loyal base of voters and the election! He still has a long way to go to satisfy his base. Tucker called him out last night for standing down and not defending our nation during the latest crisis.
Tucker quoted Trump in an interview with Daily Caller in which he said to the effect that he was enjoying the melee as it was exposing the Democrats. Tucker said that was the wrong response, as our people demand he defend us and our country!
Thankfully, early this morning Trump acted to warn the antifa terrorists that he would invoke the act that can Federal crime provisions that give the government to right to sentence anyone who so desecrates or destroys Federal historic monuments – with a ten year Federal Prison Sentence.
On my Radio Show Today, the Human Rights Radio Show, I also warned the President, that he is in danger of losing his most ardent supporters if doesn't act decisively to protect the rights and heritage of America, describing the warn on American history is clearly a war on White people.
Early this morning he finally acted to protect Andrew Jackson and other historic statues warning Antifa of prison for their illegal criminal actions.
I pointed out the Antifa terrorists are even tearing down statues of anti-slavery white leaders and Lincoln himself, proving that they were defaced and torn down because they are trying to erase White people and White Heritage in this country.
On my show, I repeated my call for Trump to act decisively saying:
"If you lose us, your most ardent, dedicated supporters and voters, you will lose this vital election. Not only will you lose the election. You would face criminal prosecution from the Bolshevik Democrats who make sure you lose your fortune and face imprisonment."
I have predicted for decades that there is a war on White people that has promoted massive immigration into America purposely to outnumber and outvote White people in the very nation our people created.
The chickens are coming home to roost!