Dr. Patrick Slattery's News Roundup
A service of DavidDuke.com
---
From the Jewish Telegraphic Agency
Citing Kindertransport, British Jewish clergy urge UK to take in more refugees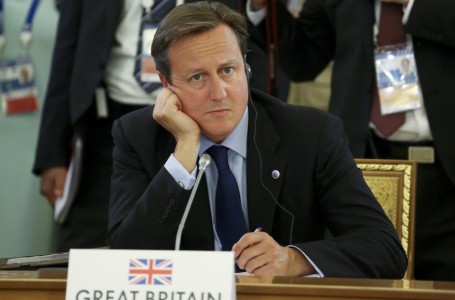 (JTA) — More than 100 British Jewish clergy signed a letter urging the United Kingdom to take in more Syrian refugees.
In a letter to British Prime Minister David Cameron, the rabbis and cantors referenced the 10,000 Jewish children that the United Kingdom rescued from the Nazis between 1938 and 1940.
Two of the people delivering the letter Monday were themselves members of the Kindertransport rescue operation that brought Jewish children to the U.K.,  the British newspaper The Guardian reported.
Click here for the full story
---
---
From The Times of Israel
Anti-Israel baroness weighs joining Corbyn's Labour
Jenny Tonge, who was forced to resign from Lib Dem post in 2012 for anti-Israel comments, says she has been 'favorably impressed' by Hamas
September 22, 2015, 6:01 am
British Baroness Jenny Tonge has said she is considering joining the Labour Party following the election of Jeremy Corbyn as party leader.
Tongue was forced to resign from her parliamentary post as Liberal Democratic whip in 2012 after making controversial statements against Israel.
Corbyn, a far-left fringe politician who won the top Labour post by a landslide, is widely regarded as one of the British lawmakers most hostile to Israel. In the past he has referred to Hamas and Hezbollah as "friends."
Tonge told the BBC she was weighing joining the House of Lords under his leadership.
"I have met Hamas leaders both in Damascus and in Gaza. So has Jeremy Corbyn," she said. "We were all favorably impressed by those people. We all feel it was very very important to listen to their point of view.
Click here for the full story
---
---
From The Times of Israel
Jewish groups rap Washington for lowballing Syrian refugees
Reform movement, HIAS say number of Syrians allowed into US must be considerably higher in light of crisis
September 22, 2015, 2:49 am
Two US Jewish organizations said the Obama administration's offer to absorb at least 10,000 Syrian refugees over the next year was inadequate.
"Increasing the total number of refugees from 70,000 to 85,000 for next year and to 100,000 for the year after is a nice symbolic gesture," Mark Hetfield, the president of HIAS, a Jewish group that assists in refugee resettlement and advocates for immigration reform, said Sunday in a statement. "It is a baby step in the right direction. But it is not leadership."
The Reform movement also said in a statement Monday that Secretary of State John Kerry's proposed numbers did not meet the mark.
"The new admission numbers remain insufficient considering the scope of the crisis at hand," said Rabbi Jonah Pesner, the director of the Reform's Religious Action Center.
Kerry, meeting Sunday in Berlin with his German counterpart, Frank-Walter Steinmeier, announced the increases in the maximum number of refugees that the United States allows in and said "at least" 10,000 of them would be Syrian.
Click here for the full story
---
---
From The Times of Israel
Israeli, Russian armies plan Syrian coordination talks
Military chiefs agree to set up work group on preventing conflict in volatile region, with first meeting to take place in two weeks
September 22, 2015, 1:13 am
The military leaders of Israel and Russia will meet in two weeks' time to begin discussing coordination of their activities in Syria, officials said Monday night.
Israeli chief of staff Gadi Eisenkot met with his Russian counterpart Valery Gerasimov in Moscow, some hours after the heads of the two countries also met in the Russian capital.
The two military chiefs agreed to set up a work group which will establish a mechanism of cooperation between the two armies. Their deputies will lead this effort, with an initial meeting planned in about two weeks.
The location of the group's meetings has not yet been determined and it is not clear whether they will take place in Israel or Russia.
Earlier on Monday Prime Minister Benjamin Netanyahu met with President Vladimir Putin of Russia and the two agreed to establish a mechanism to avoid military confrontations between the two countries in chaotic Syria.
Click here for the full story
---
---
From the Jewish Telegraphic Agency
West Bank, Gaza crossings closed for Yom Kippur
JERUSALEM (JTA) — Israeli Defense Minister Moshe Yaalon ordered a general closure of the West Bank and Gaza for the Yom Kippur holiday.
All crossings will be closed from noon Tuesday until one minute before midnight Wednesday, the Israel Defense Forces announced. Crossings based on medical and humanitarian needs will be decided on a case-by-case basis by the coordinator of government activities in the territories, according to the IDF.
Yom Kippur begins at sundown Tuesday and ends after sundown Wednesday. Beginning Wednesday night, Muslims begin their observance of the four-day Eid al-Adha holiday, or the Feast of the Sacrifice.
Click here for the full story
---
---
From the Jewish Telegraphic Agency
Netanyahu to receive conservative think tank's award on day he meets Obama
WASHINGTON (JTA) — Israeli Prime Minister Benjamin Netanyahu will receive an award from a conservative think tank on the same day that he meets with President Barack Obama.
Netanyahu will receive the American Enterprise Institute's 2015 Irving Kristol Award on the evening of Nov. 9. He will be meeting with Obama during the day at the White House — their first meeting since tensions between the leaders burst into the open earlier this year over the Iran nuclear deal.
AEI is a leading conservative think tank and has produced papers excoriating some of Obama's signature policies, including his health care reform and the Iran deal.
Click here for the full story
---
---
From Russia Today
---
---
From Ynet News
The Jewish people in 2050: 2 very different scenarios
Hebrew University demographer takes a look into the future of Judaism: Will peace and security lead to a population boom or will uncertainty and conflict depress demographic figures?
Prof. Sergio DellaPergola
09.22.15, 10:17
At the start of Jewish New Year 5776, the Jewish people number about 14.3 million people, according to a definition similar to the one accepted by the Israeli Supreme Court.
Being a Jew today means first and foremost the willingness to express a self-identification with the Jewish people, including everything in the range between very religious and anti-religious, excluding people of a different religion.
Click here for the full story
---
---
From The Times of Israel
Scott Walker exits 2016 race with harsh words for Trump
Wisconsin governor urges other candidates to drop out too, says Republicans need 'positive message' leading the field
September 22, 2015, 1:56 am
MADISON, Wis. (AP) — Warning the GOP's presidential race has become too nasty, Scott Walker suspended his 2016 campaign on Monday and called on some of his Republican rivals to do the same, citing an urgent need to "clear the field" to help defeat GOP front-runner Donald Trump.
"Today, I believe that I am being called to lead by helping to clear the field in this race so that a positive conservative message can rise to the top of the field. With that in mind, I will suspend my campaign immediately," Walker said in a Madison press conference.
"I encourage other Republican presidential candidates to consider doing the same so the voters can focus on a limited number of candidates who can offer a positive conservative alternative to the current front-runner," Walker continued. "This is fundamentally important to the future of the party and more importantly to the future of our country."
The announcement marked a dramatic fall for Walker, who was struggling to generate fundraising and enthusiasm after surging into the race's top tier earlier in the year. He will return to his job in Wisconsin as governor, where his term runs through 2018.
One of the last Republicans to enter the race, Walker joined former Texas Gov. Rick Perry as one of the first to leave it, unable to adjust to the popularity of Trump or break out in either of the GOP's first two debates. Both candidates warned of the billionaire businessman's influence on the GOP as they exited, although neither called him out by name.
Click here for the full story
---
---
From The Times of Israel
Hungary posts ads in Lebanon, Jordan warning off migrants
Syria's neighbors struggle to cope with millions of refugees fleeing the country's four-year-old civil war
September 21, 2015, 11:33 pm
BEIRUT (AP) — The Hungarian government posted ads in Lebanese and Jordanian papers on Monday, warning migrants not to enter Hungary illegally, saying it is a crime punishable by imprisonment.
The move comes as Europe is reeling under pressure from tens of thousands of refugees making the perilous trek to the continent to seek sanctuary there.
In a terse statement published as a full-page announcement in several newspapers, including Lebanon's leading An-Nahar and Jordan's Al-Rai, the government of Hungary said that "the strongest possible action is taken" against people who attempt to enter Hungary illegally.
"Do not listen to the people smugglers. Hungary will not allow illegal immigrants to cross its territory," it said in both English and Arabic.
Lebanon, a country of around 4.5 million people, has over 1.1 million Syrian refugees, while Jordan, with a population of 6.5 million, has about 630,000 — some of whom have already shown readiness to migrate to Europe because of dwindling aid and work opportunities.
Click here for the full story
---
---
From The Times of Israel
Washington scandal exposes politics behind Europe's Jewish memorials
Head of commission tasked with preserving American heritage abroad comes under fire for 'extravagant' income
September 21, 2015, 3:26 am
WASHINGTON (JTA) – A small government agency for preserving European historical sites has been accused of criminal malfeasance, roiling Jewish community officials who say the agency has played a critical role in memorializing Europe's Jewish past.
The controversy surrounding the US Commission for the Preservation of America's Heritage Abroad offers a glimpse into the workings of influence in the capital and reveals how the focus in Washington on lost Jewish heritage at times stirs resentment among non-Jewish Americans of European descent.
Some are concerned that the controversy could roll back recent strides in getting European nations to confront and memorialize their role in the decimation of European Jewry.
"A lot of sites important to different parts of the Jewish community would not continue to be in existence if not for the commission," said Mark Levin, who directs the National Conference Supporting Eurasian Jewry, a body that advocates for Jews in many of the countries where the agency has helped set up memorials.
Most wounding for the heritage commission and its defenders was a statement that Sen. Ron Johnson, R-Wis., the chairman of the Senate Committee on Homeland Security and Government Affairs, released to The New York Times.
Click here for the full story