Dr. Patrick Slattery's News Roundup
A service of DavidDuke.com
---
From the Jewish Telegraphic Agency
Carter: 'Zero chance' for two-state solution, and Netanyahu's to blame
(JTA) — Former President Jimmy Carter believes there is "zero chance" for a two-state solution to the Israeli-Palestinian conflict and places the blame on Israeli Prime Minister Benjamin Netanyahu.
"These are the worst prospects for peace between Israel and the Palestinians for years," Carter said in an interview with Prospect magazine published Thursday and first cited in the Times of Israel.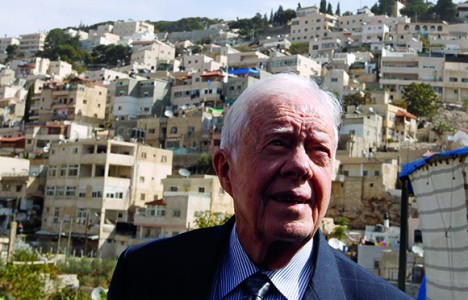 The one-term Democrat, who brokered the historic Egypt-Israel peace accords at Camp David in 1978, added that Netanyahu "does not now and has never sincerely believed in a two-state solution for Israel and Palestine," the stated goal of a series of negotiations, most recently ones led by Secretary of State John Kerry that ended unsuccessfully last year.
Carter's new book, "A Full Life: Reflections at 90," was published in July and includes personal reflections as well as pronouncements about various conflict regions, including the Middle East, according to the Prospect article.
Click here for the full story
---
---
From The Independent
---
---
From the Jewish Telegraphic Agency
Can the U.S. trust Europe to punish Iran if it violates the nuclear deal?
(JTA) – Among his rationales for opposing the nuclear deal with Iran, U.S. Sen. Charles Schumer said that he did not trust the three European Union partners to punish Iran should it violate the terms of the accord that offers the Islamic Republic sanctions relief in exchange for scaling back its nuclear activities.
The New York Democrat's assertion served as a reminder that while Washington has been the driving force behind the deal, which was reached July 14 between Iran and six world powers, the agreement is an international one. Its implementation, therefore, will be determined in part by the foreign policies and interests of Britain, France, Germany, China and Russia.
"It is reasonable to fear that once the Europeans become entangled in lucrative economic relations with Iran, they may well be inclined not to rock the boat by voting to allow inspections" that would bring about renewed sanctions, Schumer wrote in an Aug. 6 statement.
READ: Iran debate devolves with charges of 'dual loyalty' and 'dog whistles'
Click here for the full story
---
---
From the Jewish Telegraphic Agency
U.S. energy secretary: Nuclear deal spurs concerns of more Iran support for terrorism
WASHINGTON (JTA) — The Obama administration is concerned that Iran will increase backing for terrorism and other disruptive activities in the wake of the nuclear deal, Secretary of Energy Ernest Moniz said in an address to American Jews.
"We are concerned about some possible escalation in their support for terrorism, meddling in the region in terms of stability," Moniz said Thursday in the webcast organized by the Jewish Federations of North America and the Jewish Council for Public Affairs. "Obviously Hezbollah terrorism is an example."
Hezbollah, a Lebanon-based militia backed by Iran, launched a war against Israel in 2006 and is believed to be behind a slew of terrorist attacks on Jewish targets worldwide. Moniz also cited the prospect of increased Iranian disruption in Syria and Yemen.
Obama administration officials have acknowledged under congressional questioning that part of the at least $56 billion that will be freed up in the sanctions relief for nuclear restrictions deal reached last month between Iran and six major powers could be directed toward Iranian disruptive activity.
Click here for the full story
---
---
From the Jewish Telegraphic Agency
All over the map: Where 50 local Jewish groups stand on the Iran deal
Across the United States, Jewish community groups have appeared unsure about exactly how to respond to the Iran nuclear deal. Consider Massachusetts.
Three groups in the state last month attempted to coordinate a single statement on the Iran nuclear deal now under consideration by Congress. The underlying sentiment: Working with Congress, the Obama administration should find a way to "address serious questions about the vulnerabilities" of the deal.
As planned, almost identical statements were released by the Jewish Community Relations Council of Greater Boston on July 21, the Jewish Federation of Western Massachusetts on July 23 and the Jewish Federation of Central Massachusetts on July 24.
Almost. The central Massachusetts federation modified a critical line in its statement away from the texts of the other two groups.
Click here for the full story
---
---
From the Jewish Telegraphic Agency
Philadelphia professor: I would say 'dirty Jewish Zionist thugs' again
If you haven't heard of Kaukab Siddique, an associate professor of English at Lincoln University, the historically black public university outside of Philadelphia, here is some news you may have missed.
A revealing Daily Beast article from last month renewed interest in Siddique for a number of his inflammatory comments on recent events. After activist Pamela Geller staged an event in Texas that showcased cartoons of the prophet Muhammed, Siddique called her a "dirty Jewish Zionist thug" and told fellow Muslims to prepare to protect themselves if "Zionists" like Geller get their way.
Commenting on the Bill Cosby rape scandal, Siddique questioned why it took years for the comedian's victims to come forward. A list of possible explanations Siddique posted on Facebook included "Many women are sluts" and "American women are slaves of rich men."
And regarding the rise of the Islamic State over the past year, Siddique questioned whether the radical Islamist terrorist group actually does some of the horrible things it purports to do, such as rape women and murder Yazidis.
Click here for the full story
---
---
From The Times of Israel
Islamic State making gains in Afghanistan, US general warns
Brig. Gen. Wilson Shoffner says jihadists have potential 'to evolve into something more serious, more dangerous'
August 14, 2015, 2:21 am
WASHINGTON — The Islamic State is making small inroads in Afghanistan and could grow into a more worrisome threat, a US Army general said Thursday.
Speaking to reporters at the Pentagon from his offices in Kabul, Brig. Gen. Wilson Shoffner said the Islamic State, which rose to prominence by capturing large swaths of Syria and Iraq, is not yet capable of coordinating military operations in more than one part of Afghanistan at a time.
"We see their capabilities increasing somewhat but not to the point where they can conduct operations that you're seeing in Iraq and Syria, although we do note the potential for them to evolve into something more serious, more dangerous," he said.
Shoffner said the Islamic State's fighters are clashing with the Taliban in areas of Afghanistan where the Islamic State is encroaching on Taliban territory. He called this a destabilizing development, with Afghan civilians caught in the middle.
"That's a security issue that we are committed to helping the Afghan government resolve," Shoffner said.
Click here for the full story
---
---
From The Times of Israel
Islamic State likely used mustard gas on Kurds, US says
White House probing whether jihadists deployed nerve agent — possibly obtained from stockpile Assad tried to squirrel away — in attack on peshmerga in northern Iraq
August 14, 2015, 2:18 am
The United States is investigating whether the Islamic State used chemical weapons, the White House said Thursday, following allegations that IS militants deployed chemical weapons against Kurdish forces in northern Iraq.
Alistair Baskey, a spokesman for the White House's National Security Council, said the US is taking the allegations "very seriously" and seeking more information about what happened. He noted that IS had been accused of using such weapons before.
"We continue to monitor these reports closely, and would further stress that any use of chemicals or biological material as a weapon is completely inconsistent with international standards and norms regarding such capabilities," Baskey said in a statement.
An unnamed US official quoted by the Wall Street Journal said the US believed the jihadists likely used mustard gas on Kurdish forces.
The official said the US was never able to verify the Bashar Assad regime had actually destroyed its stockpile of the nerve agent in 2014, and it could have been hidden away and wound up in the hands of Islamic State fighters instead.
Click here for the full story
---
---
From the Jewish Telegraphic Agency
Wearing my kippah in Italy — and feeling fine
During my four months studying in Italy in the fall of 2007, you could say I had more than my fair share of strange Jewish experiences.
Running late for a train one morning in Florence, I decided the best course of action would be to lay tefillin in the station's janitor's closet — only to have a policeman threaten to arrest me for trespassing. Lost in Rome one Friday afternoon, a Smart car pulled up alongside me, a 17-year-old leaned out the window and — in Hebrew — invited me to jump in. He dropped me at my hostel, blocks away from his synagogue.
And at the end of my semester, my Jewish classmate and I made the stunningly idiotic decision, eight nights in a row, to prop a lit menorah up on a can of liquid plaster on the second floor of a centuries-old palazzo. I'm still relieved it didn't burn down.
But one thing I never experienced was anti-Semitism, even as I wore my kippah everywhere, every day. I was physically or verbally accosted that year in Barcelona, Budapest, Paris and Prague. But from a Florentine street of Arab merchants to the northern city of Cremona, no Italian ever seemed to treat me worse for being Jewish.
Click here for the full story
---
---
From the Jewish Telegraphic Agency
Netanyahu appoints hawkish Danon as U.N. envoy
(JTA) — Israeli Prime Minister Benjamin Netanyahu appointed Danny Danon, a hardliner from Netanyahu's Likud party who opposes a Palestinian state, as ambassador to the United Nations.
Danon's appointment, which was announced Friday, is meant to allow him to fight for the truth, Netanyahu said in a statement.
"The U.N. is an important forum right now, and I am convinced that Danny will fight with all his power to present the truth in the international arena," Netanyahu's statement read.
Netanyahu and Danon – a firebrand who has called to reopen the Temple Mount to Jewish worship and described boycotts against Israel "modern-day anti-Semitism" – have had a tense relationship.
Click here for the full story
---
---
From the Jewish Telegraphic Agency
N.Y. state panel to study controversial E. Ramapo school district
NEW YORK (JTA) – The New York State Education Department appointed a panel to study the operations of the haredi Orthodox-controlled school board in the East Ramapo school district.
The board in the school district, located in New York's suburban Rockland County, has stirred controversy and local ire for its decisions over the years to significantly cut public school budgets while expanding services that benefit the area's large haredi Orthodox Jewish population, such as busing to yeshivas and special education for yeshiva students with disabilities. In addition, at least two district schools have been shuttered and their facilities sold to yeshivas.
The three-expert panel, to be led by former New York City Schools Chancellor Dennis Walcott,  will study the district's operations and offer recommendations to the school board and the Board of Regents. It will not, however, have the power to override decisions by the school board.\
---
---
From Russia Today
'We don't want to be a mere buffer zone': New Polish president calls for more NATO troops
Andrzej Duda, new Polish president, has called on the NATO countries to deploy more troops as well as create new permanent military bases in his country and other Central Europe saying Poland does not want to be a "buffer zone."
Duda, elected in May, criticized the alliance for not effectively adjusting itself to the recent Russia's "imperialist actions" in Georgia and Ukraine as well as for treating his country as a "buffer zone" rather than an equal NATO member.
"We do not want to be the buffer zone. We want to be the real eastern flank of the alliance … Today, when we look at the dispersion of bases … then the borderline is Germany," the conservative Polish President told The Financial Times. This was his first interview to a foreign media after entering the office on August 6.
---