Dr. Patrick Slattery's News Roundup
A service of DavidDuke.com
---
From the Jewish Telegraphic Agency
How Israeli volunteers on the ground in Europe are helping Syrian refugees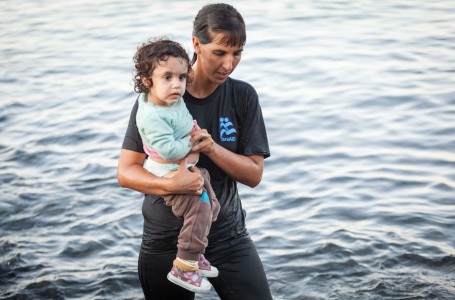 LESBOS, Greece (JTA) — As the small rubber dinghy crowded with Syrians and Afghans emerged from the midnight-black sea to land on a desolate pebble beach, the first people to greet the bewildered and frightened refugees were two Israelis.
"Does anyone need a doctor?" Majeda Kardosh, 27, a nurse from Nazareth, shouted repeatedly in Arabic as the asylum seekers scrambled ashore amid cries of celebration and tears of relief at surviving the short but perilous crossing from Turkey to this Greek island.
Her team partner, Tali Shaltiel, 31, a physician from Jerusalem, stood knee deep in the water, helping a shivering 4-year-old girl out of her wet clothes and a pair of inflatable armbands that would have provided little protection had the overloaded boat capsized at sea.
Kardosh and Shaltiel are part of a small advance group of volunteers from IsraAid, an Israeli nongovernmental organization that is trying to provide some assistance to the hundreds of thousands of refugees and migrants who are flowing into Europe.
---
---
From PressTV
Israelis clash with Palestinians mourning killing of young woman
Israeli forces have clashed with Palestinians in the occupied West Bank following the funeral of a young woman shot dead by the Tel Aviv regime's troops.
The clashes erupted between the Palestinians and the Israeli troops in the West Bank city of al-Khalil also known as Hebron on Wednesday when thousands of Palestinians, who were carrying the flag of Palestine, participated in the funeral ceremony of Hadil Salah Hashlamoun.
The Israeli forces fired stun grenades and used tear gas against the Palestinians, who responded by throwing stones.
There are as of yet no reports on possible casualties as a result of the incident.
The 18-year-old female student was fatally shot by Israeli forces on Tuesday morning and was left to bleed on a sidewalk in al-Khalil. A video published by PalMedia shows Israeli forces and settlers standing around, smiling and laughing in some cases, while the young woman bleeds to death.
Click here for the full story
---
---
From PressTV
Palestine President Abbas warns Israel of Intifada
Palestinian President Mahmoud Abbas has warned Israel of another Intifada (Palestinian uprising) over the intensification of clashes in al-Aqsa Mosque compound in East al-Quds (Jerusalem).
Abbas made the remarks after a meeting with French leader Francois Hollande in the French capital, Paris, on Tuesday
"What is happening is very dangerous," Abbas said, urging Israeli Prime Minister Benjamin Netanyahu to "stop" the Israeli raids on Palestinian worshipers in the al-Aqsa Mosque compound.
The continuation of Israeli raids on Palestinians in the holy site can lead to "an Intifada (uprising) which we don't want."
Abbas had previously condemned the incursions by Israeli forces and settlers into the holy al-Aqsa Mosque complex, saying, "Muslim and Christian holy places in East Jerusalem are a red line."
Click here for the full story
---
---
From PressTV
Israeli soldier kills Palestinian in West Bank
A young Palestinian man has been killed after Israeli military forces clashed with a group of Palestinians in the occupied West Bank, and fired live bullets to disperse the crowd.
Palestinian sources, speaking on condition of anonymity, said Israeli military vehicles rolled into Khursa village, located seven kilometers (4.3 miles) southwest of al-Khalil (Hebron), late on Monday.
The Israeli forces broke into dozens of homes and violently searched them, causing excessive property damage.
A 21-year-old Palestinian, identified as Dhia Abdulhalim, sustained gunshot wounds, and was pronounced dead shortly afterwards.
Abdulhalim's death triggered a protest in the village, with Israeli troops firing live bullets, stun grenades as well as tear gas canisters to break up the gathering. Scores of the Palestinians, including women and children, suffered tear gas inhalation.
Click here for the full story
---
---
From Russia Today
IDF shoots 18yo Palestinian woman 10 times, lets her die in street (PHOTOS)
An 18-year-old Palestinian girl was shot by Israeli troops at a Hebron checkpoint for allegedly refusing to show her purse or face and "trying to attack" a soldier. She died of multiple wounds in a hospital after bleeding in the street for 30 minutes.
Hadil Hashlamoun was shot 10 times by Israeli Defense Forces at an Israeli checkpoint in Hebron near the entrance to Shuhada Street on Tuesday.
IDF soldiers did not let paramedics approach the teenager, who the Israelis claimed had tried to stab one of them. Photos posted online, however, appear to contradict the accusation.
---
---
From The Times of Israel
Syrian regime airstrikes kill 38 IS fighters — monitor
Homs attacks come as Assad's air force is strengthened by recent Russian support, including training and jets
By AFP September 22, 2015, 2:26 pm
BEIRUT, Lebanon — At least 38 Islamic State group fighters were killed in airstrikes by the Damascus regime against three jihadist-held towns in central Syria, a monitoring group said Tuesday.
Monday's strikes hit Palmyra and two other towns in Homs province, Syrian Observatory for Human Rights director Rami Abdel Rahman told AFP.
The Syrian air force has been increasing its strikes against IS in recent days as it received reinforcements from Russia, he said.
"The number of raids is growing and the strikes are more precise after the Syrian air force received arms and more efficient planes from Moscow," said Abdel Rahman, whose group relies on broad a network of civilian, military and medical sources inside Syria.
Experts close to the regime have told AFP that Russia has sent advisers to train Syrian troops in the new weapons, in particular short-range air defense systems and tanks.
Click here for the full story
---
---
From the Jewish Telegraphic Agency
Obama says Yom Kippur is a time for self-awareness, hope
WASHINGTON (JTA) — President Barack Obama said Yom Kippur was a time of hope and also of being honest with oneself.
"The Day of Atonement is a time for humility, reflection and repentance, a chance to be honest with ourselves and one another about our shortcomings," he said in a message sent out about two hours before East Coast candle-lighting. "Yet Yom Kippur is also a day of hope. Through our prayers and through our actions, as individuals and as a community, we can better bridge the realities of our world with the ideals and values we share."
Obama concluded with the Hebrew phrase wishing others to be signed in the book of life for the coming year — "G'mar Chatimah Tovah."
A number of candidates for the Republican nod in the presidential election sent out greetings through Twitter, among them Donald Trump, the real estate magnate and front-runner, former Florida Gov. Jeb Bush and Sen. Marco Rubio, R-Fla.
---
---
From the Jewish Telegraphic Agency
Goldman Sachs' Lloyd Blankfein announces he has cancer
NEW YORK (JTA) — The chairman and chief executive officer of Goldman Sachs surprised the financial world by announcing he has a "highly curable" type of cancer.
Lloyd Blankfein, who is Jewish, told employees and shareholders Tuesday he will mostly continue his normal work schedule while undergoing treatment for lymphoma, various news outlets reported.
The bank's shares dropped 2.6 percent after the announcement.
Blankfein, 61, has been credited with successfully steering the investment bank through the financial crisis.
Click here for the full story
---
---
From the Jewish Telegraphic Agency
Jewish studies professors are struggling, survey finds
NEW YORK (JTA) — Student enrollment in Jewish studies classes is declining, and newly minted Jewish studies professors are having a significantly harder time finding tenure-track positions, a new survey found.
More than half of those who earned their doctorates since 2010 are looking to change their employment situation, according to the online survey of some 2,800 professors, graduate students, scholars and Jewish studies teachers worldwide. The study, which received responses from 60 percent of the membership of the Association for Jewish Studies, was conducted by sociologist Steven M. Cohen of Hebrew Union College-Jewish Institute of Religion and sponsored by the American Academy for Jewish Research.
According to the survey, nearly four out of five of those who earned a doctorate before 1980 found a full-time, tenure-track position within one year, compared to only about half of those who finished between 1995 and 2009, and about one-third of those who finished since 2010.
Click here for the full story
---
---
From Russia Today
Around 200 masked men storm Kharkov city hall in Eastern Ukraine (PHOTOS, VIDEO)
At least 200 people wearing camouflage and masks stormed the local administration building in the city of Kharkov, eastern Ukraine, local media said. The perpetrators are alleged to be members of the radical Azov battalion.
The masked men reportedly clashed with police and security forces at the city's administration building. Those who have entered the building have also reportedly used tear gas, the Ukrainian 112 channel is saying.
---
---
From The Times of Israel
Opposition leaders unite behind PM's choice for envoy to Brazil
Lapid, Herzog join Knesset speaker in calling Brazilian ambassador after ex-Israeli diplomats try to scupper Dani Dayan's appointment
By Times of Israel staff September 22, 2015, 2:58 pm
Opposition leader Isaac Herzog of Zionist Union and Yesh Atid chairman MK Yair Lapid on Monday called the Brazilian ambassador in Israel, Henrique Sardinha Pinto, to express support for Dani Dayan, Prime Minister Benjamin Netanyahu's nominee for the post of Israeli ambassador to Brasilia.
Knesset Speaker Yuli Edelstein of Likud also informed the ambassador of his support for Dayan, and all three expressed the hope that Brazil would accept the appointment.
Lapid tweeted: "I spoke to the Brazilian ambassador. I disagree with Dani Dayan, but he will be a fine ambassador. It is unacceptable that Israelis are trying to influence from abroad the decisions of an elected government."
Edelstein also instructed his diplomatic adviser, Oded Ben Hur, to speak with the Brazilian ambassador. The Knesset speaker wanted Ben Hur to pass on the message that Dayan's appointment is a solid one and attempts to stymie it should be rejected.