"It's a profoundly Jewish affair" is the comment made by the Jewish-run Tablet magazine on the latest Wall Street scandal, this time involving one of the world's largest investors and hedge fund specialists, SAC  Capital Advisors LP.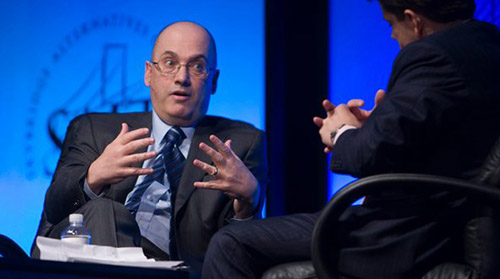 There are no prizes awarded for guessing that "SAC" stands for Steven A. Cohen, the company's founder who was called "the hedge fund king" in a 2006 Wall Street Journal article, ranked 94th on the top 100 list of most influential people by Time Magazine, and included in the 50 Most Influential ranking of Bloomberg Markets Magazine.
Now however, U.S. prosecutors have indicted billionaire Cohen's hedge fund for insider trading, according to a recent report by Reuters.
The government accused SAC Capital Advisors LP of presiding over a culture where employees flouted the law and were encouraged to tap their personal networks of contacts for inside information about publicly traded companies.
The result was "insider trading that was substantial, pervasive and on a scale without known precedent in the hedge fund industry," the indictment said.
The indictment filed by the U.S. Department of Justice against SAC, together with a related civil case seeking forfeitures and money laundering penalties, imperils the future of the roughly $15 billion hedge fund.
It also may end Cohen's career of managing outside money, where he generated some of the hedge fund industry's best returns and became one of the foremost traders of his generation.
The U.S. Securities and Exchange Commission charged Cohen in a civil case with failing to supervise two employees, Mathew Martoma and Michael Steinberg. Both men have pleaded not guilty to criminal insider trading charges and face trials in November.
The indictment said SAC's illegal practices ran roughly from 1999 to 2010. SAC and various affiliates were charged with four criminal counts of securities fraud and one count of wire fraud.
"When so many people from a single hedge fund engage in insider trading, it is not a coincidence," U.S. Attorney Preet Bharara said at a press conference.
Bharara said that SAC was no less than a "magnet for market cheaters."
According to the Jewish Tablet magazine, the "SAC case is so fascinating to us unwashed masses in part because more than being a mere workaday case of financial wrongdoing, it evokes a literary—one almost wants to say Talmudic—discussion about the meaning of language, the nature of information, and the essence of interpretation. Or, in other words, it's a profoundly Jewish affair."