Dr. Patrick Slattery's News Roundup
A service of DavidDuke.com
---
From the Jewish Telegraphic Agency
Hillary Clinton: Differences with Israel would be dealt with in private
WASHINGTON (JTA) — Hillary Clinton said that as president, she would handle disagreements with Israel "in a respectfully and preferably private way" — a rare dig at how President Barack Obama handled the relationship.
"I think any disputes or disagreements should be handled in a respectfully and preferably private way, so we don't give any aid and comfort to Israel's adversaries or drive any wedges between us," Clinton said in an extensive interview with the editorial board of the New York Daily News posted online Monday ahead of the April 19 primary in New York.
It was a contrast with Obama, who has said he believes it is healthy to air in public some differences with allies. Obama and Israeli Prime Minister Benjamin Netanyahu have clashed over the Iran nuclear deal and the path toward Israeli-Palestinian peace.
Click here for the full story
---
---
From Russia Today
10,000 Al-Nusra militants surrounding Aleppo, plan to blockade the city – Russian military
Published time: 11 Apr, 2016 20:00
A member of Islamist militant group Jabhat al-Nusra fires a weapon on the back of a lorry in Aleppo's Bustan al-Qasr neighbourhood © Molhem Barakat / Reuters
Islamist group Jabhat al-Nusra has gathered nearly 10 thousand troops around the city of Aleppo, according to Russian military officials. However, they denied an earlier claim by the Syrian government that they had planned to take part in an assault on the city.
"Despite progress achieved in securing a ceasefire, Turkey continues to funnel men and arms to Jabhat al-Nusra," said Lt. Gen. Sergey Rudskoy, head of operations at the Russian General Staff, at a scheduled press briefing in Moscow.
Alongside Islamic State, al-Nusra is not party to the shaky six-week old ceasefire being monitored by Russia and the US, and remains a legitimate target.
"Al-Nusra's men and materiel are being allowed to pass through areas that the US has designated as being controlled by the opposition," continued Rudskoy in a reprise of a frequent Russian claim that the West and its Middle Eastern allies are shielding extremists by labeling them as moderate opposition.
Chief of the Main Operational Directorate at the Russian Armed Forces General Staff, Deputy Chief at the Russian Armed Forces General Staff, Lieutenant General, Sergei Rudskoi © Ministry of defence of the Russian Federation / Sputnik
Click here for the full story
---
---
From Russia Today
Refugees use train carriage to smash police barricade on Greece-Macedonia border (VIDEO)
Published time: 11 Apr, 2016 16:43
Refugees and migrants protest as a unexploded gas canister explodes mistakenly near by as they rally demanding the reopening of the border near their makeshift camp in the northern Greek border village of Idomeni, on April 11, 2016. © Bulent Kilic / AFP
As tensions at the Greek-Macedonian border continue to mount, a group of refugees has hijacked a train carriage at Idomeni station and attempted to use it to break through the police barricade.
Several hundred refugees pushed the wagon towards the border with their bare hands, having filled the carriage with rocks intended to be used as weapons against the police.
They were stopped by the Greek police, who eventually managed to persuade the crowd to move the train carriage to its original position.
Members of the group told RT's Ruptly video agency that the seizing of the wagon was retaliation for brutal behavior by police guarding the border.
"Yesterday they oppressed us, hit us with tear gas, rubber bullets, five caliber. They detained 10 of our friends, took them, beat them up, they even broke some bones," a young man, who covered his face with a bandana, said.
Violence broke out on Sunday at Idomeni as Macedonian police used tear gas and rubber bullets to prevent a group of 500 refugees from crossing the barbed-wire fence on the border.
Click here for the full story
---
---
From the Jewish Telegraphic Agency
Israel signed off on Saudi takeover of strategic islands, says defense chief
(JTA) — Israel signed off on Saudi Arabia's planned takeover of two strategic Red Sea islands, Israel's defense minister told reporters Tuesday.
Egypt agreed to hand over the islands, which it has controlled for more than 60 years, as part of a deal to build a bridge over the sea between the two countries that was announced during a weekend visit by King Salman of Saudi Arabia.
The deal had raised questions about Israel's continued access to the passage, the revocation of which was a casus belli of the 1976 Six-Day War between Israel and its neighbors. But Defense Minister Moshe Yaalon said Israel was consulted early in talks over the deal and gave its consent.
Click here for the full story
---
---
From the Jewish Telegraphic Agency
Joe Biden to address J Street on heels of AIPAC address
WASHINGTON (JTA) — Vice President Joe Biden will address J Street, the liberal Jewish Middle East policy group announced Monday.
The April 18 event comes a month after Biden, the Obama administration senior figure closest to the pro-Israel community, addressed the American Israel Public Affairs Committee, a prominent Israel lobbying group often at odds with J Street.
Biden will speak to the group as media speculation increases over whether President Barack Obama will outline the parameters of a two-state solution before he leaves office in January. J Street since its inception has backed an assertive U.S. role in advancing peace talks, while AIPAC counsels greater U.S. deference to Israel on whether and how to initiate peace talks.
Click here for the full story
---
---
From PressTV
Israel accelerates settlement construction in West Bank: Peace Now
Israeli rights group Peace Now says the Tel Aviv regime has accelerated construction of illegal settlements across West Bank in defiance of international calls.
Israeli authorities approved plans to build 499 new units in the West Bank settlements in the first three months of the current year compared with 115 the previous year, it said.
They rubber-stamped 175 units in the first quarter of 2016, compared with only 79 illegal units that were retroactively authorized in the first three months of last year.
Last year, Israel gave the go-ahead to 1,044 settler units in the occupied West Bank, the non-governmental organization said, citing data from the High Planning Council for Judea and Samaria.
Hagit Ofran, of Peace Now's settlement watch program, said the news revealed that "quietly and behind the scenes, West Bank construction is being promoted, including in isolated settlements."
Click here for the full story
---
---
From Russia Today
61% of Dutch voters reject association with Ukraine – final referendum results
Published time: 13 Apr, 2016 02:51
People cast their vote for the consultative referendum on the association between Ukraine and the European Union in a makeshift polling booth at the Central train station in Utrecht, the Netherlands, April 6, 2016. © Michael Kooren / Reuters
The referendum in Netherlands that took place last week regarding a potential Ukraine-EU treaty on closer political and economic ties has ended with an overwhelming 61 percent of voters rejecting the idea, according to official results published on Tuesday.
The official results released by the Dutch Electoral Council showed that 61 percent (2.509 million people) voted against Ukraine's association with the EU. Some 38.21 percent (1.572 million) voted in favor while 0.79 percent (32,344) accounted for a blank vote.
The referendum has been deemed valid with a 32.28 percent turnaround, just above the 30 percent threshold needed to make the results legitimate. All in all a total of 4.1 million took part in the poll out of 12.8 million eligible Dutch voters.
While the referendum results are not legally binding, the result should force the government to reconsider the agreement after the nation rejected the Dutch parliament's approval act of the EU-Ukraine deal.
Click here for the full story
---
---
From Russia Today
Israel launched Syria strikes to prevent Hezbollah from obtaining weapons – Netanyahu
Published time: 11 Apr, 2016 17:07
FILE PHOTO. Israel's Prime Minister Benjamin Netanyahu (R) talks with Israeli soldiers at a military outpost on February 4, 2015 during a visit at Mount Hermon which sits in the Israeli occupied Golan Heights on the border between Lebanon, Syria and Israel. © Baz Ratner / AFP
Israel has launched dozens of strikes in Syria, Prime Minister Benjamin Netanyahu has announced. It marks the first time that the leader has acknowledged such attacks against arms transfers to Lebanon's Hezbollah.
"We act when we need to act, including here across the border, with dozens of strikes meant to prevent Hezbollah from obtaining game-changing weaponry," Netanyahu said while on a visit to the occupied Golan Heights on Monday, as quoted by Reuters.
The prime minister failed to specify what kind of strikes Israel had conducted in Syria.
Although Israel welcomed a cessation of hostilities in Syria in February, it has indicated that it could still launch attacks there if it sees a threat from the Iranian-backed Hezbollah, whose fighters have been allied with Syrian President Bashar Assad.
Click here for the full story
---
---
From The Independent
Facebook, Google and Amazon to be forced to open up tax books by EU
'This is… an ambitious proposal for more transparency on tax'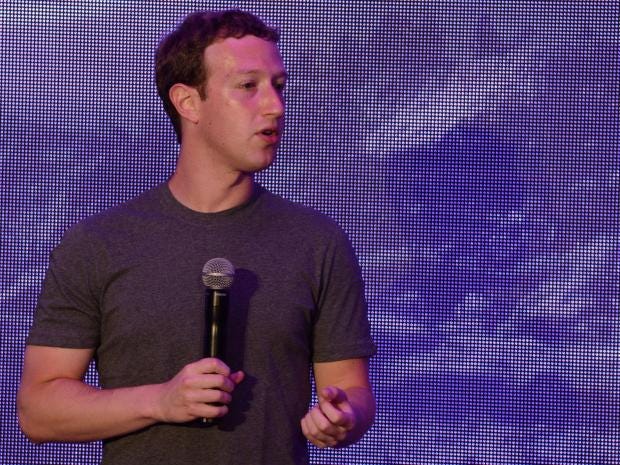 The European Commission is bringing forward plans to make major multinationals such as Google, Amazon and Facebook disclose exactly where and how much tax they pay across the continent.
The draft legislation being tabled on Tuesday was proposed before the latest Panama Papers scandal, but comes amid a growing clamour to force the biggest companies to pay their fair share.
The plan was expected to include rules requiring businesses earning more than £600 million a year to open up their tax affairs to public scrutiny, revealing their profits and accounts in every country in which they operate within the EU.
---
---
From the Jewish Telegraphic Agency
UK Muslims more anti-Semitic than general population, poll finds
(JTA) — A poll of British Muslims revealed that they are more anti-Semitic than the general population, and also differ from the larger community on numerous social issues.
The poll was conducted for a television documentary that will air Wednesday called "What British Muslims Really Think."
According to reports in several British media outlets, the poll found that while 6 percent of the British population in a parallel poll believed Jews are "responsible for most wars," more than 25 percent of Muslim respondents held that view. In addition, nearly 40 percent of the Muslims polled said Jews had "too much control over global affairs," a view held by just 10 percent of the overall British population.
---
---
From the Jewish Telegraphic Agency
Ugandan Jews get official recognition from Jewish Agency
(JTA) — A Jewish community in Africa has moved one step closer to gaining formal recognition from the Israeli government.
The Jewish Agency said in a letter to Israel's Conservative movement that the Abayudaya Jews of Uganda, a community whose members formally converted to Judaism under Conservative auspices, are a "recognized" community, Haaretz reported Tuesday.
---
---
From the Jewish Telegraphic Agency
12 Jewish NY City Council members endorse Hillary Clinton
(JTA) — Twelve members of the New York City Council's 14-member Jewish caucus have endorsed Hillary Clinton for president.
The City Council members signed a joint statement on Tuesday, Jewish Insider reported.
The signers are David Greenfield, Stephen Levin, Alan Maisel and Mark Treyger from Brooklyn; Barry Grodenchick, Daniel Garodnick, Karen Koslowitz and Rory Lancman from Queens; Ben Kallos, Helen Rosenthal and Mark Levine from Manhattan, and Andrew Cohen from The Bronx.
"Hillary Clinton has delivered time and time again for New York, for the Jewish Community, and for Israel," wrote Levine, who is chairman of the Jewish Caucus. "Whether winning funds to rebuild New York after 9/11 or exposing anti-Semitism in the Middle East and around the world, Hillary Clinton has been there for us."
Click here for the full story
---
---
From the Jewish Telegraphic Agency
174 Oberlin profs sign letter condemning colleague's anti-Semitic posts
(JTA) — A letter condemning an Oberlin professor's anti-Semitic Facebook posts has reportedly garnered signatures from the majority of the Ohio college's faculty members, but has generated criticism from some professors of Africana studies.
Politics professor Marc Blecher, one of the letter's organizers and drafters, told JTA in an email that 174 faculty members have signed the letter but that their names are "not for publication." The other faculty members involved in writing and circulating the letter, which says "we condemn any manifestation of bigotry on our campus — especially from our faculty," also wish to remain anonymous, Blecher said.
The letter does not name Joy Karega, the rhetoric and composition professor whose posts, including one accusing Israel and "Rothschild-led bankers" of responsibility for downing a Malaysian airliner over Ukraine in 2014, drew widespread attention after The Tower published an article about them in February.
The article came on the heels of a letter from Oberlin alumni expressing concern about the tolerance of anti-Semitism on campus, particularly within the Boycott, Divestment and Sanctions movement.
Click here for the full story
---
---
From the Jewish Telegraphic Agency
Sanders campaign's new Jewish outreach director is outspoken critic of Israeli occupation
NEW YORK (JTA) – Simone Zimmerman, the Bernie Sanders campaign's newly hired national Jewish outreach coordinator, is quite familiar with the American Jewish establishment.
She is used to fighting against it.
During the 2014 Gaza war, Zimmerman was one of the leaders of a group of young Jews that held regular protest vigils outside the offices of the Conference of Presidents of Major American Jewish Organizations, reading the names of Palestinians and Israelis killed in the conflict.
She opposes Israel's occupation, wants Hillel to allow participation by groups that support the Boycott, Divestment and Sanctions movement against Israel, is against Jewish federation funding for Israeli projects in the West Bank and wrote favorably of the efforts of Jewish Voice for Peace, a pro-BDS group, to get "international corporations to stop profiting off human rights abuses." (The Anti-Defamation League has called JVP one of America's top 10 anti-Israel groups.)
Click here for the full story
---
---
From the Jewish Telegraphic Agency
Reporter's Notebook
The Hasidic bloc vote, Bernie and Hillary's Empire State of mind and other NY campaign notes
NEW SQUARE, N.Y. (JTA) – Jewish voters are all over the map when it comes to their plans for voting in New York's presidential primary on April 19.
Except for New Square, the all-Hasidic village of 8,000 in Rockland County, about 30 miles north of Manhattan. In this insular haredi Orthodox community led by the Skverer rebbe, David Twersky, many residents simply wait for voting instructions from the kehilla, the body that supervises communal affairs.
"We make a bloc vote," said one Hasidic man who requested anonymity. "Whatever they say, we vote. It's not for us to decide. The kehilla decides."
Click here for the full story
---
---
From PressTV
Al Jazeera America shuts down after less than three years
Al Jazeera America has signed off following a failed attempt to break into the United States cable news market.
The channel was shut down on Tuesday, 32 months after it was launched by the international media group based in the Qatari capital, Doha.
The decision to close the channel was announced in January and was set to be completed with the airing of a three-hour live farewell showing the channel's coverage since its launch.
The media group paid some USD 500 million to launch the US-based offshoot known as AJAM. The outlet, however, could not compete with American news channels to attract audience in the US.
AJAM was launched in mid-2013 after it employed 850 staff and opened 12 bureaus in the US and a state-of-the art studio in New York. It is not immediately clear how many people lost their jobs because of the shutdown.
Click here for the full story
---
---
From Russia Today
Erdogan won't back down on Gaza blockade demands, regardless of risk to Turkish-Israeli ties
Published time: 11 Apr, 2016 16:56
Turkish President Tayyip Erdogan. © Murad Sezer / Reuters
Turkish President Recep Tayyip Erdogan has said he will continue to insist that the blockade of Gaza be lifted, regardless of what this stance means for Turkey-Israel relations.
The two countries have been working on agreements to improve relations in recent months, in a bid to improve ties that have been strained for several years.
There are still points in the final agreement that require ironing out, and work will continue in the coming weeks to mend ties, Erdogan spokesman Ibrahim Kalin said following the latest round of talks between the two nations, according to Reuters.
Reports of an impending breakthrough in negotiations have been circulating for months.
Click here for the full story