Weinstein doesn't "happen to be Jewish" — Dr. Duke Exposes the Anti-White Jewish Weaponization of Movies, TV, News & Porn to Destroy the "Goyim."
Today Dr. Duke clarified the fundamentally Jewish nature of Harvey Weinstein's serial rape and sexual predation of white actresses. It would be wrong to group Weinstein in with the likes of Bill Clinton and Bill O'Reilly, who were simply horny old men. As Tablet Magazine pointed out, there was something particularly "Jewy" about Weinstein, namely that as a Jew he felt a compulsion to defile and destroy whites and their culture.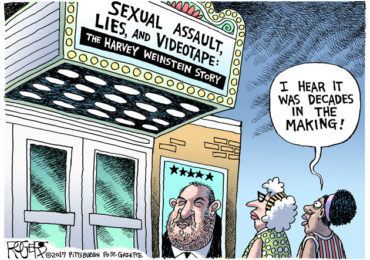 It is clear from Weinstein's body of work, which includes the likes of Django Unchained, the Hateful Eight, and Inglorious Basterds, that Weinstein was dedicated to destroying the white race through incitement of hatred and violence against them and by decimating their morale and their morals. This puts him in the same category as Jewish pornographers like Al Goldstein, the publisher of Screw, who said 'The only reason that Jews are in pornography is that we think that Christ sucks. Catholicism sucks." Don Advo also provided fascinating commentary.
This is another powerful show filled with information. Please share this show widely.
Please keep us on the air and on-line. Please visit our contribution page or send your contribution to:
P.O. Box 188, Mandeville, LA 70470
Thank you.
This is an entertaining and informative show that you will want to spread widely.
Click here and look for the show dated 10-18-17.
Our show is aired live at 11 am replayed at ET 4pm Eastern
This is a must watch video of David Duke's latest interview.
Here is Mark Collett's latest video: