Dr Duke & Andy Hitchcock ask why not a single White Congressman dares to call out the Zionists who lead America to destruction!
Download
Today Dr. Duke and Andy Hitchcock discussed the issue of Congresswoman Ilhan Omar (D-Somalia) mentioning the obvious: that AIPAC pays Congressmen to support Israel. If large campaign contributions and all-expenses paid junkets to Israel don't constitute payment, then what does? Representative Omar has only been in office a month, and apparently had not received the memo from the Zionists who run Congress that you are not allowed to talk about the Zionists who run Congress.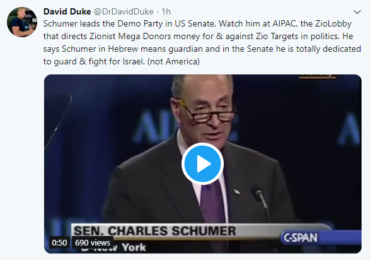 However, she is now making it clear that she has received the memo, and will studiously avoid noticing the obvious in the future. 
Listen to the show for the full story.
Please share this show widely. And please keep us on the air and on-line. Please visit our contribution page or send your contribution to:
P.O. Box 188, Mandeville, LA 70470
Thank you.
Click here and look for the show dated 2-12-19
Our show is aired live at 11 am replayed at ET 4pm Eastern
Check out this video of Dr. Duke with JFG
Here is Mark Collett's recent viral video:
Be sure to check out Mark's Twitter feed. And follow him while you're at it.